President Paul Kagame has asked members of the Organization for Economic Cooperation and Development (OECD) to consider an inclusive agenda that brings on board African countries as the organization looks forward to a post Covid-19 recovery plan.
Established in 1961, OECD is an international organisation that works to build better policies for better lives and aimed to shape policies that foster prosperity, equality, opportunity and well-being for all through knowledge sharing and policy dialogue between member countries and developing economies to allow nations to interact on an equal footing.
With this background in mind, and the fact that Africa has equally taken a large hit from the Covid-19 pandemic, Kagame said that there is an urgent need of inclusiveness.
Kagame said OECD's signature is its use of evidence-based policy to improve economic and social well-being worldwide and its focus on inclusiveness is much needed for Africa's industrialization agenda.
"As countries make plans to recover from the Covid pandemic, it is important that everyone is brought along, no matter the level of development," Kagame said.
Kagame used the opportunity to thank the OECD for accepting Rwanda's membership into the organization to learn and share its best practices but asked for dialogue on the next development journey beyond 60 years.
"In Africa and Rwanda, we look forward to continued dialogue and collaboration with the OECD, in pursuit of prosperity and opportunity for our people," President Kagame said.
Kagame's call was made on December 14, 2020, at a time when the OECD marked the 60 anniversary amidst uncertain times of which the organization said needs a joint global community approach to walk out of the Covid-19 as humans who are designed to survive.
OECD also published figures showing that the share of multilateral development finance going to least developed countries and low-income countries is steadily declining from 47% in 2004 to 23% in 2018 and this could be affected by Covid-19.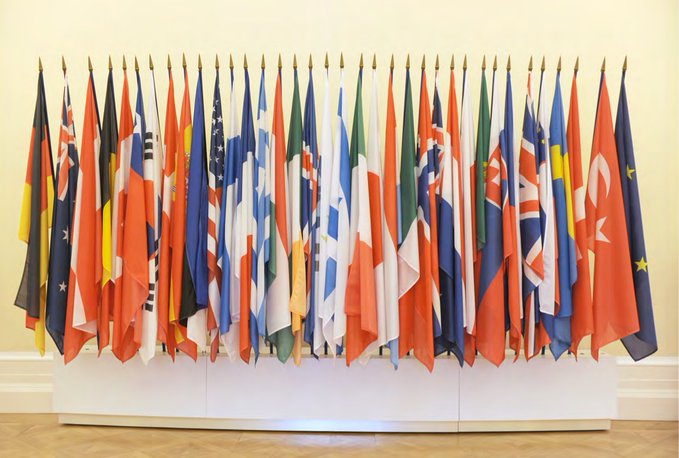 However, the OECD said on twitter "As the world confronts the worst health, economic and social crisis since the 1930s, we continue to support our members plus the global community to foster a strong recovery. Only by working together, we be able to defeat Covid-19 and rebuild better."
Some Facts about OECD
Rwanda officially joined the OECD membership in May, 2019 becoming the first member from the East African Community (EAC)- a move that was largely pushed by member countries in the OECD development center.
There are 27 OECD member countries include Belgium, Chile, the Czech Republic, Denmark, Finland, France, Germany, Greece, Iceland, Ireland, Israel, Italy, Japan, Korea, Luxembourg, Mexico, Netherlands, Norway, Poland,Portugal, Slovak Republic, Slovenia, Spain, Sweden, Switzerland, Turkey and the United Kingdom.
Non-OECD countries that are full members of the OECD Development Centre include: Brazil, India, Romania, Thailand, South Africa, Egypt, Viet Nam, Colombia, Indonesia, Costa Rica, Mauritius, Morocco, and Peru.
Others are the Dominican Republic, Senegal, Argentina, Cabo Verde, Panama, Côte d'Ivoire, Kazakhstan, Tunisia, China, Ghana, Uruguay, Paraguay, El Salvador, and Guatemala.
The European Union also takes part in the work of the Governing Board.
However, Non-OECD countries and OECD Members sit as equal partners at the OECD Development Centre and together, the members from around the globe sit and work side-by-side to find innovative, sustainable & inclusive polices – tailored to national & regional needs.