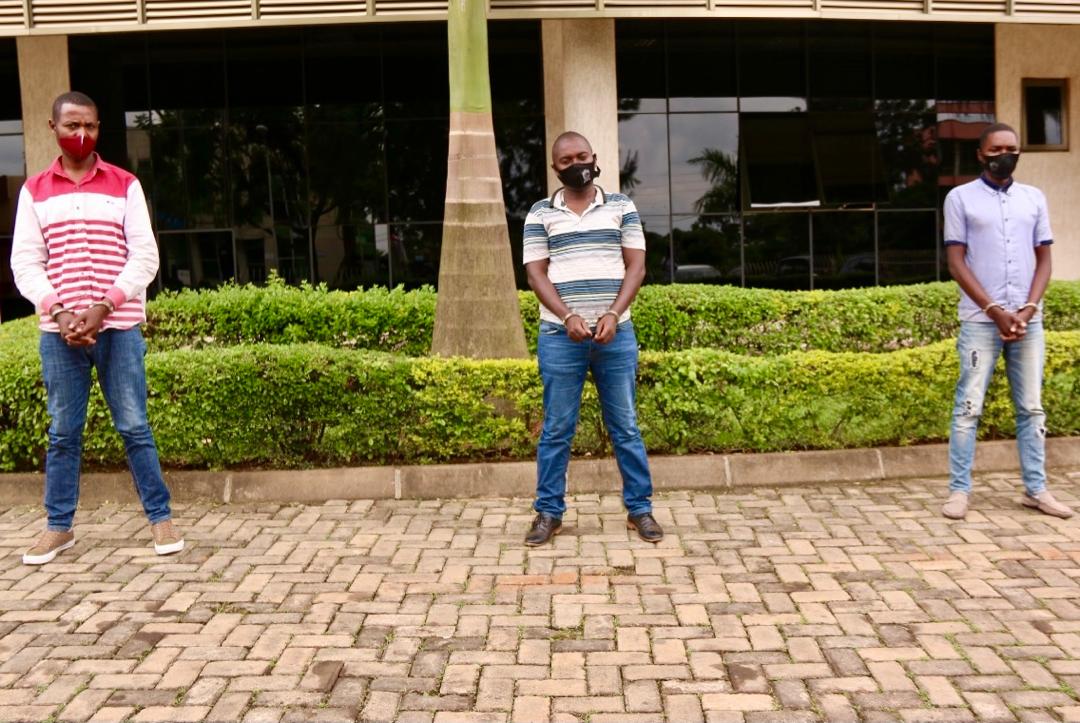 Rwanda National Police (RNP), on Saturday, November 5, paraded to journalists three men, at the Metropolitan Police headquarters in Remera, who were masquerading as Police officers and defrauding unwitting members of the public.
Two of the suspects; Thomas Habanabakize, 36, and one only identified as Mugemana, 31, were arrested in Gicumbi District, where they were guising as "Police commanders."
Another suspect identified as Bonifance Nzabirinda was arrested in City of Kigali for allegedly masquerading as a traffic Police officer and defrauding people promising to give them a driver's license.
Jean de Dieu Ntirusekanwa, one of the would-be victims, narrated that in the evening of December 2, Habanabakize and Mugemana came to his shop located in Nyagatoma trading centre, Rutare Sector in Gicumbi District, and ordered for alcoholic drinks.
"I told them that it is prohibited to take it from my shop unless they want to take the drinks home, but they insisted that directives don't apply to them because they are Police commanders in Gicumbi," Ntirusekanwa narrated.
He added: "After drinking, they refused to pay me, instead they accused me of selling illicit drinks. They told me that Agasusuruko drink is a psychotropic substance and demanded Frw100, 000 or else they take me into custody. They actually told me that they had called for a Police vehicle to take me.
However, I suspected that these could be conmen. I called my neighbours, we also called our village chief, who contacted Police in the district and confirmed that they are fraudsters."
Following the arrest of Habanabakize and Mugenama, it came to light that they were also wanted in connection with similar scam where they defrauded another victim of Frw120, 000, recently.
On the other hand, Nzabirinda was arrested in connection with three cases of fraud and impersonation allegedly committed in Kigali and Ngoma District.
Marie Chantal Uwera, one of Ndabirinda's victims, explained that on November 16, she received a phone call from Boniface Nzabirinda.
"He told me that he is a Police officer attached to traffic, and was calling to thank me for a service I had rendered to his wife at the health centre (Remera) and in order to show gratitude, he wanted to get me or any person of my wish, a driver's license," Uwera said.
"It was on Monday, I was busy, but he called me again after like four hours. He again called me on Friday of the same week, but I had told my workmates and found that he had also called one of them with the same trick.
In order to have him arrested, I sent him Frw10, 000 and told the Police. I am happy that what I had hoped for, that is to have him arrested has been achieved. Frw10,000 is no where close to the threat he was imposing on Rwandans."
RNP spokesperson, CP John Bosco Kabera commended the public's increased vigilance and responsiveness against such criminals.
"These suspects were arrested because of individual efforts by either victims or would-be victims. Some of them like Uwera went an extra-mile to comply, pay her money just to help law enforcement organs to locate and arrest the conman; that's how far we have gone in community policing " CP Kabera said.
He warned that whether a Police officer or not, everyone is required to operate within the limits of the law. Asking money to offer a service or to exenorate one from a certain crime is equally a crime and such people should be reported and arrested.
"We are happy that people now know what the Police should or should not be doing."
Impersonation, under article 279, attracts an imprisonment of between two and three years and a fine of between Frw300, 000 and Frw500, 000, while fraud is punishable under article 174, with an imprisonment of between two and three years and a fine of Frw3 million to Frw5 million, upon conviction.