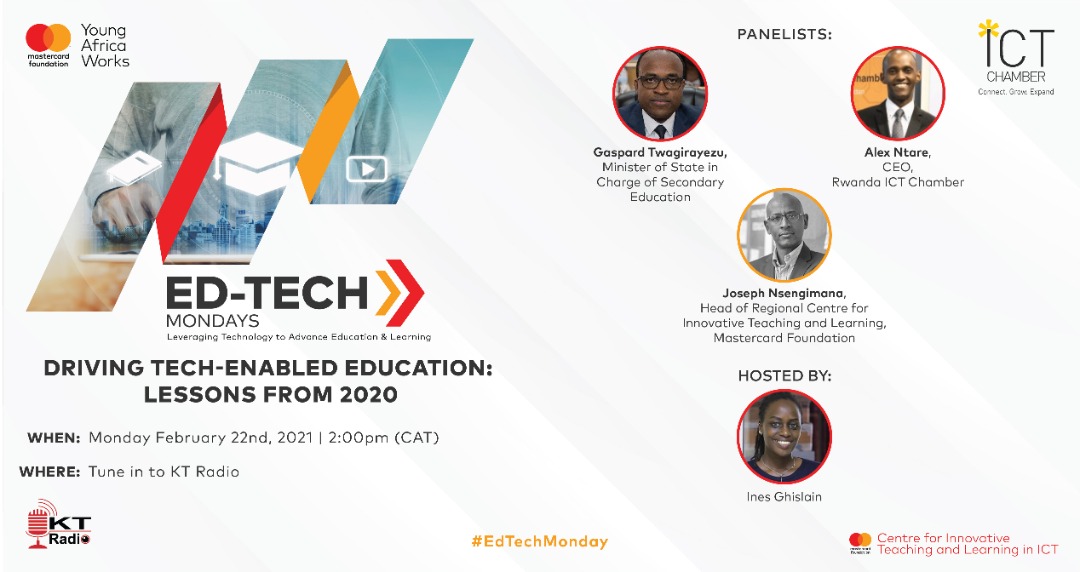 KT Radio listeners will this afternoon follow a new programme that addresses education's pressing issues during this period where COVID-19 pandemic from, time to time interrupts good continuation of in-class sessions.
Coming at 2PM, the program "EdTech Monday Rwanda" is a Mastercard Foundation and Rwanda ICT Chamber initiative that aims to spark the Education Technology Ecosystem in Rwanda bringing together EdTech stakeholders, such as entrepreneurs, education and technology policymakers, and consumers.
The program will be aired every last Monday of the month on Kigali's number one private radio station 96.7 Fm KTRadio which can also be accessed online through Tune-in application.
The program organisers said in a statement that the participating audience will differ depending on the topic of the day but a tentative line up of guests is already in place for this Monday, February 22nd, 2021 edition of EdTech Monday Rwanda. 
We expect Gaspard Twagirayezu, Minister of State in Charge of Primary and Secondary Education, Alex Ntare, CEO, Rwanda ICT Chamber, Joseph Nsengimana, Head of Regional Centre for Innovative Teaching and Learning, Mastercard Foundation.
The guest will discuss the "lessons learned in 2020 with regards to the use of technology in education". 
No wonder, 2020 was a year that tested our capacity in education. A lot was done to make sure that through the 10 months of school 'pause' and nearly one year for some do not become a total loss. 
Already in 2020, EdTech discussions were focused around the challenges caused by Covid-19 and the measures put in place to support continual learning during the pandemic.
"Considering the unprecedented interruption of traditional learning in 2020 which directly resulted in the increased need of e-learning solutions, we believe it is important to assess the e-learning solutions currently on the market as well as the responsiveness of their users,"organisers said.  
Key points to know
The show will be aired in Kinyarwanda. 
The one-hour long live radio show will target Rwandan parents, students, teachers and Heads of learning institutions.
The objectives include; informing students, parents and teachers on learning materials and trends available, addressing issues related to access to information regarding education, and giving the public accurate information on school resumption. 
The guests will further seek to keep students motivated about learning as schools remain interrupted by COVID-19 and will engage education stakeholders on their responsibility to use e-learning. 
KT Radio and partners in this programme further intend to share best practices with regard to the use of e-learning.