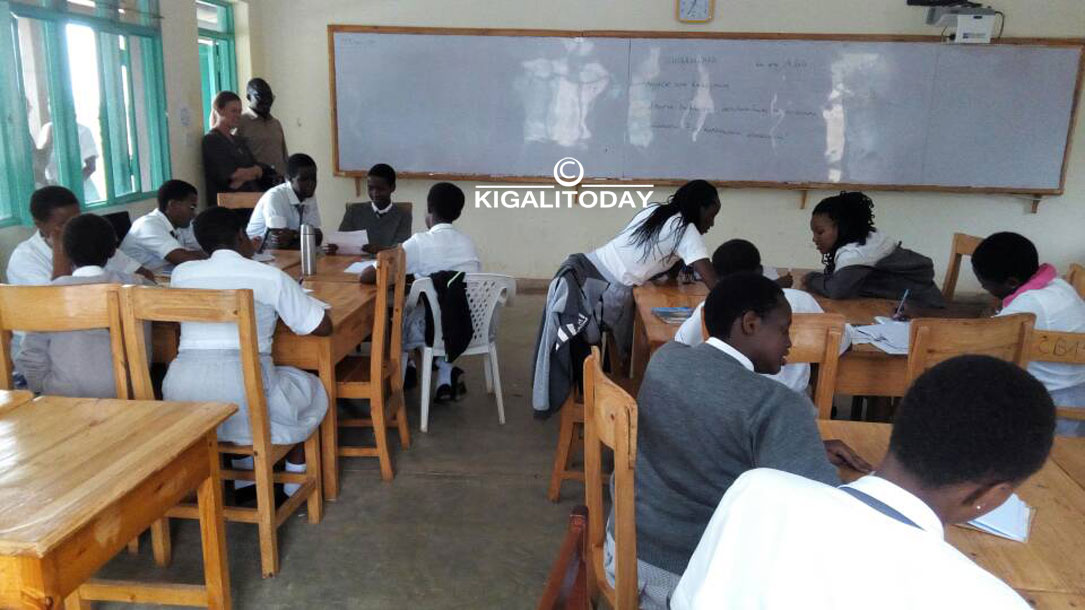 The National Examination and School Inspection Authority (NESA) a the new body in charge of national examination and inspection programs for Primary, Secondary, Technical and Vocational Education (TVET) say the decline in students' academic performance is possible in the current exams that end the second term exams of 2021 academic year.
NESA's observation comes after students started sitting for the second term exams this week since schools were reopened on 2nd November 2020 after nearly nine months halt due to  Covid-19 pandemic that has paralyzed education sector since March 16, last year.
"The decline in the student's academic performance is possible, but not absolutely," Dr. Alphonse Sebaganwa, Head of Department of Basic Education and TVET Examinations said.
Dr. Sebaganwa said that the examination body is waiting for the marks and analysis from schools to declare a statement.
Last week, some students from various schools located in the provinces started sitting second term exams that will allow them to break off for holidays starting on 2 April.
In Kigali, exams for some streams also started today. one month after Kigali-based schools were reopened due to the surging Covid-19 cases in January this year.
"I expect a significant decline in academic performance as we start exams on  March 22 nd, but mostly from lower primary students who studied for only one month," Jean Baptist Habanabashaka, headteacher of Kagugu primary and secondary school in Kigali said.
Habanabashaka said that Covid-19 generally affected students, but most especially lower primary level that was the latest to be reopened.
On 2 November 2020, the government reopened upper primary and secondary schools after 8 months of closure, leaving lower primary. But later the ministry of education again closed all-day schools in Kigali, for more time following growing cases of Covid-19.
Though the ministry of education encouraged affected children in Kigali to continue studying using tech-aided learning, some teachers said that parents did not have enough time to teach their students at home.
Richard Muvunyi, headteacher of Kambyeyi primary school located in Southern province said that the decline in performance could equally be noticed in upper primary, from primary four, five, and six students because they sit for district examinations.
"We spent about three months bringing back students' minds in class after they spent eight months in their homes due to Covid-19. For the five-month long term, it means, they have studied for three months including revisions and sitting for exams," Muvunyi said.
Muvunyi also said that most decline is expected in the mathematics and science subjects because students need group workouts and revising together, which was impossible during the lockdown.
For this, he said that the pass mark could be lowered from 50% to45%  in the third term at their school, if the decline of performance prolongs to the next term that will start on 19 April 2021.
 Bertina Murabukirwa, a headteacher of Rwimiyaga primary and secondary school in Nyagatare district, Eastern province said that students cannot become victims of the pandemic, teachers will evaluate students, lower the pass mark where necessary after thorough assessment.
 Murabukirwa  said that most students relaxed during the lockdown and others did not have all the required gadgets to study online.
"In the second term, we had two major tasks including bringing back students into class mentally, repeating lessons, and introducing them to new topics. This was a heavy task," Boy Daniel headteacher of Ruyanza primary and secondary school located in Kamonyi district, Southern province said.
Apparently, some parents are not expecting much from their children either. 
"I will not be surprised by the results. My children spent the lockdown at home alone and I could not afford time to win bread and attend to them," said Grace Nyinawumuntu, a mother of two.