The year 2020 exposed the barriers that millions of young African women face to successfully accessing technology-enabled learning—whether household responsibilities that place demands on their time, or limited access to devices in the home, when male users are prioritized, or exposure to gender-based violence that undermines physical/mental health inhibiting learning.
This is on top of the general challenges faced by young people: poverty, lack of energy infrastructure, limited access to devices. Yet we know that investing in young women is key to unlocking the potential for prosperity within communities and countries. We know that education is key to improving economic outcomes for women and positioning them for leadership.
March, which is the Women' month and also has the International Women's Day provides us with an opportunity to reflect on how we move forward in addressing these challenge—and the role that educational technologies have to play in expanding education access to girls and young women.
How can ed-tech developers ensure their products are gender friendly? And as COVID-19 continues to accelerate digitization, how do we ensure that the digital world will be as much a woman's world as a man's?
The march edition of Ed-Tech Monday on KT Radio will tackle all these questions and more.
To discuss this and more, the edition of EdTech Monday Rwanda, on KT Radio on Monday 29, 2020 is comprised of Rita Clemence Mutabazi, Principal of Tumba College, Grace Ingabire, CEO of RICTA and Raissa Kamariza, Rwanda Country Director of Moringa School will discuss the "Enabling Young Women's Leadership: The Role of EdTech".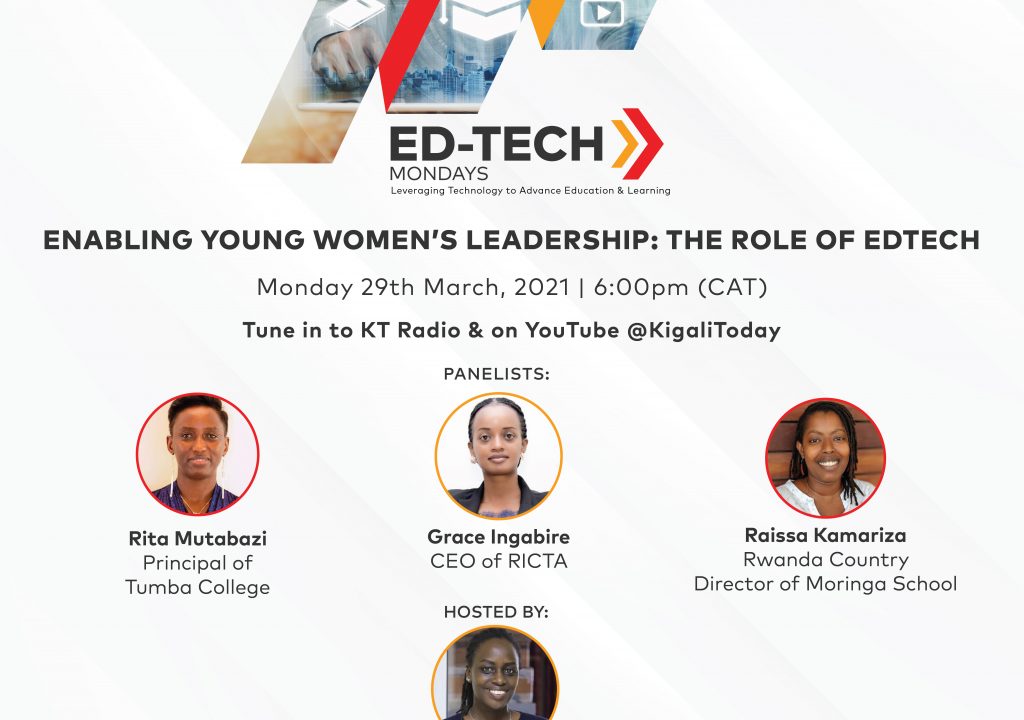 EdTech Monday Rwanda is a Mastercard Foundation and ICT Chamber initiative that aims to spark the EdTech Ecosystem in Rwanda. The initiative brings together EdTech stakeholders, including the EdTech entrepreneurs, Education and technology policy makers, and EdTech consumers to discuss how to tap into the power of technology to increase learning outcomes.
EdTech Monday Rwanda discussions take place on KT Radio every last Monday of the month and the participating audience differs depending on the topic of the day.
In 2020, the discussions were centred around the challenges caused by Covid-19 and the measures put in place to support continual learning during the pandemic.   The talkshow will air simultaneously on KT Radio and Kigali Today YouTube channel.
Tune in Today, Monday, March 29, 2021, from 6pm CAT.