Over 1800 teachers in the city of Kigali today lined up to receive the covid19 vaccination jab which they said will improve their personal confidence while teaching.
Rwanda started receiving covid19 vaccines this week and the country expects to vaccinate 7 million citizens in a Rwf50billon worth program that especially started two days ago with medics and frontline workers among the first beneficiaries.
Teachers in Kigali just like other areas gathered at stadiums and government institutions to take their life saving jab of which most were excited to take.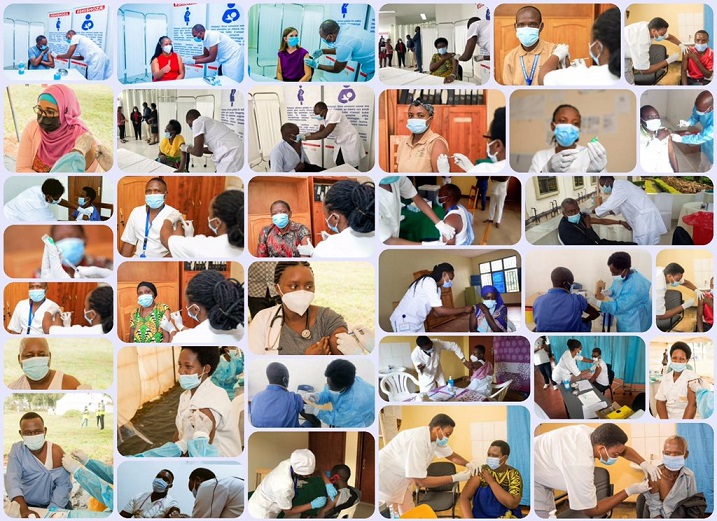 Jeanne Mukazana, one of the teachers narrated the risks under which teachers have been working.
"One of our teachers who caught covid19 but cured later was isolated and he had to literally put on a mask while sleeping. This was so scaring to us and we always felt as the next victims," Mukazana said.
Taking the vaccine jab, she said was a motivation to serve diligently with assurance of safety.
"This doesn't mean that I will stop putting on a face mask, I will behave well put on the mask until this pandemic is no more, " she said.
The ministry of health said that a total of 1851 teachers were vaccinated adding to another 75,000 medics and government officials who have been vaccinated since march 3rd when Rwanda received over 340,000 vaccines under the global Covax facility.
Also vaccinated on Saturday included Rwandans aged 65 years and older. Amongst them were elderly Genocide survivors – Intwaza living in Impinganzima Hostels in Bugesera, Huye, Nyanza and Rusizi districts respectively.
Several members of the Rwanda Defence Force(RDF) personnel, journalists, volunteers among other high-risk categories were also vaccinated on the second day.