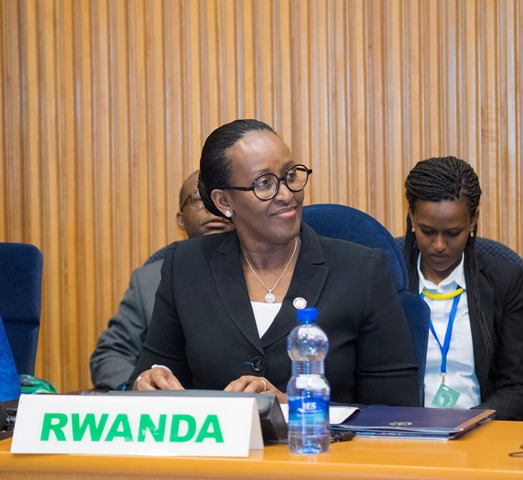 The First Lady Jeannette Kagame will next week address the Motsepe Foundation 5th annual Gender Equality, Wellness and Leadership (GEWAL) virtual Summit which will take place  on 8 March 2021.
The GEWAL is a component of the Motsepe Foundation focusing on foundation's projects related to women development and empowerment.
The summit was born out of the conviction that healthcare and wellness-related practices can support the contributions women make to society and the economy.
Set against the backdrop of the ravages of the coronavirus, this year's summit will be held under the theme: "Harnessing the Role of Women in Pandemic Recovery" with keynote address by Motsepe Foundation co-founder, Dr Precious Moloi-Motsepe.
"The COVID-19 pandemic has exposed the stark reality that in spite of the many gains in this regard over the last decade, women have still been exposed to disproportionately greater vulnerabilities since the beginning of the pandemic," the event organizers said in a press communiqué this week.
According to the event programme, the First Lady Jeannette Kagame will bgive key note remarks alongside Maite Nkoana-Mashabane, South Africa's Minister of Women, Youth and Persons with Disabilities.
The one-day event will have a main panel discussion on holistic health to dissect the evolving health needs of women and girls, by offering critiques and interventions that will promote women's wellbeing and amplify their all-embracing societal contributions.
The summit will also host a youth perspectives panel discussion aimed to spotlight the worldviews and priorities set by young people as they review the current status-quo and offer alternatives for the future.
The day will be rounded off with entertainment, a short yoga session, useful tips on mental health and healthy cooking and networking among others.