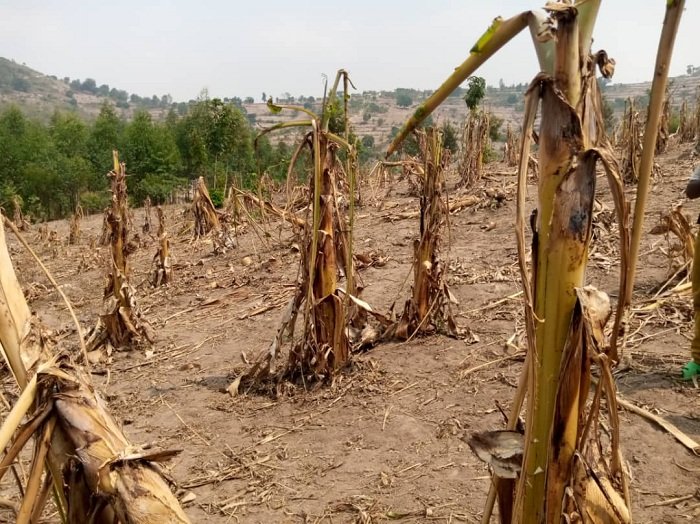 Famers in four villages of Muganza sector of Gisagara district, Southern Province have been raising a concern for the last three years, about a professional farmer who let his cattle invade their crops.
Concerned farmers hail from Ryarumenangiga, Kigina, Umunazi  and Ubuseruka villages.
A reporter of kigalitoday.com, our sister website who visited some areas in this village found ruins of banana plantations that were grazed by an estimate 100 cows and small ruminants.
Also affected were cassava and potatoes farms and vegetable gardens in this agricultural zone, especially in Ryarumenangiga.
The cattle went ahead to even invade rice plantations adjacent to their kraals.
Farmers said they raised the issue during several meetings until local authorities started telling them "to ask other questions except cattle eating up their crops."
Goreth Mukantabana, one of the complainants said she was the first to raise her concern after the cattle invaded her beans.
She claims to have presented the issue up to the district level and Rwanda Investigation Bureau(RIB) and the defendant, one Safari Claude was allegedly ordered to pay Rwf 60,000 worth of compensation.
Mukantabana said that the case worsened her situation.
"The cattle owner only paid me Rwf 40,000 and ever since, their cattle invaded my crops more and more. When I try to complain, they say they paid for it," Mukantabana said.
"For me, the cow grazed my rice plantation which was 2 weeks to harvest. Safari was fined with Rwf 450,000 in July, but he did not pay me at least one tenth of the amount," said Ignace Bangamwabo, another farmer.
"My family is starving due to this problem."
Gratia Nzamwitakuze, another farmer says after failing to resist the loss, she opted to give her piece of land at giveaway price.
"I grew sorghum and they grazed them and I tried yams and latter on cassava which they also grazed. It was the same thing for banana," Nzamwitakuze said.
"In front of all this, I decided to sell him the land at as little as Rwf 10,000, but my crops were never compensated."
The farmers allege that the businessman, by allowing this scenario, "wants us to give up and sell him our land at giveaway price."
Jean Baptiste Kayinamura, Executive Secretary of Muganza sector told our reporter, that Safari was advised to fence his kraals so that the cows do not escape to the farms, "but he has not done it yet."
He however said, that farmers can only sell their land if they consent to it.
Jean Paul Habineza, the vice mayor in charge of economic affairs said that "even though the area is gazetted as cattle farms, it is not an excuse for the businessperson to force them to sell him the land, nor to graze their crops."
Efforts to reach Safari for his reaction on story were futile until press time.
The Minister of Local Government Jean Marie Vianney Gatabazi said he directed the district to solve this issue and promised to visit the area himself in near future.