Rwanda and Zimbabwe have signed a Memorandum of Understanding (MoU) that will kick start a process of exchanging education personnel and expertise to improve the quality of education in both countries.
The MoU intends to establish an institutional framework for exchange of educational personnel and expertise including primary and secondary school teachers and lecturers in institutions of higher and tertiary education.
The MoU will also make it possible for Rwanda to hire Zimbabwean teachers and lecturers for teaching in associate nursing schools and the College of Medicine and Health Sciences as well as other resource personnel who may be needed by each Party for administrative and academic tasks requiring high level expertise.
This follows several consultative meetings between both countries.
The MoU was signed in a virtual ceremony this December 23, 2021 between Rwanda's Minister of Education, Dr. Valentine Uwamariya and Zimbabwe's Minister of Public Service, Labour and Social Welfare Prof Paul Mavima.
In the MoU, Rwanda has requested for Zimbabwean teachers of English, STEM- Science, Technology, Engineering and Mathematics.
Rwanda will also need Teacher Trainers and Technical Education teachers.
Uwamariya said that the MoU is an important milestone between the two countries in the journey of strengthening cooperation and partnership.
"Our Countries have proven the need to expand existing cooperation in a sense of urgency. This has inspired us to follow the strategic vision of strengthening development of our sister countries through cooperation and partnership," Uwamariya said.
She revealed that the Government of Rwanda already started the process of grabbing opportunities embedded in the signed MoU by requesting the Zimbabwean side to avail teachers who will be employed in Rwandan schools upon successful completion of recruitment process.
"Through this exchange mechanism, we shall learn much from Zimbabwe and we shall be ready to share whatever we can to ensure partnership development for mutual benefits between two countries," she said.
Article 6.1 of this MoU reads that the Parties shall establish a Joint Technical Committee (JTC).
Minister Uwamariya called upon the Permanent Secretaries from competent authorities in Rwanda and Zimbabwe to join hands and operationalize the JTC.
"I am therefore calling upon our technical teams to fast track the implementation of the MoU from which we expect to get first fruits along the upcoming New Year 2022," Uwamariya said.
The recruitment manual has been proposed by Rwanda, and it is upon the JTC team to approve it and start its implementation as per Article 3.3 on Joint obligation of the parties.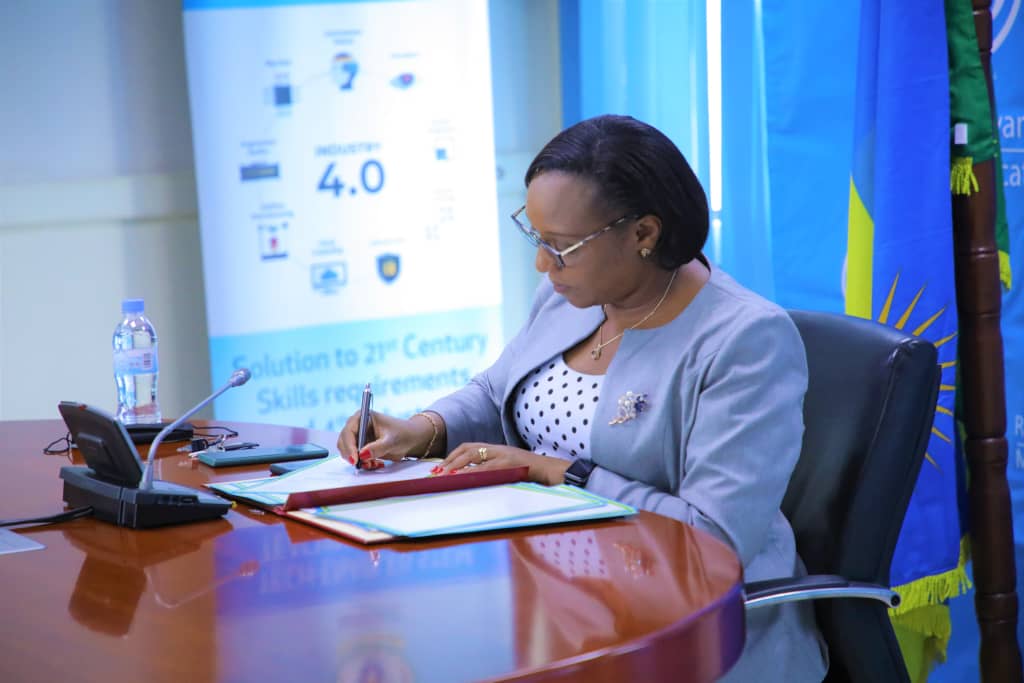 Prof. Mavima said that the MoU will strengthen the commitments between the heads of state of both countries.
"This collaboration will enhance the implementation of the African Continental Free Trade Area agreement where we will reduce the number of African citizens who drown while crossing the oceans to seek better lives in Europe," Mavima said.
He noted that Zimbabwe will be proud to contribute to Rwanda's quality of education and guaranteed that they will send qualified and disciplined teachers to serve diligently.