Residents of Gicumbi district, northern province with outstanding green settlement and climate-resilience projects will be supported to implement them, with a fund worth Rwf 700 Million ready to be released by Green Gicumbi project.
Green Gicumbi, is 6-year project mainly focusing on reducing vulnerability to climate change, and is implemented by the National Fund for Environment under the funding of the Green Climate Fund (GCF).
The funds (Rwf 700M) will be available to local green settlement and climate resilience investors, with poverty alleviation projects, not later than March, 2023.
The development was made by  briefing on Monday 16.
 The Director of Green Gicumbi project Jean Marie Vianney Kagenza told the media on January 16, that under this project, 200 eco-friendly and climate-resilient homes are currently being built by the government for Gicumbi inhabitants who were relocated from high-risk areas.
"You will see a lot of things achieved by farmers; see multipliers, nursery beds, beekeeping, among others," Kagenza said.
According to Kagenza, Green Gicumbi is a pilot project that will be integrated to other districts across the country, upon its success.
He pointed out that all districts were invited to contribute ideas of establishing a green settlement and climate resilience homes.
The project is also part of Ireme Invest-Rwanda's green investment facility, which raised $104 million in its first capitalization and was launched by President Paul Kagame last year.
The Green Gicumbi project is one of the largest in Rwanda's green development, according to Rwanda Green Fund (FONERWA).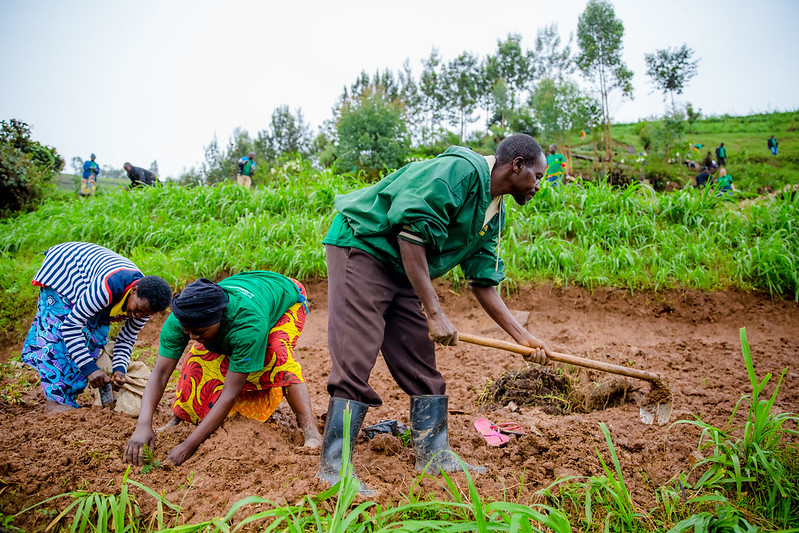 It aims to support smallholder farmers in adopting climate resilient agriculture, boost community ability to regenerate and sustainably manage forest resources, and improve the ecosystem in a sub-catchment of the Muvumba watershed.
The FONERWA's  research in 2018 indicated that Gicumbi district is the second most affected district with climate changes. It is prone to oil erosion that has affected 250 hectares of tea plantations.
In Its five years of operation, Green Gicumbi has established 1200 terraces to fight erosion, employed over 23,000 workers, and planted 4800 trees.
Over 900 hectares of trees were planted along river banks, on top of 40 hectares of coffee and 50 hectares of tea.
In the same project, 160 cows were donated to vulnerable residents, and among them 88 cows produced calves. A total of 88 families were relocated from high-risk zones and accommodated in model villages.
According Emmanuel Nzabonimpa, Mayor of Gicumbi district, other residents who are not in the nine sectors where Green Gicumbi projects operate have indicated willingness to have the same developmental projects.
He pointed out that planted trees are growing well, and established terraces are also yielding good results.