Rwanda and Bangladesh have signed a Bilateral Air Services Agreement (BASA) to operate air transport services that will facilitate the movement of people, cargo in a bid to strengthen business and services between both countries.
The formal agreement was signed on Thursday, January 12 at the High Commission of Bangladesh in New Delhi by Jacqueline Mukangira, Rwanda's High Commissioner to Bangladesh with residence in New Delhi and her counterpart Mustafizur Rahman, the Bangladeshi High Commissioner accredited to India.
"The agreement will contribute enormously to the economic growth of both countries, and will notably provide the Rwandan private sector with access to a market of more than 160 million people," reads part of a statement from the Rwandan High Commission.
The statement said that the agreement follows consultations of civil aviation authorities and diplomatic negotiations and both countries are also having continued negotiations on various agreements that will improve their bilateral cooperation which has been in place since 2012.
"Rwanda and Bangladesh are also still negotiating various agreements that will bring their bilateral cooperation to greater heights," the high commission said.
Bangladesh becomes the fourth country in South Asia to sign BASA agreement with Rwanda, after India, Sri Lanka and the Maldives.
Rwanda has continued to push for BASA agreements to support the country's ambition to expand the reach of its national carrier, Rwandair.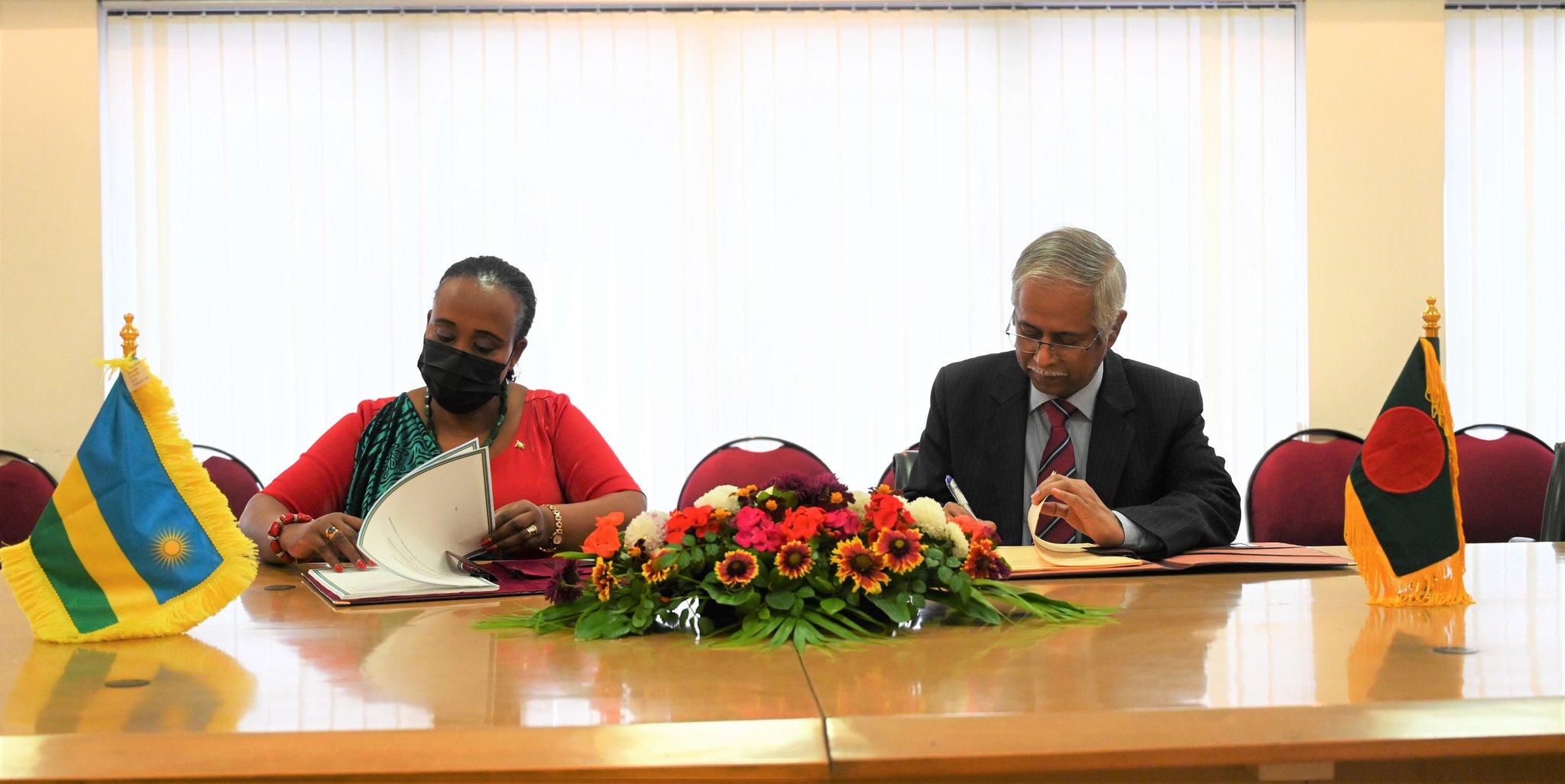 By end of 2022, Rwanda had signed BASA deals with 108 countries in Africa, Europe, the Middle East and Asia and in the Americas; and the most recent was that with Austria (signed in Kigali this July 2022).
Rwanda and Bangladesh at Glance
Bangladesh was one of the 40 countries that provided roughly 900 peace-keeping troops, including soldiers and medical personnel, to Rwanda to aid in keeping the peace during the 1994 genocide against Tutsi.
Since 2012, both countries have exchanged business interests and especially into Bangladesh- which is a market for ready-made garments, ceramics and pharmaceutical products that remain in high demand in Rwanda.
Bangladesh's experiences in the areas of mechanized agriculture, food processing, and textile, garments, ceramics and shipbuilding industries have also been sought to be replicated in Rwanda.
Since 2015, both countries have focused on exchanging "trade and investment, textile and jute industry development and exchange of experience, training, and capacity development in international peacekeeping.
Rwanda mainly exports coffee, tea, mate and spices to Bangladesh was US$10.14 thousand in 2021, according to the United Nations COMTRADE.
During the Commonwealth Heads of Government Meeting (CHOGM) held on June 22, 2022, Bangladesh and Rwanda announced the Kigali-Dhaka Compact on Mental Health- as part of efforts to continue to mobilise a Commonwealth-wide awareness campaign with recommended policy interventions to tackle mental health challenges.