MultiChoice Group is relaunching DStv Rwanda and will scale up presence in the country, by rebranding their bouquets at a reduced price that will see more Rwandans have access to affordable packages. Monthly subscription prices on DStv will decrease effective 1st May 2023.
DStv Rwanda is managed by a local agent, Tele10 and with the continued growth in the Rwandan subscriber base, MultiChoice seeks to provide more value to the customers, by making great entertainment even more accessible.
According to Augustin Muhirwa the Managing Director at Tele 10 and DStv Rwanda, DStv has operated in Rwanda for the past 28-years and has tirelessly worked to ensure the platform provides unrivalled channels that people love.
"The people of Rwanda have always loved DStv but until now it was not accessible to many," Muhirwa said, adding that the Rwandan TV subscriber base has grown over the years, and was time for the Pay TV operator to reinforce operations, and recommit itself to the people of Rwanda with quality entertainment for less.
"As a business, we recognize the potential of the Rwandan market and have a desire to offer what the people of Rwanda are asking us for – affordable access to shows that the whole family can watch," he said.
In an interview with KT Press, he revealed that the changes in the DStv services and increased presence of DStv in the country will put people first, by introducing customer friendly packages that many categories of people can afford.
"We are committed to ensuring that our customers continue to enjoy access to world class entertainment, and we will not only reduce the price of subscriptions, but will also rename some of our DStv bouquets to Kinyarwanda names."
The relaunch of DStv in Rwanda is expected to be a gamechanger in the Rwandan Pay TV market, with other players such as CanalPlus and StarTimes already leading in having affordable packages.
Ready for competition 
Pontsho Moeketsi, the Senior Trade Marketing Manager who is in Rwanda, said that with the new packages and revised costs, more Rwandans will have access to the great entertainment.
"We've got good content, which people are hungry for. DStv provides a platform with over 150 channels including audio, sport, kids, news, and entertainment. It is time we make that all readily available to the ordinary men and women on the streets" she said.
Muhirwa pointed out that the relaunch of DStv into the Rwandan market comes with improved services, starting right from the installers who talk to and work directly with clients.
This week on Thursday, installers who work with DStv Rwanda were trained on ways of improving service delivery and customer relations, as the contact with the client.
According to Gaston Patrick Gasore, the Head of Commercial Department of DStv Rwanda, the technicians, about 52 in total, will play a key role in the market expansion plans.
"They are the ones who meet the clients on a day-to-day basis. They serve as the bridge to the clients and we want to ensure that they provide quality services as we look to increase our subscriber base," Gasore said.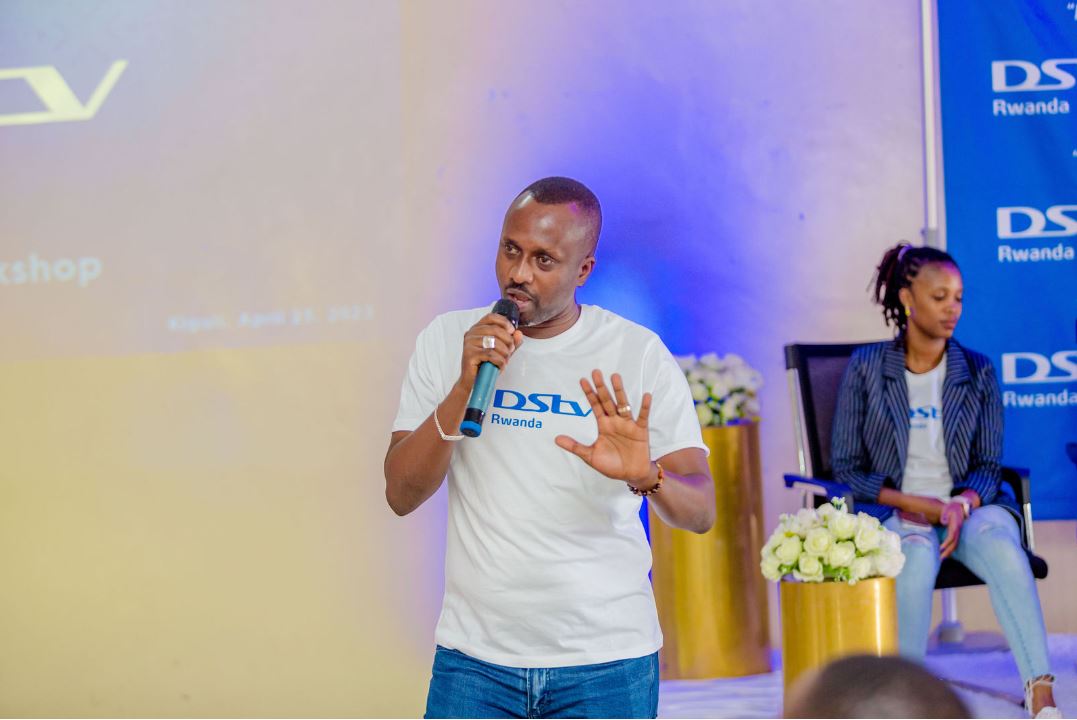 Saidi Kwizera, who represents DStv technicians, said that the forthcoming launch and revised packages that are more affordable for Rwandans will not only give existing technicians an opportunity to work but also new technicians will come on board.
"It is good news to us because it means more work for us and new technicians will be employed as the market expands. It is true many people could not afford the prices, so we had a small customer base to serve,"
"With more subscribers taking up services, we hope to be fully utilised and we hope even young technicians will get an opportunity," said Kwizera, who has been installing DStv for the past 12 years.
According to Rwanda Utilities Regulatory Authority (RURA), there were 436,365 pay-tv subscribers in Rwanda at the end of 2022, with Star Africa Media Ltd, the operators of StarTimes, claiming a lion share, with 270,575 subscribers.
However, only 32,272 were found to be active at the time of the reporting while CanalPlus Rwanda Ltd had 146,834 subscribers of whom 86,175 are active.
Azam TV on the other hand has 14,624 subscribers in Rwanda of whom just 1,818 were found to be active while DStv has 4,332 subscribers, the majority of whom (4,231) are active. In total, just 124,496 of 436,365 subscribers were found to be active.
As of 2022, MultiChoice had 22.1 million subscribers across 50 African countries and continues to be one of the fastest growing pay-tv operators globally.