President Paul Kagame and his visitor, President William Samoei Ruto of Kenya, have agreed to fast track regional projects that will make the East African Community (EAC) regional integration work better for citizens.
The two leaders made the commitment while addressing a press conference at Urugwiro Village, as President Ruto began his first official visit to Rwanda since he was elected to office last year.
The two Heads of State held talks on different areas of mutual interest and cooperation, including the Northern Corridor integration projects, food security, innovation and ICT, health and education.
They also witnessed the signing of six agreements in different areas of cooperation, including correctional services, diplomatic training, ICT, health, youth and cooperative development.
President Kagame said that over the years, Rwanda and Kenya have built strong relations and President Ruto's visit underscored the importance of the friendship the two countries share.
"The President and I had productive discussions. We've just witnessed the signing of agreements in key sectors, such as ICT, health,  education youth and agriculture,"
"These new areas of cooperation will bring us even closer together. We are very happy that Rwanda is home to a large and vibrant Kenyan community. We are grateful for their contribution to our development," President Kagame said.
He pointed out that when Rwanda was beginning the rebuilding process, Kenyans were among the first people to arrive in Rwanda, to fill the skills shortage gap the country was facing at their time, among other nationals from countries far and beyond.
The head of state pointed out the two countries are prioritizing building strong private sectors and regional integration as well as trade form a big part of that equation.
"I hope we can leverage the shared interest to equip our youth with the skills and knowledge to innovate and compete," President Kagame said.
He observed that the people of Rwanda and Kenya are united by a common vision for a more stable region, citing the recent regional processes where EAC partner states have been working around the clock to resolve the conflict in Eastern Democratic Republic of Congo (DRC).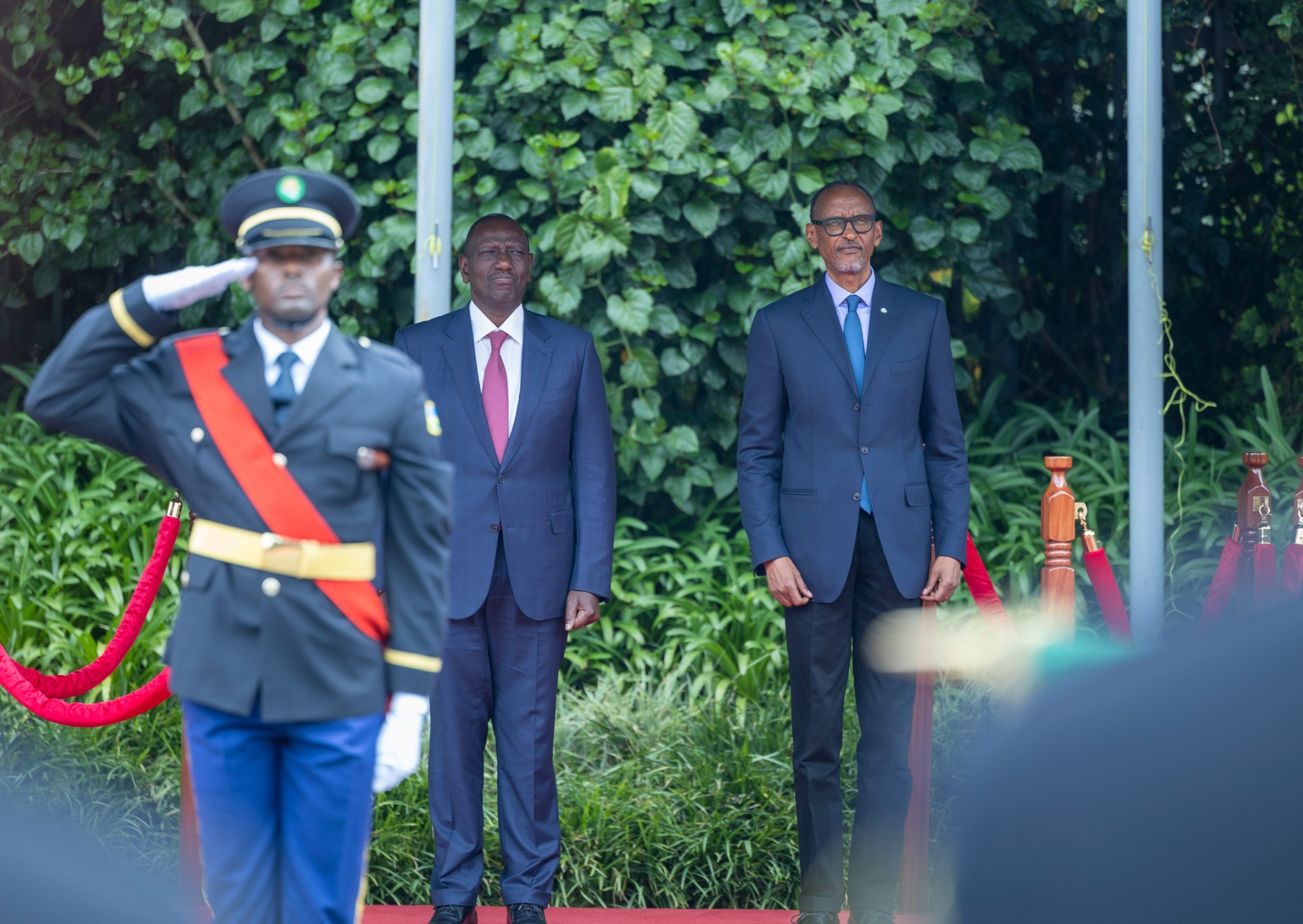 "I commend Kenya's leadership in helping to resolve the crisis in Eastern Congo together with the other members of the East Africa Community," President Kagame said, with both leaders expressing optimism that the Nairobi and Luanda processes will help address the situation and bring back peace.
The Rwandan leader reiterated that if countries in the region pooled their resources together, they would work towards making themselves independent and less dependent on others.
"The people of Rwanda and Kenya are united by a common vision for a more stable region. To put our resources together is to own our development, with less dependence on the rest of the world." President Kagame said.
On his part, President Ruto thanked Kagame for the invitation to Rwanda and reiterated the desire for the two countries to work together for their own development and for the region at large.
"The President and I have engaged in very fruitful, extensive consultations and the deliberations on matters that are important not just for our two countries but for our region and for our continent as well,"
"I wish to emphasize that Kenya and Rwanda have enjoyed great bonds of friendship, built a solid foundation of people-to-people, government-to-government and business-to-business relations," he said.
President Ruto hailed Rwanda for being home to a more than 10, 000-strong Kenyan community, which he is set to meet during his two-day visit, pointing out that Kenya does not take that for granted and it signifies the level of togetherness.
The Kenyan leader said that the MoUs signed in different sectors will consolidate the bilateral ties between the two countries, presenting them with a new momentum and create new impetus for cooperation and friendship.
President Ruto said that Rwanda is a gateway for Kenya into the great lake's region, just as Rwandans rely on Mombasa port for their imports and exports, something he says presents an opportunity to create more synergies to boost trade.
He emphasized that the two countries will continue to work on strengthening the relationship, improving trade, enhancing communication between the people of the two countries and also open up the skies for easy movement of all East Africans.
"We will continue to work on building that relationship and the network necessary for us to benefit from the synergy created by our two economies,"
"Let me also say in our conversation, we have discussed the issues around how to enhance communication between our two countries. Both Kenya and Rwanda have already signed and ratified the one area network," he said.
He pointed out that the one-area network allows the people of the two countries to communicate easily and can tremendously improve doing business as well as boost growth of enterprises in both countries, as a result of improved communication amongst them.
The two leaders spoke about the situation in eastern DRC, reiterating their positions to support regional processes and encourage DRC to cooperate in the process, because regional integration can only thrive if all partner states are peaceful.
President Kagame and President Ruto vowed to follow up on key regional integration projects to improve free movement of goods and people and at the same time prepare the region to unlock the full potential of the African Continental Free Trade Agreement (AfCFTA), which they said offers the region immense opportunities.