Kigali City Tour (KCT) and QA Venue Solutions Rwanda have launched a new service known as "BK Arena guided tours" that will provide daily guided tours within the BK Arena complex.
BK Arena is a world-class indoor and lifestyle facility. It is unique in the region and the first of its kind in Rwanda. The construction of the BK Arena started in January 2019 and was inaugurated by President Paul Kagame in August 2019.
The facility is considered the largest fully covered Arena in East Africa with a 10,000 seating capacity.  It hosted  international sporting events, gala dinners, live concerts, product launches and conferences including the recent 73rd World Football Association (FIFA) held in March 2023.
The new tourism product will give visitors an opportunity to tour various sites such as the Concourses, Lockers and Changing rooms, Arena Bowl, CIP space, VIP Suites, E-gaming Center and the Made in Rwanda store. It is an ideal opportunity to showcase Rwanda as a growing MICE, Sports and Entertainment hub.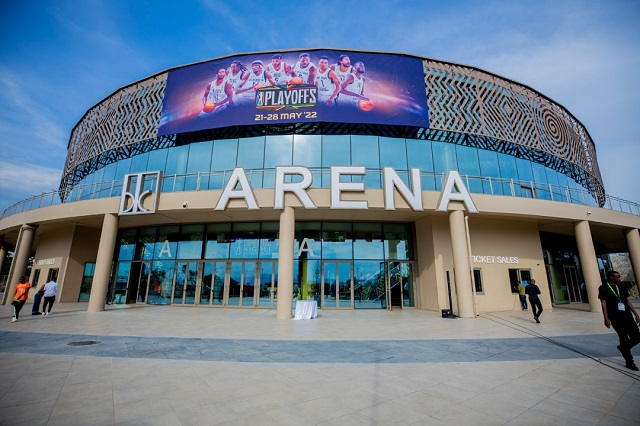 BK Arena Venue Manager, Aaron Gaga said that the services come as an addition to marketing the arena which is a significant entertainment and sporting hub hosting over 200 events annually.
Gaga said that touring the arena has been limited to a specific event, but this time around Rwandans and visitors will be able explore aspects of the arena which have not been public.
"The arena has a lot of places to visit here and learn from which have not been open to the public. For instance, the guided tours will be a special treat for visitors to explore and know the history, services, and other facilities or seats where leaders have sat besides basketball games which many know of," Gaga said.
David Ndiwalana, the Acting Managing Director of Kigali City Tour said that the new service is an added value on their city tour catalog which will improve services offered to local and foreign visitors.
"We are very hopeful that this service and partnership will bring in more visitors and offer a variety of options on top of what we have been offering," Ndiwalana said.
Kigali City Tour, which has specialized tour buses (double-decker) conducts three tours per day and the BK Arena tours will be a fabulous offer.
Yves Nkundabagenzi, the Managing Director of Ikaze Tours, a local tour company that works closely with BK Arena and KCT said that this service will improve operations and offers of tour companies but the prices will be reviewed after three months.
With the expansion of sporting and entertainment activities around the Amahoro Stadium and BK Arena, partners in this tour service said that the tour services will be extended to other services that are aimed at promoting tourism.