The Prime Minister, Dr. Edouard Ngirente, on  Wednesday joined residents of Western Province to bury some of the victims of the floods and landslides resulting from heavy rains that ravaged parts of the country's north, western and southern provinces.
PM Ngirente who rushed to the disaster hit parts of the country to lead government relief efforts, promised full government support to residents of the Western Province, which was most affected by the devastating rains which hit the country between May 2 and 3.
Accompanied by the Governor of the François Habitegeko, heads of the army and police, ministers and other senior officials, Dr. Ngirente participated in the mass burial of 13 of the victims in Rubavu district. 27 people were killed in the district when River Sebeya burst its banks following the heavy rains, leading to floods which damaged property and infrastructure.
At least 27 people are missing in the district which was the most affected. PM Ngirente reiterated President Paul Kagame's earlier message that the government will do whatever it takes to provide relief support and also join in bereaving those who lost their own.
Dr. Ngirente said that so far 130 have been confirmed to have been killed by the calamity, with many still missing. The Premier said efforts are ongoing to account for everyone following the devastating rains.
"I have brought a message from the President of the Republic Paul Kagame, who sent you a message yesterday. I am here to represent him and say that the government will do whatever it takes to walk with you in this difficult period," PM Ngirente said at Rugerero Cemetery, where 13 victims were buried, hastily as the rain continued to pound the ground.
The Premier told the grief-stricken citizens at the sombre ceremony characterised by more rain that the government together with partners are working around the clock to mobilise all relief support needed and will ensure that the lives of those affected are safe.
The head of government business said emergency boots are already on the ground assisting those in need of medical support and shelter as well as other basic needs, urging residents to remain clear of high risk zones as help comes.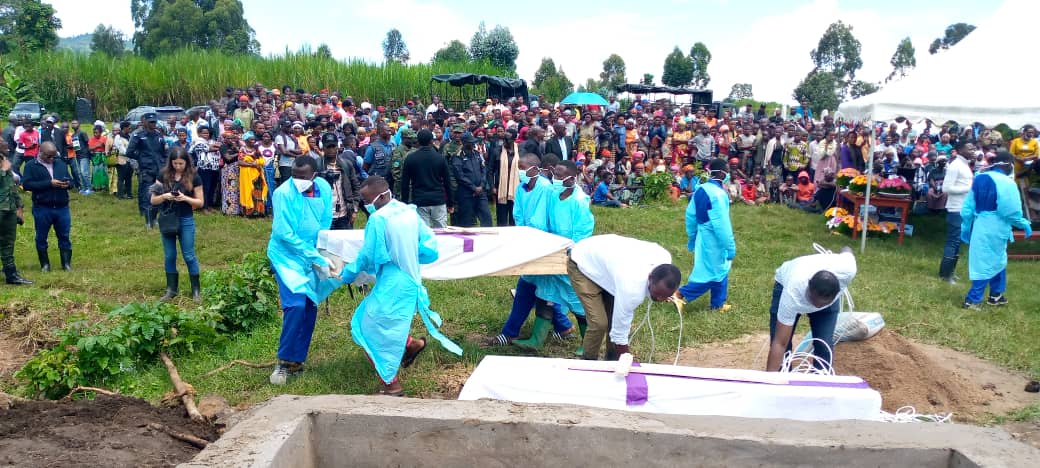 The Ministry of in charge of Emergency Management said on Thursday that 60 tonnes of relief food items, including maize flour and beans, have been sent to affected areas, along with other basic needs such as utensils, sanitary products, mattresses.
Roads connecting the northern, western and southern provinces were damaged while other infrastructures have been cut off in the districts of Rubavu, Karongi, Nyabihu and Ngororero, among others, as more rains are expected in the coming days.
Schools, buildings, government offices, bridges and health facilities have been affected by the stormy weather while swathes of crops and livestock were destroyed by the torrential rain and flooding. Officials are still assessing the damage.