A Bank of Kigali Tech subsidiary (BKTecHouse) has entered into a partnership with Africa AeTrade Group that will increase digital payments, access to finance, connect to continental markets, and change the mindset of doing business for millions of micro, small, and medium-sized enterprises (MSMEs) in Africa.
The Memorandum of Understanding (Mo) between both parties was signed in Kigali this June 7, 2023, between Claude Munyangabo, CEO of BK TecHouse, and Mulualem Syoum, CEO of AeTrade Group.
The agreement marks an advent of the latter initiating its activities in Africa, aimed at implementing the African Continental Free Trade Area (AfCFTA) through the use of technology to ease trade, payment, and access to markets for African businesses.
As part of this collaboration, BK TecHouse and AeTrade Group will leverage innovative technology solutions to provide market linkages, digital payments, digital financing, and digital capacity building for entrepreneurs, ultimately facilitating their meaningful access to the African Continental Free Trade Area.
Keay Areas of the collaboration
In this partnership will include Digital Payments where BK TecHouse and AeTrade Group will join hands to provide affordable multichannel instant cross-border payments to at least 3 million customers in Rwanda, with a focus on expanding market opportunities in East Africa and beyond.
Through the partnership, BK TecHouse and AeTrade Group will collaborate to develop an end-to-end digital finance solution for their clients, utilizing AeTrade Group's vetting process. This comprehensive digital finance ecosystem will enable financial inclusion for underserved customers and streamline loan lifecycle management for financial institutions.
In E-Commerce Market Linkage, the partnership will facilitate market linkages for Rwanda's agricultural products and enable local, regional, and continental market access. Through Sokokuu, a Pan African e-commerce platform, MSMEs will benefit from expanded market opportunities.
Last but not least is the MSMEs Capacity Building where BK TecHouse and AeTrade Group will join forces to provide essential financial services, technological exchange, and capacity-building programs for MSMEs.
This collaboration aligns with the strategic vision of the Government of Rwanda and the AU Summit's decision to fast-track digital and financial inclusion.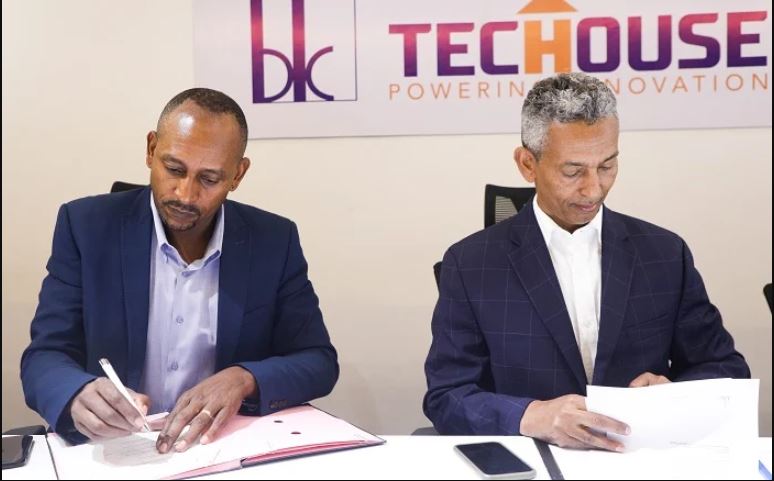 Munyangabo said that, as a leading fintech company in Rwanda, BK TecHouse will use the partnership to align its commitment to supporting MSMEs across Africa and leverage digital innovations to drive inclusion in digital payments, market access, and financial services for the benefit of entrepreneurs and the wider economy with at least one-digit interest on financial loans.
"We are in the process of unlocking financial services for unbanked people (underserved) through technology and what we do is to de-risk the ecosystem by bringing in financial service providers with our sister company Bank of Kigali and Africa eTrade among others," Munyangabo said.
He further said that this is an ambitious journey and for starters, they will focus on having a small pilot number on the platform.
This will be followed with a process of integrating technology between BKTecHouse and Africa eTrade which is expected to happen soon and operations commencing by the end of the year for a five-year (renewable) agreement between both companies.
Mulualem Syoum, CEO of AeTrade Group said that this partnership with BK TecHouse is an important milestone in their mission to build robust technology-enabled regional value chains, especially in the agribusiness sector, and fast track the implementation of affordable digital and financial inclusion.
"By combining our strengths and resources, we will create an enabling environment for entrepreneurs to thrive, expand their reach, and contribute to Rwanda's digital transformation agenda and ultimately grant access to the African Continental Free Trade Area. We are excited about the opportunities this partnership will unlock for the MSME sector," Syoum said.
He stated that the biggest target will focus on sustainable growth with changing financial mindsets where African MSMES can think big and sell big considering the AfCFTA marketplace and opportunities it offers in demand and supply.
Syoum said this will be through de-risking, availing the market access on digital platforms, and providing affordable finance through disrupting financial services to enable MSMEs to become sustainable.
Treasure Maphanga, the AeTrade Group Chief Operations Officer, who was behind the shaping of the AfCFTA said that the success of the agreement will be a big step toward making the one continent free market dream true.
So far, through the Sokokuu platform AeTrade Group has managed to register over 330 young partners in Africa; 30,000 vendors (entrepreneurs), and BKTecHouse is the first to register in the affordable finance segment- which will be operationalized in July 2023.