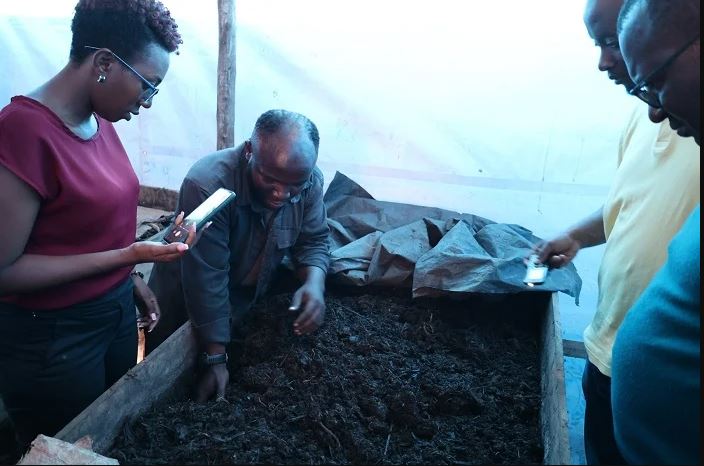 Researchers are on a mission to recycle food loss and waste from homes, restaurants, and hotels into beneficial domestic input. The development was revealed  during the three-day meeting held in Musanze district, Northern Province on Wednesday 3.
The meeting convened researchers, tech experts, and policy makers from National Industrial Research and Development Agency (NIRDA) and it is part of the world campaign dubbed "circular economy for food."
A circular economy for food imitates common frameworks of recovery so that waste does not exist, but is instead feed stock for another cycle. In a circular economy, natural assets such as those from nourishment by-products, are free from contaminants and can securely be returned to the soil within the frame of natural manure.
The meeting also aimed at discussing solutions on reducing food waste by small and medium food processing factories during production.
The circular economy for food discussions come after global figures indicating that 40% of the food is wasted as leftovers and during production.
According to Eric Ruzigamanzi, Project Manager at Circular Food Systems Project , Rwanda is among countries where food waste is real, but the trend should be reversed by putting wasted food to use.
"There is no research about food waste in Rwanda, but globally 40% of the food is wasted. There are no solutions for putting this wasted food to use, or turning it into beneficial purposes. Some food is wasted during harvesting, and production. This is a national commodity wasted," Ruzigamanzi said.
He pointed out that with the available technology all that is condemned to waste can be recycled to give other beneficial products.
According to Ruzigamanzi, Rwanda would not have experienced shortage of fertilizers during the Russia and Ukraine war, if the wasted food was recycled to produce fertilizers.
As part of the case study, the researchers visited Dominique Xavio Imbabazi, founder of Golden Insect Ltd, a centre that professionally and commercially breeds insects and other living micro-organisms for feed, food and other domestic commodities.
Imbabazi says his company is a good partner of the farmers because they give him wasted food and he gives them fertilizers after processing.
"I have some maggots that eat wasted food, they produce fertilizers, similar to the fertilizers produced in factories. Whoever gives me the wasted food, I also give him fertilizers, the benefit is mutual," Imbabazi said.
Imbabazi also works with restaurant owners in Musanze district that provides him with wasted food.
He pointed out that his company produces less than 100 kilograms, but could produce more because it lacks more money to expand the production.
According to Sylvie Mugabekazi, the Technical Expert at the Cleaner Production and Climate Innovation Centre (CPCIC) which works in NIRDA, the coalition researchers and other partners will find a solution for the small and medium factories in dealing with wasted food to recycle it for other useful commodities.
"Today's action was bringing together all partners to understand circular food systems, the possible ways of food waste recycling systems. In this meeting we shall find ways how these small and medium factories can work in recycling, but also protecting the environment," Mugabekazi said.