President Paul Kagame has reminded leaders that when they are appointed to public offices, their priority becomes the interests of the country and the citizens, which come ahead of personal interests.
The Head of State made the call Wednesday while officiating at the swearing-in of the new Minister of Infrastructure, Dr. Jimmy Gasore, at Urugwiro Village, less than 24 hours after the scientist was appointed to the post, replacing Dr. Ernest Nsabimana.
President Kagame used the opportunity to caution leaders against focusing on speeches, meetings and studies and instead focus on execution of programmes and policies for tangible results, because the most important thing is to improve the welfare of Rwandans.
"When one is in a position to serve Rwandans and serve the country, you put your interests as an individual aside, even though you don't forget them because everyone has the right to want to improve their standards of living. But when it comes to such responsibilities, improving the lives of Rwandans and our country must come before everything else." President Kagame said.
The Head of State said that while personal development is also a goal which must be attained, it should not come at the cost of the interests of the country and the people, emphasizing that there is no need to often remind leaders of that responsibility, as this is something they should know from the onset.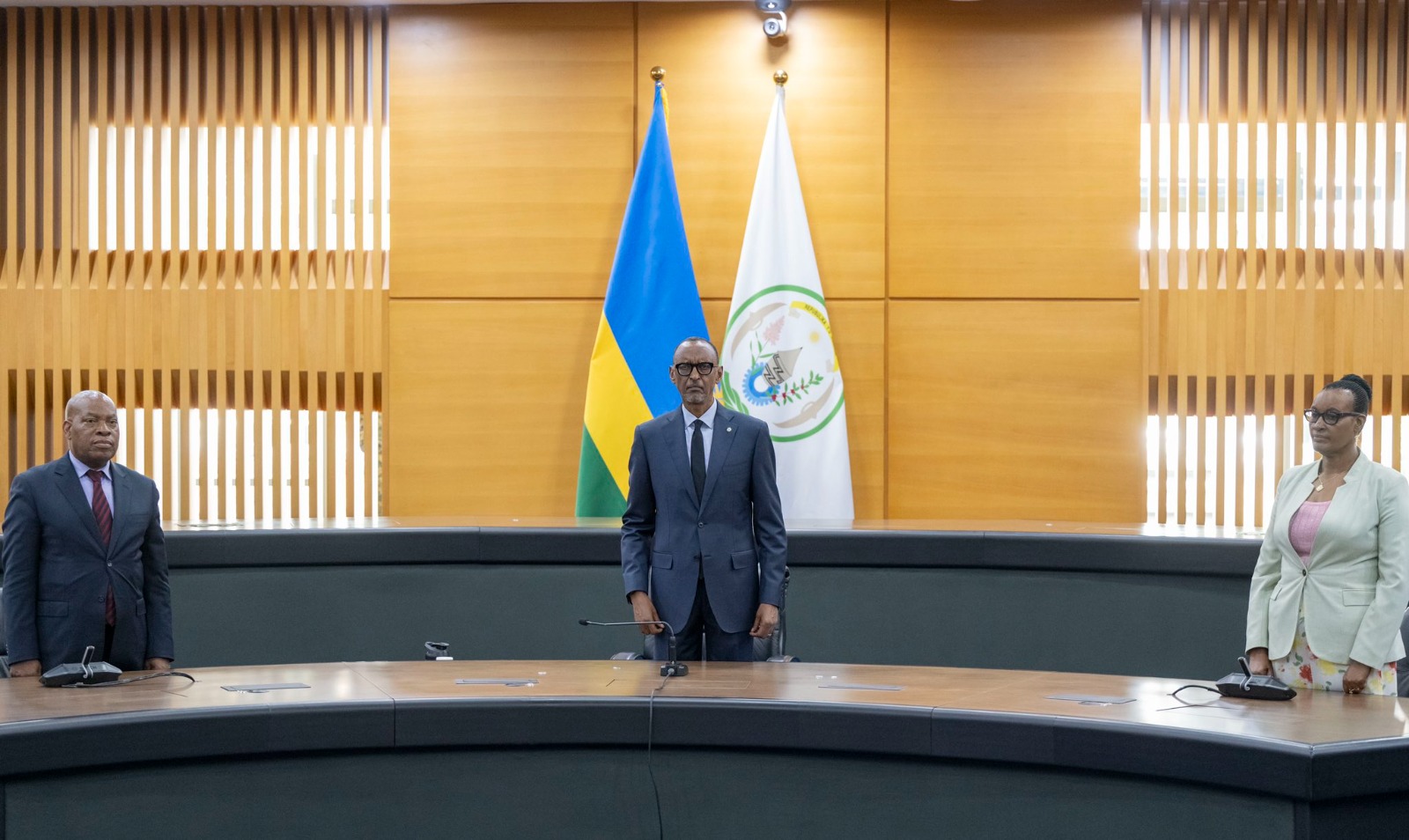 President Kagame said that often officials will engage in meetings, give speeches and conduct studies but in reality they fall short of executing or implementing what was agreed upon
"We want to see actions, we want to see results. That is what people want, that is what the country wants. We emphasize this all the time but it gets to a point where people become complacent. You ask someone you expect to know what they are doing, why such and such wasn't done as agreed and they can't explain,"
"Instead of explaining to you, they start apologizing. The issue here is not an apology but rather why things didn't happen as they were expected, in the agreed timeframe," President Kagame said, reiterating that what the nation expects are tangible results, not explanations.
He pointed out that while in some cases it is understandable that some targets cannot be achieved as planned, mainly because of lack of resources, the country cannot afford to tolerate people who don't execute what they are expected of even when resources are available.
"If it is about the resources that we don't have, that is understandable. There isn't much you can do about it, but it is different when we fail to do even those things that we can afford within our means," President Kagame said.
The Head of State advised the new Minister to focus on his work and not pay attention to people looking to influence or distract him and instead take up the mantle and get to work, with his new given authority to head the infrastructure docket. He also urged Dr. Gasore not to be distracted by the perks of power or everything else the position comes with.
President Kagame, who used the opportunity to caution other leaders, told the new Minister to remain grounded and focused, among other things, and to take firm decisions on implementing decisions and policies rather than simply sitting in office and feeling important as some leaders do.
He cautioned against the habit of delegating duties as some leaders to, passing on their responsibilities to others below them, who also go on to delegate others, and before you know it, time and resources are lost and there are no tangible results on the ground.
President Kagame told the former University of Rwanda lecturer to not be intimidated by his more senior peers as well as people he will find in the Ministry.
Dr. Gasore, a specialist in atmospheric sciences, has an impressive record and is credited for helping to establish the Rwanda Climate Observatory; a comprehensive field station that monitors atmospheric composition related to climate change, air pollution and ozone depletion, as the Station Chief Scientist.
He holds a bachelor's degree in Physics from the National University of Rwanda (2008) and a PhD in Atmospheric Sciences from the Massachusetts Institute of Technology (February 2018) and he is a research fellow at the Kigali Collaborative Research Center (KCRC).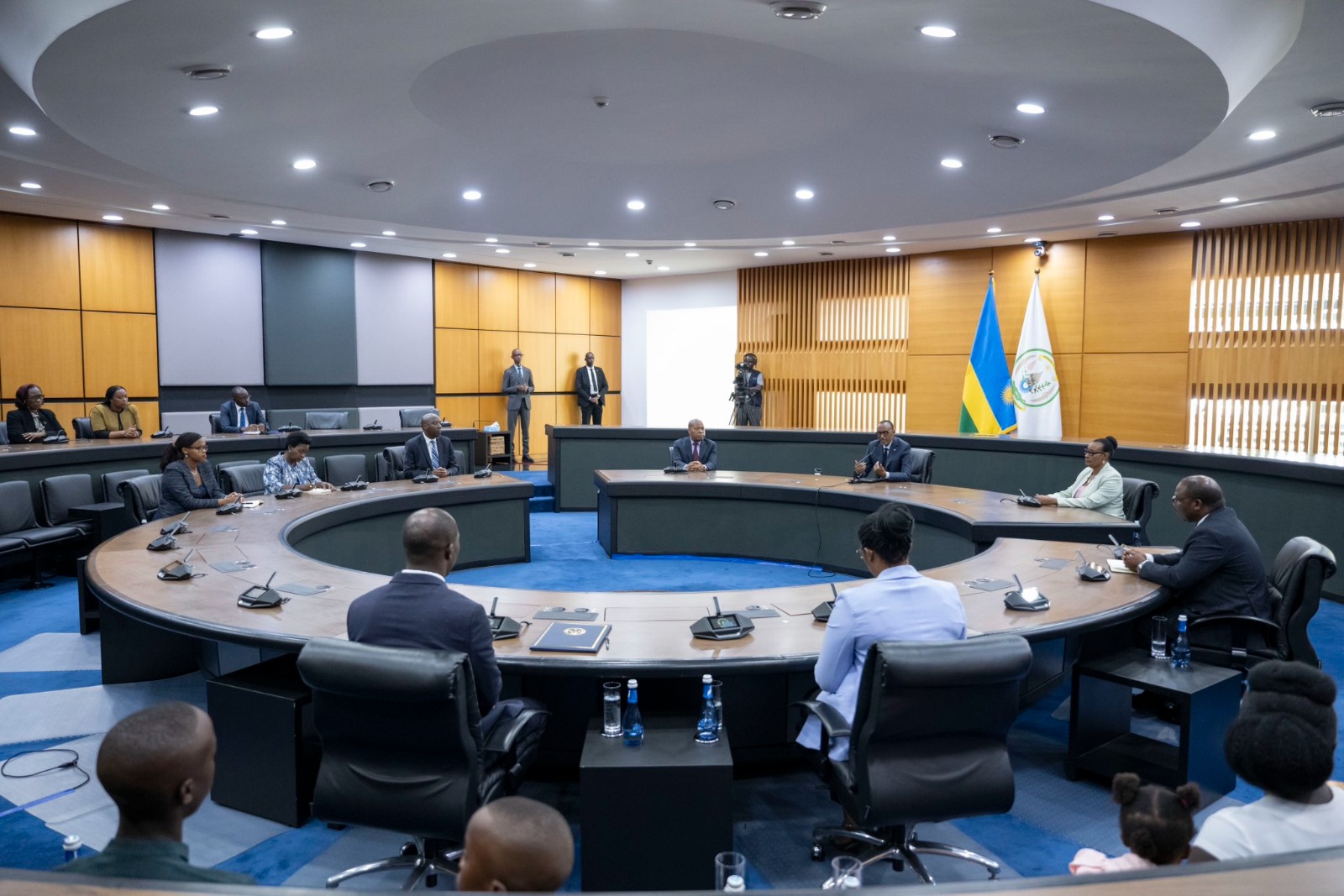 He worked with the Rwanda Climate Observatory from 2013. The station is part of the MIT-led Advanced Global Atmospheric Gases Experiment (AGAGE), an international network measuring atmospheric composition using high-frequency on site measurements with standardized protocols and instrumentations.
The Rwanda Climate Observatory is the only AGAGE station in Africa. He used the observations from these monitoring sites to estimate regional emissions of carbon dioxide and methane as part of his PhD thesis, which went on to win the "Rossby awards" as the best thesis in the program in Atmosphere, Oceans and Climate at the Massachusetts Institute of Technology.
Between 2017 and 2018, Dr. Gasore led a Rwanda Environment Management Authority (REMA) air quality monitoring project. He was responsible for setting up instruments to monitor the levels of pollutants and chemical composition of particulate matter in order to understand the drivers of air pollution in Rwanda and advise policy.
He is married with three children. Two boys and a girl.