Rwanda is phasing out the random use of land, to save the 26,338 square kilometres of the country that should be transferred to generations with minimum or no loss whatsoever.
The National Land Use Development Master Plan(NLUDP) is the master key to that effect.
The latter is a well-designed countrywide plan with the target of 2050 to allocate land to different uses by accumulating all thematic sectors, in order to manage the effective use of resources and guide the future development as well as by promoting more desirable socio, economic and environmental outcomes.
A more detailed master plan at district level which is aligned with NLUDP, the District Land Use Plan(DLUP) was also developed to guide the implementation of the former in two phases, of 2035 and 2050 respectively.
Muhanga District (South) land use plan is already under implementation with much attention given the status of the city, which is at the second level; the satellite city.
Muhanga whose urban settlement now stands at 25% against the target of 70% by 2050, is meant to serve as a back-up to Kigali, Rwanda's capital city alongside Nyamata and Rwamagana of Eastern Province respectively.
The strategic location of Muhanga district gives it a potential of a transit hub for the goods from Southern Province via Huye district and across the border in Burundi.
The district is well placed to be a transit for the Western Province from either Rusizi, Rubavu and Karongi which border with Rwanda's biggest regional market, the Democratic Republic of Congo.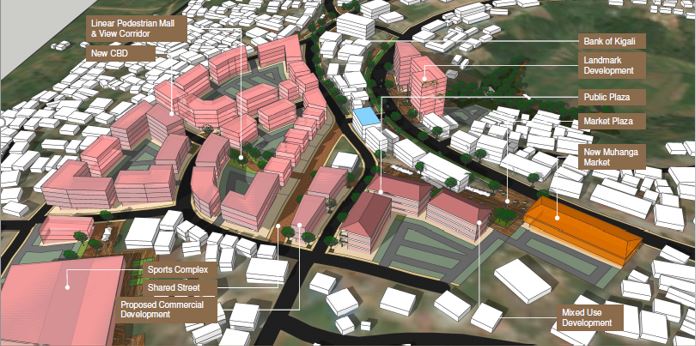 Looking at the main economic activity of the district itself and the neighbouring districts, the Masterplan gave Muhanga an appellation of a Commercial and Mining Hub.
This draws from Muhanga economic specialisation which include mining extraction, and trade where the district is a regional trade center due to its geographical location.
The district also fits for industry, logistics and meeting tourism commonly known as Meetings, Incentives, Conferences and Exhibitions(MICE).
Mineral rich regions include Ndiza hills, Kibangu, Mushishiro and Kabacuzi. According to Ernest Ruzindana  the team leader for Muhanga District land use master plan elaboration, the district is also surrounded by mineral stocks.
"Ngororero, Rutsiro, Gakenke and Rulindo districts are also rich in minerals. Muhanga being in the middle takes that merit of a national mining processing hub," Ruzindana said.
Given this background, the catalytic projects of the district support the two causes and put in place infrastructure and an enabling environment that will allow Muhanga to live its mandate.
According to Ruzindana, Rwanda's industry is divided into three categories, including special economic zone and the heavy and light industry respectively.
"Muhanga will be home for the heavy industry which support Kigali's special economic zone," Ruzindana said.
Speaking about the key projects now at different stages of implementation, the Director of Muhanga One Stop Centre starts with Muhanga Indutrial zone with 67 hectares.
Already, a cement factory is operational in Muhanga industrial zone.
Anjia Prefabricated Construction Rwanda Company Ltd, is a $100 million cement and building material manufacturing facility that will be producing over 1 million tonnes of cement annually.
"The factory is already operational, and more are coming, including a hygienic material factory, a mineral melting factory, a garment factory and a kitchenware factory," said the Director of Muhanga One Stop Centre, Nzabonimpa Onesphore.
"All these factories acquired the land within the industrial demarcated zone. The Ministry of Trade has already started expropriation to acquire the remaining portion to complete the 67 hectares."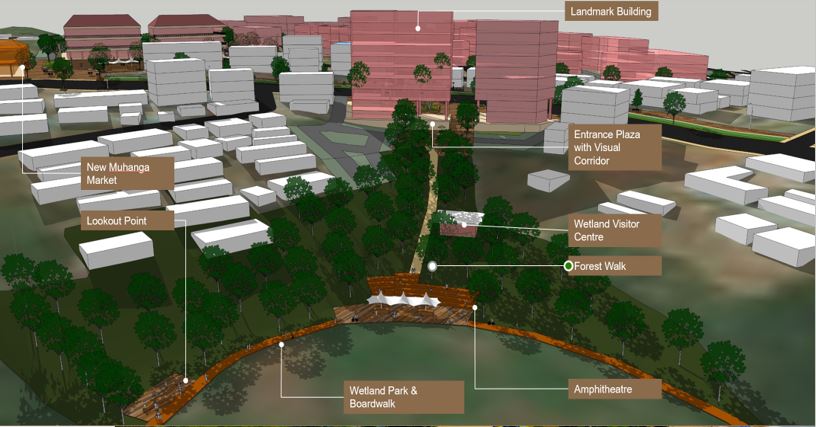 In Muhanga, also 10 hectares have been spared for the construction of 40,000 seater stadium, in Shyogwe sector, Kigarama village.
The stadium will be constructed in partnership between Rwanda Federation of Football Association(FERWAFA) and the Confederation of African Football(CAF) in its 10-stadium project across the continent.
The expropriation cost more than Rwf 800 million, according to the Director of One Stop Centre.
"This will improve the visibility of Muhanga district," he said.
Moreover, a-5-star hotel that will be built on 17 hectares in Shyogwe sector is a project of Rwanda Development Board(RDB) and three districts that joined force to form one company RMK (Ruhango, Muhanga, Kamonyi) which constitute the former Gitarama Prefecture.
"As Muhanga, our share was the plot whose expropriation cost us Rwf 350 million. Kamonyi and Ruhango will equally contribute as we also seek investors to help implement the project," Nzabonimpa said.
In terms of commercial houses, the Director of OSC said that they encourage investors to build houses that fulfill requirements of the master plan.
All activities will be intertwined with a road network project which is implemented under the Rwanda Urban Development Project (RUDP).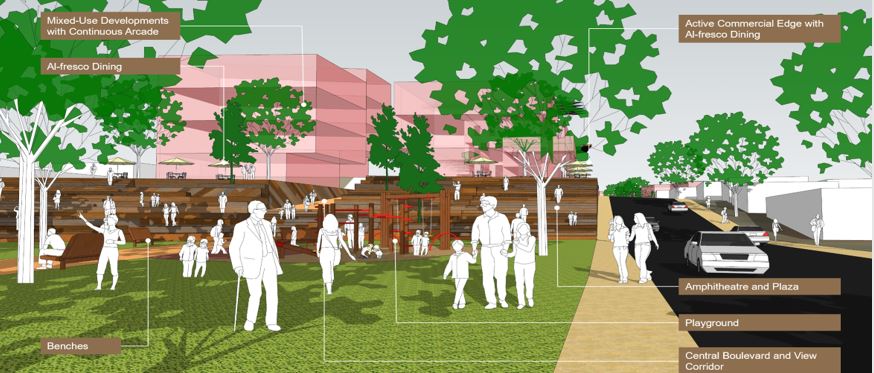 The latter is a five- year project that will improve access to basic services, enhance resilience, and strengthen integrated urban planning and management in the City of Kigali and the six secondary cities of Rwanda. '
"We have finished the third phase where we accomplished 21 kilometre road network of tarmac, which improve the settlement and encourage investment," said the Director of One Stop Centre adding that they have already spent around Rwf 17 billion on the project.
Need a plot in Muhanga: The sites
Muhanga district was planned within the national settlement targets where the country seeks to have 70% of the citizen in urban settlements, and 30% in rural settlements by 2050.
It is against 81% citizen in rural area and 19% in the cities as per 2019 figures.
Muhanga's population, 414,883 as per 2022 is expected to increase to 510,625 in 2035 and 550,000 by 2050.
They will be dispatched in the satellite city, Remera Rurban Center and 135 rural settlement sites.
With 3,904 hectares of rural settlements, Kabacuzi has the biggest number of settlements with 18 sites, followed by Rugendabari, 17 sites. Rongi and Muhanga have 15 sites respectively.
To increase citizen participation, Muhanga district brought on board city dwellers together, to partner in planning for residential sites, which aims to phase out unplanned settlement in the satellite city.
"The citizen come together, pay a land surveyor who makes a physical plan for them; the technician shows a place dedicated to roads and other public amenities, and show plot boundaries," he said.
It is in this context that Karama and Musezero sites in Shyogwe sector were planned, and the next to come are Nyarusiza, Nyarutovu from Nyamabuye sector, now at approval phase.