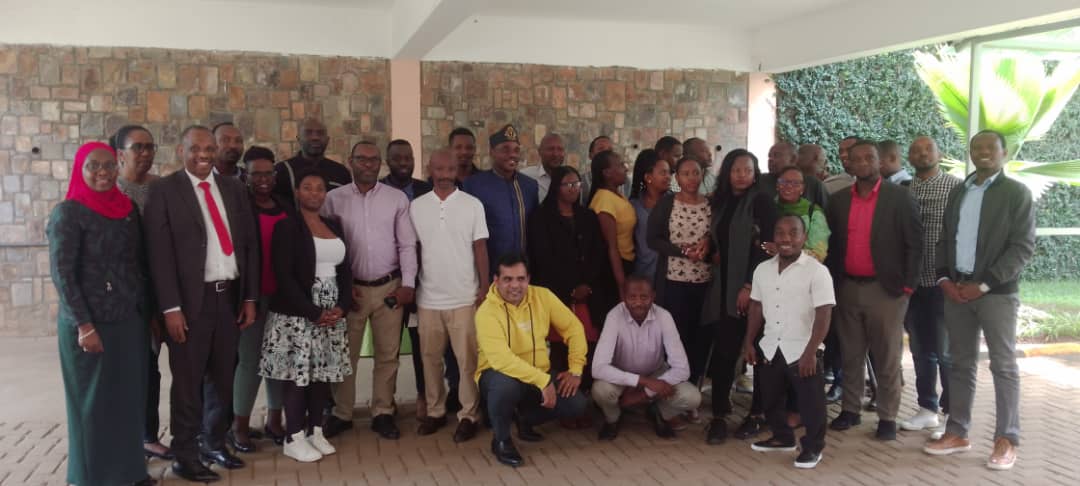 The anticipated Rwandan Innovative Digital Platform (INNODIP), that will link academia and industry in order to create jobs and opportunities, is expected to be officially launched this December, officials say.
Rwanda targets to create 1.5 million off-farm jobs by 2024 to reduce youth unemployment, and at least 214,000 jobs to be created annually since 2017, however, the 2023 National Institute of Statistics of Rwanda (NISR) new statistics show that unemployment has reached 17.2%.
The INNODIP project was as a result of research results that showed a wide mismatch and gap of skills between academia and industry where both lacked available information on skilled labor and employment opportunities.
This means that once the platform is developed, it will offer new and former graduates an opportunity to post CV's and find jobs, but also industry players find qualified employees depending on the skills needed based on research information.
The platform development, funded by the 'Research and Innovation Systems for Africa' and spearheaded by the University of Tourism, Technology and Business Studies (UTB) and supported by the government was announced in February as a solution to tackle unemployment through research evidence.
After months of building the platform locally, Professor Prince Wasajja Kiwanuka, the INNODIP project coordinator said that the construction is 85 percent with only one step away out of the 12 steps that were planned in the project software development.
"We have come to the end of the project implementation and all we can look forward to is success. The next time we will be talking about it, will be launching the product," said Professor Prince Wasajja Kiwanuka, the INNODIP project coordinator.
Kiwanuka revealed that the full launch will be before the end of December 2023.
This is expected to be the first software and platform of its kind to be developed in Rwanda and in the East African region and it will onboard stakeholders, government, universities in Rwanda, and academia among others.
"All stakeholders are on board and are going to benefit in the future. We are now testing the software to see if it works and if it can benefit the minority groups including women and the uneducated citizens," Kimanuka told KTPress.
Research was well done and was well covered, though we found some challenges along the way.
Kimanuka noted that the initial objective to create a job platform has changed following new needs raised by stakeholders (industry and academia) along the validation process.
For instance, the platform will now be inclusive, not centered in the urban needs but also address unemployment concerns in rural areas (especially non-graduates); gender and persons with disabilities.
"We are trying to balance these concerns in the platform system, " Kimanuka said.
Josiane Uwiduhaye, a member of the National Union of Disability Organizations of Rwanda (NUDOR) welcomed the platform progress but said that it should consider floating opportunities which persons with disability can access.
"That is the only way we can also benefit if the opportunities posted on the platform are considerate of common disabilities of vision and hearing; it will enable us to easily participate," Uwiduhaye said.
Claude Kwizera, a former University of Rwanda computer engineering graduate (in 2022) has been unemployed and currently pursuing a master's degree at Carnegie Mellon University says he is hopeful the platform will enable many potential employers to tap into his skills set.
Platform Overview
The platform will have interfaces for academia, industries, curricula, publications, consultancy, research call, internship and jobs offerings (with detail in salary and requirements
Both industry and academia- must enter an account with the organization's email, not personal. Institutions enter as industry – and must have opportunities (jobs) to present, and be able to see applicant's response.
If academia- the opportunities can be diverse from research, consultancy etc.
Platform users are in three types: The applicant, academia and industry. To interact with the system, you have to create an account using a personal email (applicant) or organization's email (academia or industry).
For example, an applicant clicks on the applicant slide and fill in some personal details, create a password and then log in to the system upon creation of a user
The first step is to go to the website www.innodip.rw. As a new user, one has to register as an applicant (on the applicant interface) for the system to store one's data and information.
All users have to create an account and details include personal information, Identity card, Tin number (to ensure authenticity).
During a stakeholder's validation meeting this week, some said that the TIN number details can be left optional but the software developers said that this is important to authenticate existence especially for companies and organizations.
Stakeholders also asked that the platform is built with strong user information and data protection especially on login passwords and user consent, terms and conditions.