It is ten years, since the Embassy of the Republic of China in Rwanda, put their broad shoulders to the wheel of Imbuto Foundation's "Edified Generation" project, the two partners met at the Nyamata Technical Secondary School to mark the milestone.
Through the many projects it sponsors in diverse sectors, the Embassy of China's engagement with Rwandan society, makes it virtually part of the community. The Chinese diplomats will no doubt be aware that in Kinyarwanda folklore, a visitor who arrives amidst rain, is believed to be a harbinger of good fortune.
Judiciously, the Embassy delegation brought just enough rain to Nyamata Secondary School, to be a blessing, while allowing the prepared programme to mark the tenth year anniversary to continue unhindered. There is after all such a thing as too much of good thing.
As well as the showers, the blessings can be seen from scholarships the Embassy gives to hundreds of students, in support of Imbuto Foundation's "Edified Generation" project.
The initiative was begun by the foundation in 2002, to support bright pupils from the poorest backgrounds. There is universal state supported primary and secondary school education in Rwanda, but extra charges for essentials like books, uniforms, can be too much of a burden for many families.
The Imbuto Foundation project takes the brightest pupils, who would otherwise drop out of education, and supports them through secondary and higher education. In addition to material help, the children are offered mentoring, in the form of annual holiday camps, where pupils are given career advice, and taught life skills, including healthy living, and how to manage their finances, when they do eventually get their hands on them to manage.
Over ten thousand students have been given scholarships, since the project was started. And when they can, students are encouraged to share their good fortune with the peers, which most do, either individually, or through the Imbuto Foundation Alumni.
The Embassy of China has been supporting the programme since 2013. In his remarks, thanking the Chinese Embassy delegation, the mayor of Bugesera, Richard Gatabazi, himself from an engineering background, noted that the scholarships offered to some students at the Nyamata school, do in fact benefit all students, as for instance, the equipment provided is used by the whole school.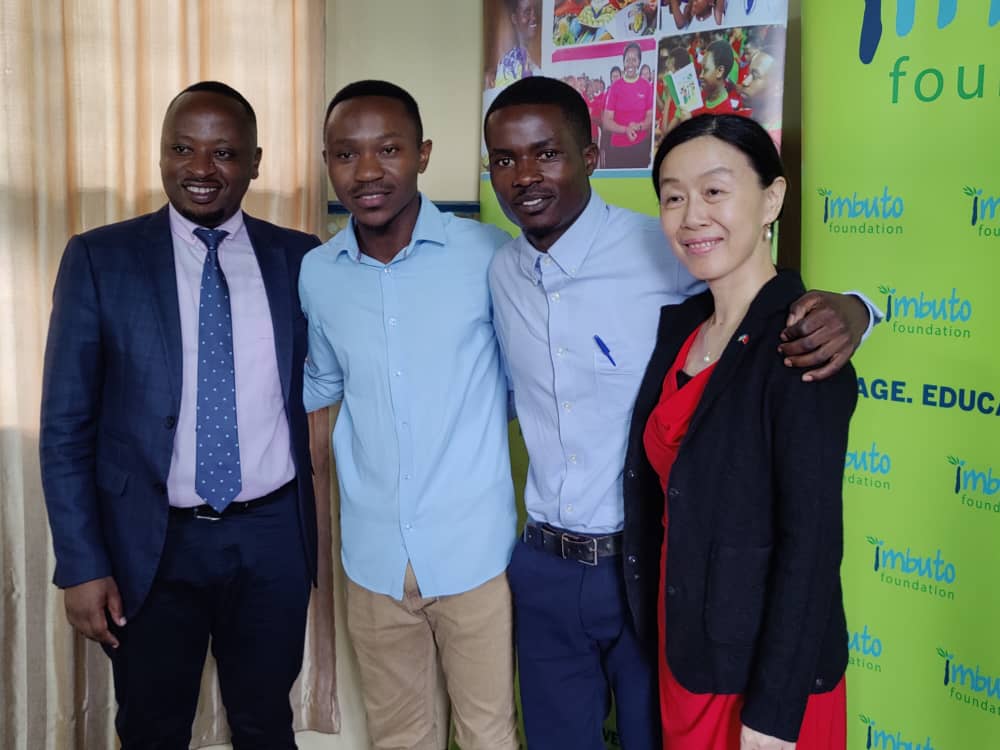 The programme was ably represented by two of its alumni, Theophile Uwiragiye, and Dr Eric Mugabo. After passing their primary school exams with flying colours, both were due to drop out for lack of funds to continue on to secondary school, when Imbuto Foundation stepped in with an offer of scholarships.
A few years later, Mugabo is now a medical doctor, studying for a masters in public health administration. After graduation in civil engineering and construction, Uwiragiye, worked for various companies, eventually opting to become a teacher, and now teaches at secondary school. He also spends a sizable part of his income, supporting a student who, like him, was about to drop out of higher education, because he would not have been able to afford the expense.
When it was established, said Imbuto Foundation Director-General, Jackson Vugayabago, the foundation aimed to live up to its name, imbuto, seed in Kinyarwanda, by planting seeds and nurturing them. Now, he continued, with the help of the Chinese Embassy, they were no longer looking at seeds, but flourishing plants that continue to grow. It was, he said, moving to see young people like Uwiragiye, not only contributing to their society through their own careers, but also taking it upon themselves to help other young people, who are now as they themselves once were.
Clearly impressed by the testimonies, and what she had seen, the Charge d'affaires at the Chinese Embassy, Ms Lin Hang, spoke movingly of ten years of partnership, and friendship, which she promised would endure.
In working with Imbuto Foundation to help the young people of Rwanda, the Embassy also gained much she said, learning from Rwandan values of commitment to work for their society and their country. She talked of the Chinese belief that to give is also to receive, quoting a Chinese saying, that "when you give flowers, the scent stays on your hands."
She assured her audience that the best was ahead of them, and the partnership would not only be sustained, but would grow. She invited the foundation to brainstorm, on how they could further work together for the benefit of the young people.
Imbuto Foundation was established by Rwanda's first lady, in 2007, to support diverse programmes, including the development of young people. It grew out of an organisation established under the first lady's office, to protect families from HIV/AIDS. As that organisation broadened out to take on ever more social challenges, it morphed into Imbuto Foundation.
The Foundation now runs a number of programmes to support disadvantaged groups, including youth empowerment, promoting health, and education, to name a few.