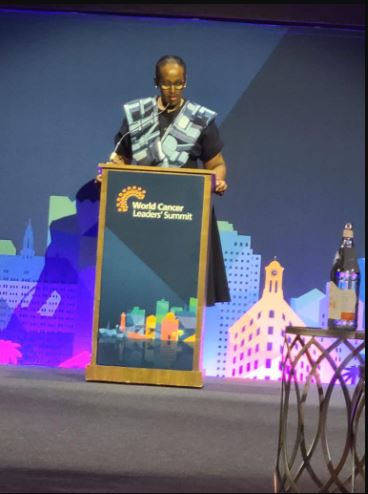 At the World Cancer Leaders' Summit organized by Union for International Cancer Control (UICC), in long Beach, California, First Lady Mrs. Jeannette Kagame shared a message of hope and resole with champions of the fight against cancer.
Taking place on October 16-17, 2023, the two-day summit brought together people from all places to ease the burden of cancer on society, promote cooperation and support the creation of strategies to help control cancer worldwide.
The conference is held every two years to bring the world's key decision makers into the fight against cancer.
This year, it was attended by more than 350 people including leaders from different levels of government, decision makers, company leaders, health professionals, policy strategists, influencers, researchers and advocates in cancer advocacy companies, hospitalists, representatives of UN departments, heads of state and health ministers from nearly 100 countries.
Addressing the attendees, Mrs. Kagame, shared the lesson that Rwanda learned in the battle of fighting against Cancer
She said, "The lesson we have learned in Rwanda, may be similar to those from across the world: prevention is more humane; less expensive; and more logical than treatment…Partnership is our means, and resilient health systems, our pathway. Let us never be faulted for not having put up a good fight."
Mrs. Kagame used the example of Rwanda to show that it may have gone through the same path as other countries but there has been progress.
"Since the inception of the Human Papillomavirus (HPV) vaccination for young girls in 2011, we have consistently maintained vaccination coverage rates exceeding 93%," she said, adding, "Rwanda believes that access to cancer care should be granted, regardless of geography, gender, age or economic ability."
She went on to say that Rwanda in 2012 opened, together with Partners in Health, the Butaro Cancer Center of Excellence in the northern part of the country to provide integrated diagnostic, therapeutic, and palliative care services to not only Rwandans, but also, to cancer patients from neighboring countries and beyond.
"On World Cancer Day in February 2020, we launched the Rwanda Cancer Center at the Military Hospital in Kigali. This hospital offers comprehensive care: from diagnosis, surgical oncology, chemotherapy and radiotherapy," she said.
According to Mrs. Kagame, in response to the problems that can cause cancer, Rwanda has launched various programs, including TunyweLess, which aims to help young people reduce the amount of alcohol they drink, public sports aimed at fighting non-communicable diseases, making it easier for owners of electric cars to be tax-free to reduce air pollution, etc.
As Rwanda poised to become Africa's largest hub for medical training and research in minimally invasive surgery, and digestive cancer research, Mrs. Kagame said, "We are thrilled to host the newly-launched IRCAD Africa Institute in Kigali, a beacon of innovation founded by the renAwned Professor, Jacques Marescaux."
Mrs. Kagame said that in the collaboration with different institutions, there are appropriate solutions that would help countries to win the fight against cancer.
She said that no one knows the severity of cancer, and expressed concern that there are still few people who have access to treatment.
Mrs. Kagame said that everyone has the right to have access to safe and reliable medical care, asking that the world needs to improve the way everyone has access to medicine in times of need.
"As a civilized world, we must refuse, and rethink this notion. This is why we must confront the dynamics behind the failures of our healthcare systems that perpetuate such inequalities," she stressed.
Mrs. Kagame expressed that it is unfortunate that among those who died of cancer in 2020, about four million could have been treated and cured.
She said, "How disheartening it feels to learn that in the year, 2020, about 40% (equivalent to 4 million) of cancer-related deaths could have been avoided, by implementing effective cancer prevention strategies: strategies that are attainable across all continents, including in low-income countries."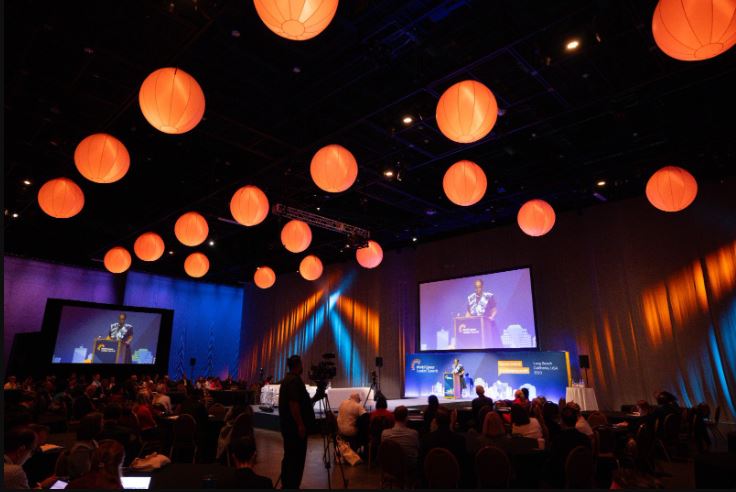 In this regard, she asked the whole world to stand up and join hands in the fight against cancer.
"So, perhaps, what we might want to seize this occasion to ask ourselves, is: How many more lives must be lost, before global cooperation, finally, yields victory against cancer?" she asked "(1) Will it take universal access to healthcare and the promotion of healthy lifestyles? (2)Will it take Systematic mass screening and controlled pricing for cancer medication? or (3) Will it take Increased research funding and more representative access to clinical trials?"
She added, "This basic progress is owed to all! The clock is ticking!"
In this battle, Mrs. Kagame said that the world will win if join forces.
"We hope that these efforts, and others, will have a lasting generational impact, in protecting the health of our citizens; Partnership is our means, and resilient health systems, our pathway."
"Let us never be faulted for not having put up a good fight. Let us pool together; spend every last bit of our energy until cancer is curable, We WILL win this battle against cancer! … We MUST win!" she said.
The World Health Organization, (WHO) indicates that cancer is the leading cause of death in the world, with an estimated 10 million deaths in 2020. At least one in six deaths worldwide they have cancer.
The leading cancer killers are breast, lung, stomach, colon and prostate cancers.
WHO reports that every year, 400,000 children are diagnosed with cancer, with cervical cancer being the most common in 23 countries.
At least 1/3 of cancer deaths are caused by factors including smoking, drinking alcohol, not eating enough fruits and vegetables, and not getting enough exercise.
In Rwanda, the leading cancers include cervical, breast, colon, prostate and stomach.