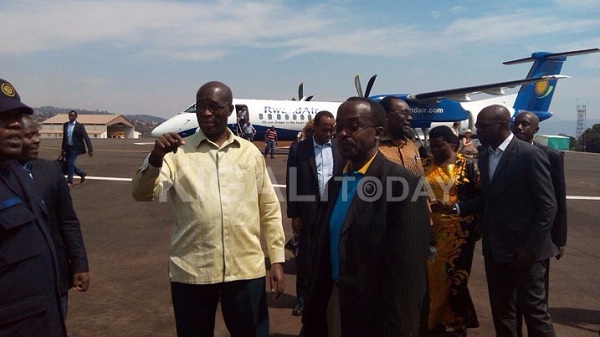 Prime Minister Anastas Murekezi landed at Kamembe airport in Rusizi district Monday afternoon where he was expected to begin visiting several investments in the area.
He also spoke to local leaders and the business community.
Hi inspected the refurbished airport (spent Rwf5 billion) and a Frw14 billion Marina Bay Hotel to be completed in August 2016.
On June 30, while on his citizen outreach program in Western province, President Paul Kagame instructed the 300 capacity hotel be completed to allow tourism and other businesses to flourish.
It is a venture for Development bank (BRD), Cyangugu Catholic Dioceses and other independent investors.
On Tuesday morning, Murekezi will inaugurate the new plant for cement factory, CIMERWA and later inspect how far the factory has reached in its expansion exercise.
By April, cement supply in Rwanda was 400,000 metric tons p.a. and CIMERWA's contribution was only 100,000 metric tons, leaving the other two thirds of the market to Uganda's Hima Cement and Tanzania's Kirimanjaro Cement.
With the expansion, CIMERWA expects to increase production to 600,000 metric tons annually.
Meanwhile, the PM was escorted by various senior government officials including Trade Minister Francois Kanimba, Local Governance Minister Francis Kaboneka and RDB CEO Francis Gatare.
Interestingly, leaders used to take up to six hours driving to Rusizi. Now with Rwandair's daily flights, it takes only 45 minutes.