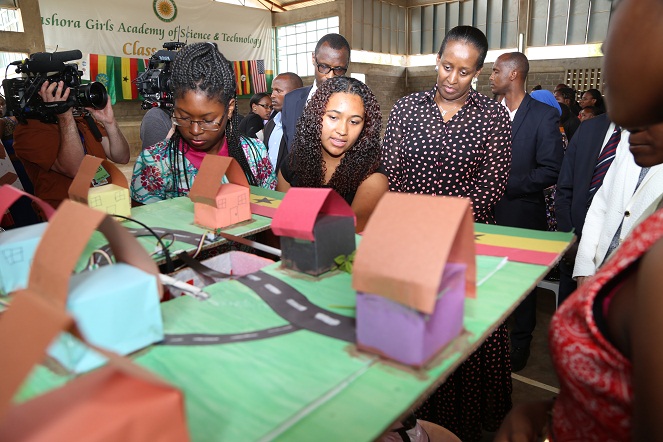 The First Lady Jeannette Kagame has said that a combination of African girls, particularly Rwandan girls, and science and innovation is creating an explosion.
"If you think technology is impressive, try combining it with power I see in you girls. Explosive, I would say."
Mrs Kagame was yesterday speaking at the graduation ceremony of Women in Science and Innovation's Summer Camp at Gashora Girls Academy in Bugesera, Eastern Rwanda.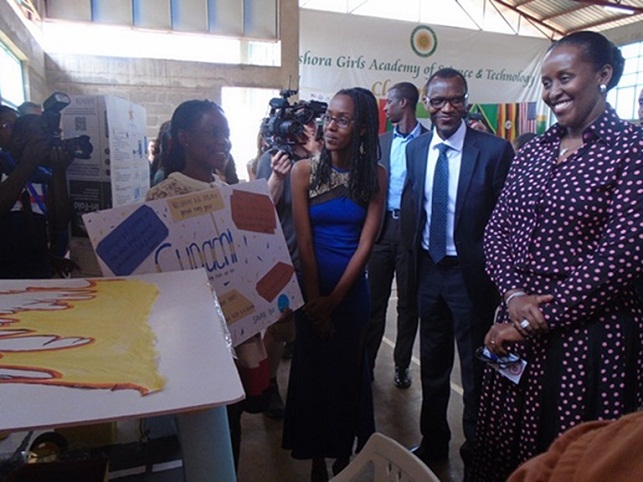 She braced 120 girls from nine countries including Uganda, Tanzania, Kenya, Ethiopia, Ghana, Nigeria, South Africa, USA and Rwanda.
The First Lady was impressed by the abilities in use of technology displayed by young girls.
The girls designed several programs that would help countries to install an automated environmental-friendly irrigation using solar energy. The system cuts down costs too.
Trained by Microsoft Corporation experts from India, the girls stayed in a friendly environment on the Shore of Cyohoha Lake and concentrated on computer sciences, robotics and entrepreneurship and design.
They designed robotic softwares that can sense the level of soil water scarcity and trigger the machine to start pumping water.
The machine would automatically stop spreading water as soon as the field has got enough water.
The objective of the training was to equip the girls with skills to create solutions problems on the continent and change life people's lives.
"We are decreasing manpower in irrigation, while also ensuring effective irrigation system," says Nana Aba, one of the participants from Ghana.
When Aba's team was developing this irrigation technology, their colleagues were programming a less costly fire detector.
Installed on the top of the roof, a fire detector would communicate with a small device on a necklace, a watch or any small garment on one's  body and make an alarm in case of fire outbreak.
Other girls designed a device that detects the level of alcohol among drivers. Others concentrated on health software that would help in several contexts.
The First Lady encouraged the girls to keep aiming high so as and take the lead in solving problems in their respective communities.
"Be present, observant and sensitive to the needs in your community so as to create social changes," she said, "be a pioneer, discover the tools needed to surprise the world."
The girls will be supported to make their innovations into practical and bankable projects.
"We shall present viable projects in an international trade fair in 2016," says Nkubito Bakuramutsa, Advisor of ICT in Ministry of Education.
The initiative, the first of its kind in Rwanda, is funded by Microsoft under the Let Girls Learn project, an initiative of the US First Lady Michel Obama, the US Department of State.