Rwanda's President Paul Kagame has proposed to officials in charge of National Park Conservation to move from Gorilla naming event to naming lions, to underline the king of the jungle value to the country tourism.
Last year, Rwanda imported seven lions into Akagera National Park. According to Francis Gatare, CEO of Rwanda Development Board (RDB), the number has doubled.
Speaking at the 12th Gorilla naming ceremony today in Musanze District, Northern Province, President Kagame said the rise of the number of Gorillas in the volcano national park shows efforts put to conserve environment and hence the ceremony should also extend to naming recently born lions.
"Naming lions' cubs would be a step further in restoration of what we have recently acquired, and safeguard of all that we have. That is a responsibility of not only the government but also each and every Rwandan."
Meanwhile, the 12th Kwita Izina featured naming 22 Gorilla babies born since late last year.
The new babies bring the total number of Gorillas named to 283 since 2005. Rwanda's Volcano National Park is home to 304 gorillas representing 35% of the entire world's population.
President Kagame told thousands of Rwandans and guests who attended the ceremony that Gorilla naming (Kwita Izina) should not be taken for granted.
"Today is not only about KwitaIzina. We are here not just to name baby gorillas, but remind ourselves of the duty we have to conserve our heritage." Emphasized Kagame
Kagame added that there is no tradeoff between economic growths and protecting our environment, saying the two complement each other.
He challenged Rwandans surrounding national parks to preserve them since some of the percentage of revenues generated go to them.
Since 2005, the government adopted a tourism revenue sharing scheme under which communities living near touristic sites get a 5% share of annual revenue generated from the sites.
Since then, about 480 projects ranging from schools, health centers, and clean/safe water among others have received support worth Rwf2.63billion.
For President Kagame, "The more we put efforts in conserving, the more benefits accrued, meaning the communities will even benefit more."
According to 2015-2016 financial year, Rwanda received $305 million revenues from National Parks.
Belise Kariza, Chief Tourism officer at RDB said the revenue sharing scheme has greatly helped conservation efforts. Among beneficiaries are included former poachers who form cooperatives and get funding for income generating projects.
Meanwhile, this year's naming ceremony attracted guests from 28 countries of Africa, America; Asia, Australia and Europe.
Among guests who named baby gorillas include Mary Ann MacDonald-an American renowned Gorilla tracker, who sealed 91 first Gorilla tracking today.
She named a baby gorilla 'Ntamupaka "no border" which she last photographed last year when it was just 7 days old. MacDonald has been tracking Gorillas for the past 13 years.
Foreigners visiting Rwandan Parks have been hailing the country for environment conservation policies.
For Peter Fearnhead, CEO of African Parks "Rwanda is the continental leader in conservation."
For the 3rd time, this year's naming ceremony saw twin baby gorillas named following others that were named in 2005 and 2012 respectively.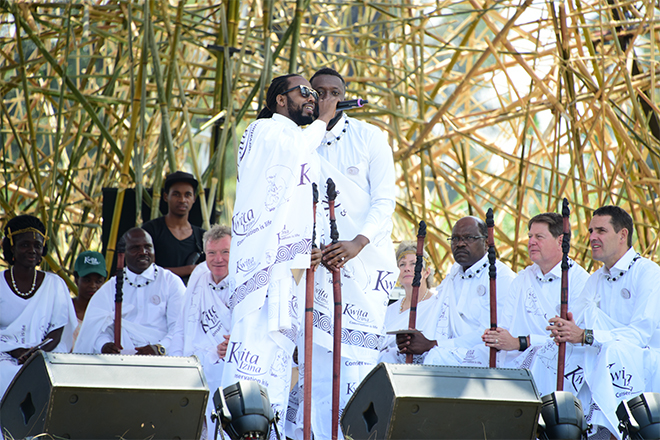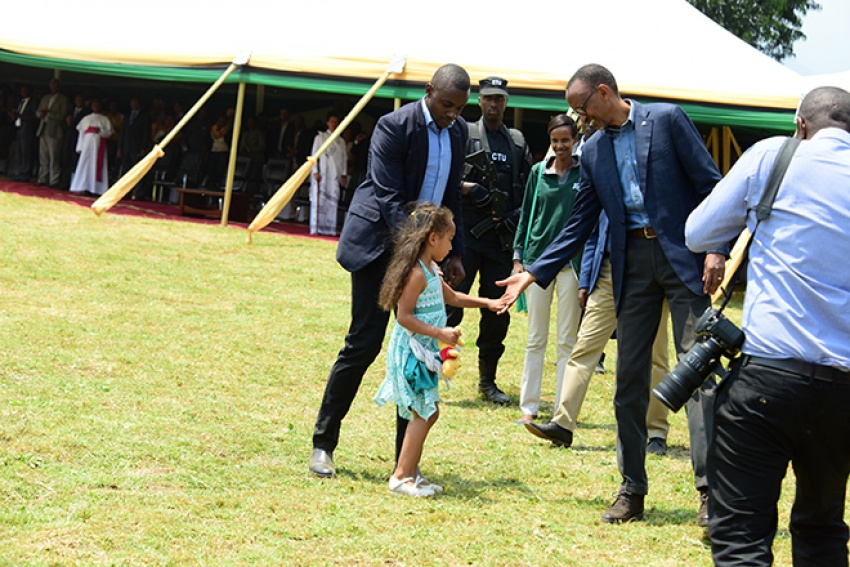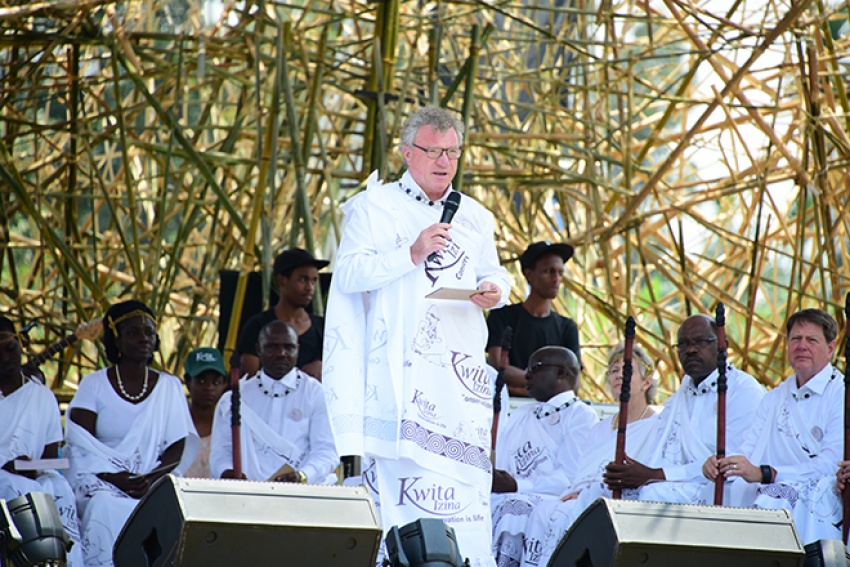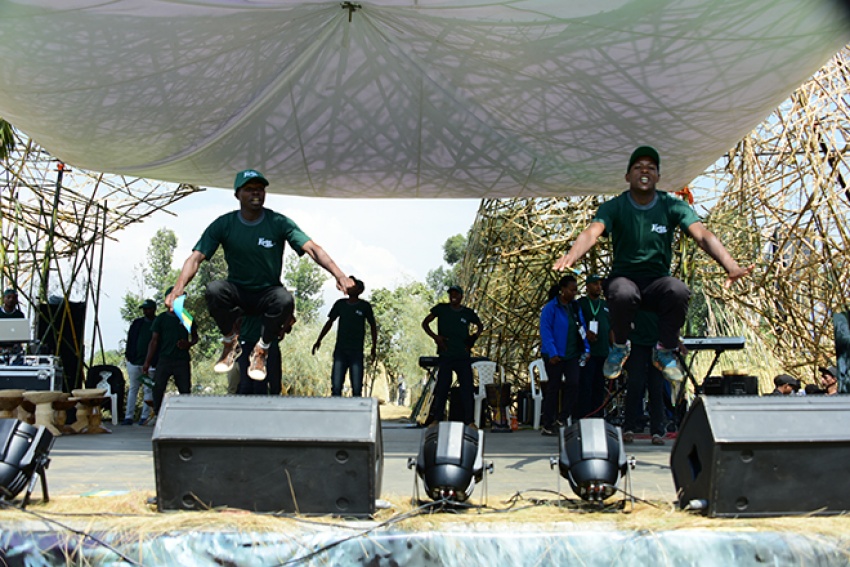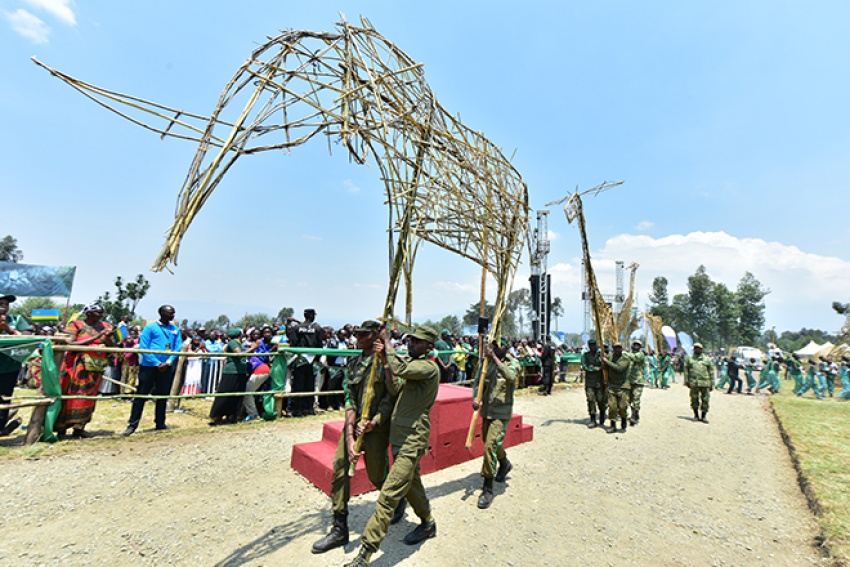 Below are some names of new baby gorillas
Ntamupaka = No Borders
Ireme = Of High Quality
Ntibisanzwe = Remarkable
Ifatizo = The foundation
Kwigira = self-reliance
Umuhuza = Mediator
Kura= Grow
Ishimwe = Gratitude
Tunganirwa = Prosper
Ingemwe = Seeds
Umwiza = The Beautiful one
Ndizihiwe = I'm Happy
Ndi Umunyarwanda = I'm Rwandan
Mashami= owing to the fact the baby was born on Palm Sunday
Igikombe = Award
Ukwiyunga = Reconciliation
Hobe=Hugging
Inshungu = Replacement or Blessing
Umuhate= Bravery
Icyemezo: Decision
Mafubo=Disciplined