When Kagame met with religious leaders and members of the private sector at an annual National Leadership Prayer Breakfast in 2015, he asked them to fight to reach the high table – but this time the president is demanding for more.
With prayer and hope, the leaders took note of Kagame's advice and in the last two years, these leaders have been spurring Rwandans to do more.
Since then, there have been several developments including; extra five star hotels (Radisson Blu and Marriott), and Kigali Convention Centre among other modern structures.
Meanwhile, RwandAir expanded its flights and acquired bigger planes, construction works at new Bugesera International airport, launching of the first droneport and also Kivu Methane Gas extraction, signing of Volkswagen automobile deal (worth €1 billion) to build cars locally in 2017; just to mention but a few.
This is not enough for President Paul Kagame, today demanded for change in the way the Rwandans perceive themselves despite these achievements.
"The first form of wealth is the people and resources later. We have people and enough resources according to information I have. In 2017 we are going to use these resources starting with human resources and even the minerals if need be," Kagame said.
The President also said that Rwanda will embark on natural mineral resources to boost the economy although many still doubt whether Rwanda has any resources beneath.
"How can you be surrounded by countries with minerals and you say we don't have them to. Wherever they are they will benefit all Rwandans, and places where minerals have been a curse is none of my business" Kagame said.
Rwanda has 442 active mining sites. Last year November, 48 more mining companies were licensed to maximize exploitation. Rwanda expects Rwf123 billion from mineral revenues in 2016 compared to Rwf121 billion in 2015.
Kagame made the remarks while at the 2017 National Leadership Prayer Breakfast where he and the First Lady, joined leaders to thank God for what was achieved in the past year, and pray for blessings in the new year.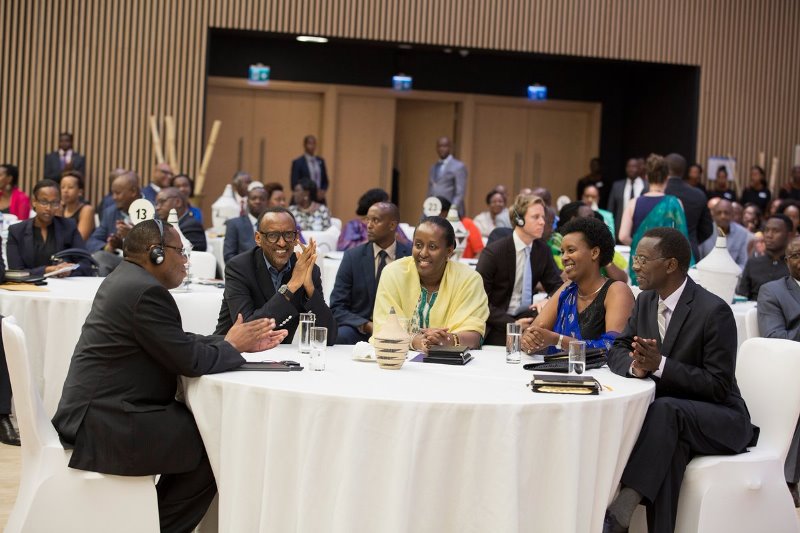 New 2017 strategy
The President, who was requested to take on the Preacher man's role, said that to achieve this Rwandans should stop being perpetual beggars and change the country's history that has largely been misguided by the attitude of being on the receiving side of the high table.
He said that even when they receive help from others; but recognizing that everything starts with Rwandans especially the youth, the country will change its history permanently as God continues to bless it.
"The problem is in us who believe that we have to be given, yet we have the same capabilities like those who give us….You cannot stay in a position of being eternally grateful to others without graduating to doing things yourself," Kagame said.
He said there was no question on whether God cares for Rwanda or whether Rwanda will become a better country – since the same God who cares and provides for others is the same, and an undiscriminating God.
"Its better we start earlier to do what we need to do and the confidence here is that God cares…so God doesn't discriminate in care, he cares for Rwanda as well," He said.
In addition to the current developments, self belief, Kagame said that Rwanda will see less noises from the people who have in years been criticizing the country's development and rule of law.
Kagame described 2016 as a year of great development and less noise which he predicted during the 2015 National Dialogue (Umushykirano).
"I thank everyone for what happened in 2016 as we look forward to doing more in 2017. The past year we didn't have a lot of noise and lets thank God for that. I am sure in 2017 this will decrease further and am confident it will be a better year." He said.
Kagame reminded leaders and Rwandans that no one is in charge of their well-being and encouraged them to be in full control of their livelihood because God cares for them.
"When God created us he did not put us in categories from superior to inferior. We are all created equal in capacity. Rwandans should cultivate self-belief because they have all they need in them," he said.
Fight for self-dignity
President Kagame who had spent two days in Mali for the France-Africa Summit, traveled all night not to miss this year's Prayer breakfast in Kigali – He shared his experience from the Summit saying that some of his colleagues literally praised those they depend on, like France.
"They (leaders) were literally kneeling down which turned his stomach. I reject that completely and doing that is a mentality and attitude to hold oneself in dignity- which we deserve; not a man begging another man…I don't know it anywhere among the Godly values".
He urged Rwandans to keep demonstrating the way they portray themselves by the dignity that shows Godly values among them.
Ugandan Rev. Dr John Mulinde, founder of World Trumpet Mission who was the guest speaker at the national prayer breakfast said that Rwanda has been used as a blessing to other countries to share its God given gift of God's inheritance especially Reconciliation with God, Natural Wealth and Destiny.
"It is the will of God that Rwanda has been chosen to be a country and a blessing to others, we have learnt a lot from Rwanda and it is a great testimony to others especially forgiveness and inheritance," he said.
"As God blesses Rwanda we shall continue to keep God at the center of life in Rwanda and let this testimony of God's inheritance never go backwards," he added.
Rev. Dr. Mulinde said that leaders' prayer is an important moment that should be continuous because it's a good time for them to reflect on work as they seek God to be on their side.
Rwanda that emerged from a deadly genocide 22 years ago, is now a learning point for other East African countries especially on peace and security, general cleanliness, community policing, ICT development, Doing Business and Promotion of Gender equality- among others.