One month and a half after the New Year festivities, Kigali has already been focusing on cutting off expenses allocated to outings, parties for 'serious business.'
Little did residents know that hotels, restaurants, bars and entertainment centers to mention but a few are already figuring out how to better make more money out of them.
Both social and mainstream media are flocking with new discounted offers for this Valentine's Day.
Across the capital City Kigali, one can easily sense the Valentine's Day mood through love songs being played all over as artistes also get ready to share the love with their supporters in live concerts.
Christopher Muneza, a.k.a Christopher, Rwandan artiste known for his love songs like 'Habona', 'Ndabyemeye', 'Ijuru rito' among others, will be entertaining couples at Radisson Blu and Convention Centre, with an entry fee set at Rwf50,000 on a couple and Rwf35,000 for singles.
Many other artists are also looking forward to reap big this Valentine; Natty Dred, 2T and together with two female artists, all backed by Dj Tatiana vowed to thrill reggae enthusiasts at Aberden House Boutique Hotel based in Gaculiro.
Entrance is free but the organizers know what they will reap from the Live Music with MPD band by the reggae stars of the region starting 6PM.
To even make it 'precious' the hotel pledged 'precious gifts' for the first five couples that will make it to the venue.
Patrick Nyamitari, Sentore and others on the other side proposed Rwf 35,000 to single and Rwf 50,000 for couples after booking the recently inaugurated Ubumwe Hotel in Kigali down town for the 'Unpluged Valentine's Day'. Price includes dinner.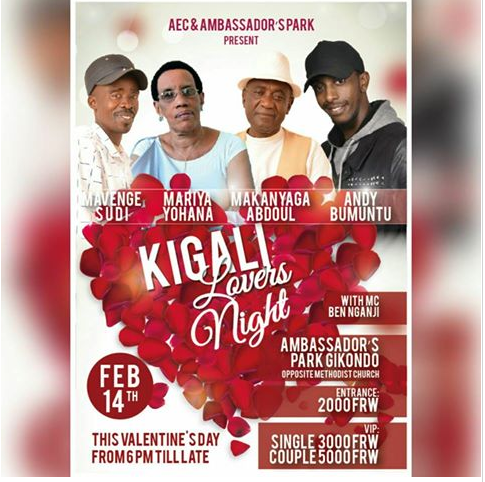 Mariya Yohana, the 'Intsinzi' star on her side is here to show that it's not about age, it's about brain. She joined her generation Makanyaga Abdul, and Mavenge Soudi, and, youngest Andy Bumuntu to organize 'Kigali Lovers Night' at AEC Ambassadors' Park for just Rwf 3000 and Rwf 5000 for single and VIP respectively.
Like an English man once said; the way to a man's or a woman's heart is through his stomach, many hotels and restaurants have made almost a – 50% discount on their services to make the valentine day a special one to lovers.
The Just Chill – a bar and restaurant based at M-Peace Plaza in the capital Kigali has already stolen the chance with a – 50% discount on its services.
"We want to treat our guests with a special love aroma on this day. At Just Chill, our clients are a priority," Onesme Mwene, manager at the restaurant told KT Press.
Five minutes walk from Ubumwe Hotel, the five star Marriott Hotel is advertising their 'Full Romantic Evening' with $450 including dinner for two and many more, while their neighbor Serena Hotel Proposes a – 5 course set menu at Rwf 50,000 per couple.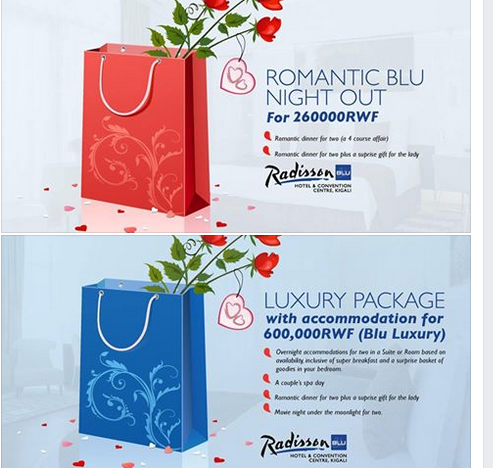 Dominating Kimihurura, another side of the city however, Radisson Blu and Convention Center does not want to go any cheaper with its 'Romantic Blu Night Out' package worth Rwf 260,000 and 'Luxury Blu', Rwf 600,000.
In all hotels, 'a glass of wine' is like a slogan. This applies at Chez Lando Hotel as well many others.
The online market was not left behind with Jumia market advertising the legendary valentine's red apparels.
The Online Business, a famous Whatsap Group has also been advertising the 'Kitenge Fashion', proposing Rwf 70,000 clothing for a couple, which was latter discounted to Rwf 45,000.
More obviously, who means Valentine's Day means flowers in the first place and the rest comes as embellishing.
For that reason, the Chinese kitchen proposes "This weekend, come eat at Asian Kitchen and get SUNFLOWERS FREE! For your family, for your friends, for your boy/girlfriend for yourself etc…"
But the advert comes with an 'important' notice "Limited quantity, don't miss it."
The first ever creativity however, is the flower home delivery by Bella Flowers that is giving fresh flowers from Gishari Flower Park, the biggest flower dealer in the struggling horticulture sector.  Bella Flowers' are worth Rwf 7,000 and beyond.
 Imagine a business in Kigali; it has found a way to have people celebrate Valentine's Day their way.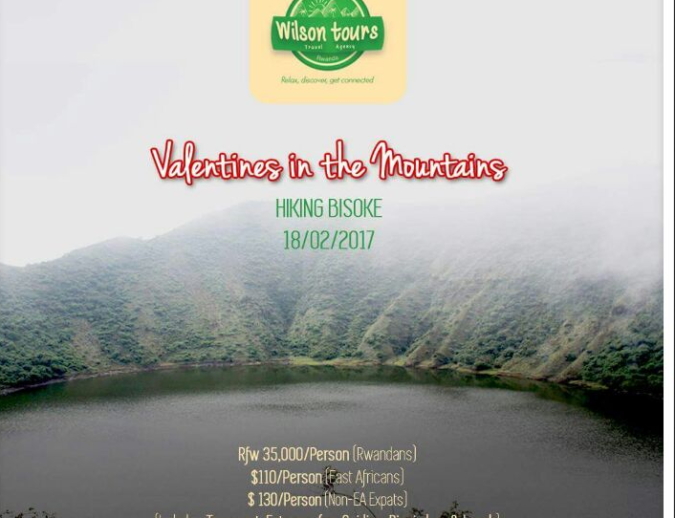 Wilson Tours has proposed wild enthusiasts that spending the day exploring the wildlife is the way to go.
His  offers include between Rwf 35,000 for Bisoke hiking for Rwandans, $ 110 for Africans and even $130 in other parts of the world. Bisoke offers a nice view on the top with its crater lake. However, Wilson has several other offers for other country attractions.
This way, Wilson defies KLM Airways advert on facebook that "Love is in the air" by saying that instead, "Love is in the wild, up the hills."