After losing her entire family in the genocide 23 years ago, Marrianne Mukarusine 79, has found a new family: Thanks to a government housing initiative, she now shares her life with five other women who lost their families in the genocide.
Mukarusine's husband and six children were shot during the 1994 genocide against Tutsi. She is now hearing-impaired because of the gunshot blasts she heard. She later realized that none of her extended family had survived the genocide either — she was the only family member still alive to tell the story.
Mukarusine and the five other elderly genocide survivors, who are all from Rwamagana District in Eastern Province, now live under the same roof in Mununu Cell, Fumbwe Sector at the top of hill overlooking Muhazi Lake.
The home, which is overseen by AVEGA, an umbrella association for genocide widows, is located five meters away from the newly-rehabilitated feeder road. It is sturdily built with baked bricks and high-quality roofing sheets. The yard is fenced in with reeds. The home stands in stark contrast to others in the area, which are built with mud and lower quality, tin roofing material.
This home is one of many homes built across the country and overseen by AVEGA – an association for Rwandans widowed by the genocide. The homes have been provided for women that lost their entire families during the genocide.
After a two-day process obtaining permission to visit this home, KTPress set off under heavy rain on the one-hour drive from Kigali city, Rwanda's capital, to reach Nyagasambu trading center. The center, located 30 km outside the city, is well known because of the Kinyarwanda saying "Nyagasambu rirarema," loosely translated as "you can find everything at Nyagasambu."
The market at Nyagasambu is known for selling products at low prices that you can't find anywhere else in the country, and the region is known for its bumper crops. Around the market are several shops; on arrival at around mid-day, the hustle and bustle were at a peak as everyone searched for lunch.
From the Nyagasambu Trading Center, it is a slow five kilometer drive up a steep murram road to get to this genocide survivors' home.   At 11.20 a.m. AVEGA's officer said "Now we have reached the place," ending a slippery drive. As a team of three including two KT Press reporters alight from the car, there's at a stone-throw distance an outstanding house. Other houses are located at 50 meters from the building which makes the place too quiet.
Inside the House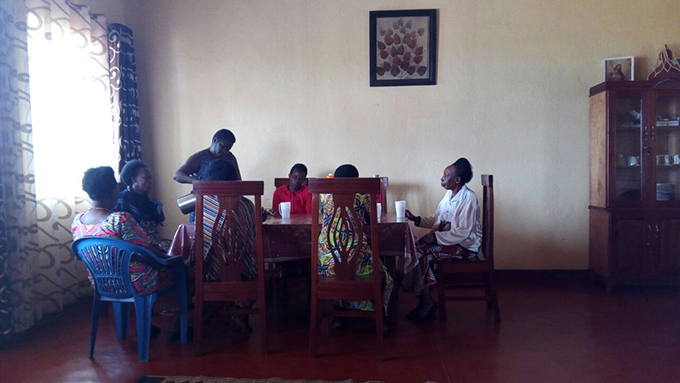 The house has tinted-glass fitted in metallic windows and doors, and surrounding it is a freshly cut lawn and a kitchen garden. Inside, it gives off a religious atmosphere: The house is calm and quiet, and there is no background noise from radio or television.
However, the reporters were welcomed with warm hugs by six women aged from 56 to 80 years old, including Marianna. All were clad in traditional cloth Kitenge, followed by greetings of "karibu," which means "welcome" in Kinyarwanda. The women were taking their breakfast made of milk tea and porridge.
"Some more porridge?" asked Liberée Mukagihana, their caregiver.
On the other side of the sitting room, a kitten was playing around like a small child, and the women were looking at it and laughing.
"We like this small cat — it entertains us every day," said Gaudence Nyanzira, one of the women.
In the eyes of these women, you can read joy and satisfaction.
No one would know they faced horrors in the genocide and lost entire families, hearing jokes cracked and seeing their smiles.
"I was like a closed bottle after losing my six children and my husband. But I am a happy old woman, and I will die so," said Mukarusine, the oldest woman in the house.
The women living together have become like a family. Each has a nickname based on their personalities — for example, Nyampinga for the well-behaved young caregiver, Verene Mukarukaka and Murarugo for the older caregiver, Marianne Mukamunana. The women said they sometimes stay up late entertaining each other with traditional dances, songs, proverbs and riddles.
As they go to bed 10.00-11.00 P.M, the first energetic woman wakes up as early as 7.00 A.M while others get up as late as 8.00 A.M and immediately go for a bath. The early birds in the family take breakfast at around 8.00 P.M.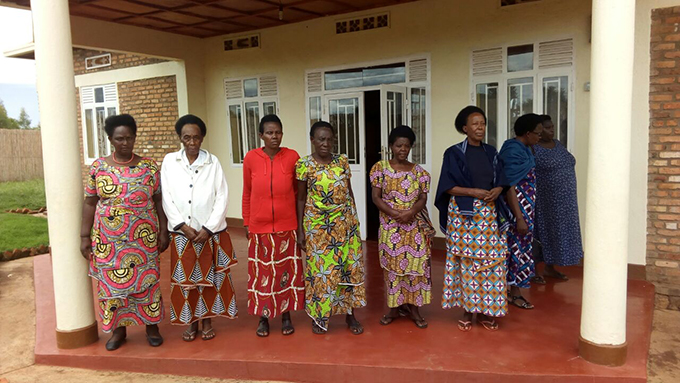 At 1.00 P.M, all are at table savoring lunch after that, they go to bed for afternoon's naps until around 4 P.M where they stay in the sitting room chatting up to 7.P.M and take supper.
After nearly four-hour cultural entertainment, everyone goes to sleep any time she feels tired. Every two women share one room and bathroom. The room is furnished with two tidy and neat beds arranged in a parallel manner in between there is a small table.
The house that these women live in was built in June 2016 by German development agency GIZ in partnership with the Unity Club, an association of spouses of senior Rwandan politicians chaired by First Lady Jeannette Kagame.
The government through FARG (Genocide Survivors Assistance Fund) and AVEGA pays for the women's medical bills, the caregiver, and two housemaids, as well as the night guard. It also provides them with a monthly budget for food.
As seniors, the women need a well-balanced diet to keep their immune systems strong to fight age-related diseases. They eat meals made with locally grown ingredients including rice, beans, Irish and sweet potatoes, rice, vegetables and fruits complemented by milk. They used to also drink local beer, but it is no longer good quality and they cannot afford it, said Esperance Nyirakamana.
Most of these women suffer from health problems like high blood pressure, backache, headache and vision problems, so they often do activities that do not require much energy.
"Our health problems don't permit us to do anything. Our everyday work is to chat, shower, sleep, pray and eat," said a hearing-impaired Verene Mukarukaka, adding that she is the first to wake up in the house.
The caregiver is like this family's mother. In addition to keeping house for the women who live in the house, she takes them to the health center for medical attention and takes the eldest to church.
The nearest church is two kilometers away, while the health center is one kilometer away.
Neighbours pay them visits, especially with children who need grandmotherly attention. The women also occasionally go out, accompanied by their caregiver. The caregiver helps coordinate the outings so the women arrive at places on time and have everything they need, said Constance Mpinganzima in charge of Social affairs at AVEGA. The women typically only go out for church and medical and court appointments, she said.
Sometimes, the women have trouble sleeping because of their memories of the genocide.
"Sometimes only prayers help some of us to sleep," said Edissa Mukandoli, the youngest of the women.
Mpinganzima told KT Press that they have decided to put two women in the same room so they can chat with each other as they fall asleep.
The family of six is grateful to the government of Rwanda for taking care of them when others had abandoned them.
"I thank God for this leadership for supporting us. We will get old and die decently," said Marianne Mukarusine after whispering in her ear due to hearing problems.
According to AVEGA, there are over 19,000 widows across the country; 271 are men.
In 2014, 900 elderly widows were homeless and desperately needed settlements.
Since then, the Unity club's effort raised more than Rfw 300 million and 12 houses have been established in eight districts across the country (Nyanza, Huye, Kamonyi, Rulindo, Kayonza, Nyarugenge, Kicukiro and Rwamagana). The homes host 90 members, including two men.
All housing units are furnished and have basic supplies, including water tanks.
"By July this a year another house under construction will host 100 members in Huye District, Southern Province," Mpinganzima told KT Press.
There is a plan to establish other settlements in three districts including Bugesera, Gatsibo and Muhanga, she said.