President Paul Kagame has told Rwandans to ignore people who create confusion about the meaning of the 1994 Genocide against Tutsi and move on to live their own lives.
The president was speaking during the launching of #Kwibuka23 national commemoration week as the country remembers over a million Tutsi that were killed between April 7 and July 4, 1994- twenty three years ago.
Commemoration #Kwibuka23 events start with President laying wreaths on graves of genocide victims at Kigali Memorial site in Gisozi, lighting a flame of hope at the memorial and delivering key speech.
In a 30-minutes speech interchangeably in Kinyarwanda and English, Kagame elaborated on how genocide deniers are playing around with the 1994 Genocide against Tutsi.
Kagame said some people are involved in a nonsense debate trying to find a fake definition of Genocide.
"Some say; it is Genocide of Tutsi, others come up with so called improvement to call it Rwandan Genocide and others, the 1994 Genocide," he said adding that in the first place the intention is minimising the tragedy.
Then others, he said, pretend to be better while suggesting, that it is the Genocide against Tutsi and moderate Hutu.
"People are struggling to be vague about it as if being vague is very important," the president said.
"I have problems to be involved in this debate, it's absolutely nonsense. We lost people, a million people, and it was not a natural disaster, but because of politics," said President Kagame who called upon all the Rwandans to ignore such people who play around with words and do not care about the loss Rwanda made during the 1994 Genocide against Tutsi.
"Why people keep playing around words, to bring back our one million who lost? It's nonsense. Rwandans should not get involved in this nonsense," he said.
"We have our lives to live, not living by those people."
For the president, if anyone does not know how to match the definition of Genocide – which is not his invention – with what happened to Rwanda, has a different problem.
He said that anyone with a good memory should see that the 1994 Genocide against Tutsi was a concluding event; otherwise persecution and killing of Tutsi had started several decades earlier.
For president Kagame, after the Genocide against Tutsi has happened, people need to move forward, instead of creating more speculations.
"They need to say 'Yes' a section of people of this great country – call it small if you want – were targeted for who they are. That's what it is," he said.
"Second, is to say, it happened, we failed to intervene but we cannot reverse it, today…we can do something about it."
The president said that the contribution Rwanda wants to any of those controversial people is rather, "make sure the tragedy that happened in Rwanda does not happen again; that people are targeted."
Kagame assured Rwandans that what happened 23 years ago will never happen again.
"Those who were not targeted will never be targeted again and even others won't be targeted. Those who were not targeted in the past, won't be targeted in future as well. So, it is not just about talking of those who were targeted in the past not being targeted again in future, it is about not targeting anybody in the future – meaning all Rwandans deserve our country, our lives just like anyone in this world," Kagame said.
Kagame said Rwandans will live their own life, the best way they think, regardless of what people think about Rwanda.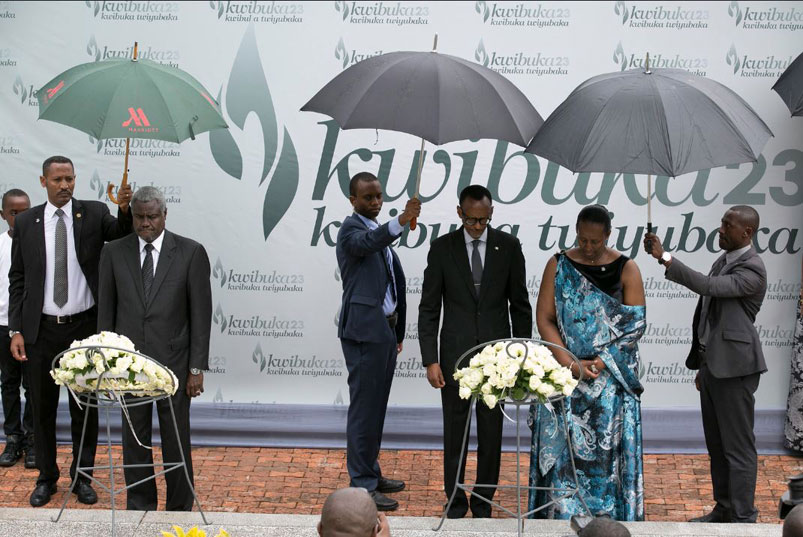 People willing to work with Rwanda, he said that they are welcome, since Rwandans need friends, and seek friends, but nothing will stop the country from living its preferred life.
Others who want to shift from a negative image to a positive image on Rwanda, he said they are also welcome to work with Rwanda.
Giving an example of institutions like the Roman Catholic Church, that decided to change the narrative on genocide, Kagame said that Rwandans are contented with such a move.
"I am happy and thankful that senior people that have a big hand in it helped us to settle it," said the president.
Kagame and the First Lady were on March 20, 2017 invited by Pope Francis to Vatican to discuss the church's stand on its role in the genocide.
The Pope "implored a new God's forgiveness for the sins and failings of the Church and its members, among whom priests, and religious men and women who succumbed to hatred and violence, betraying their own evangelical mission."
Behind asking people to apologize, the president said, is no other hidden agenda because some people think, that Rwanda is looking after money.
"We are not asking for money. There is no money that can compensate the lives of a million people that we lost. We are after the truth."
Would there also be anyone else willing to change the course of Rwanda, the president warned them.
"For those who don't' want and think they can change the course we are on, they are also welcome, but let them know they have a formidable opponents in us," he said.
"They will never shake us of our beliefs, our politics and our lives. They cannot do anything about us. If they want anything, they will find us ready for that."
The president is thankful that he shares with Rwandans, the same understanding of not listening to people who just want to take the country backward.
At the launch of #Kwibuka23, Uruhongore, the children born to Genocide survivors' alumni of Students Genocide survivors' association (GAERG) performed "Kuki", a poem in three languages; Kinyarwanda, English and French and asked mourners a question, "how did we end here?"
"It is not a question we would answer in a short while, but we will have to answer it," said the president.
"We will answer it in whatever we do every day to build our country such that it is a country of all Rwandans and foreigners who travel or reside here. That's' the only way we shall answer that question, not a simple answer, related to one event."
The president told survivors to worry not since they are not alone; they are in a good family, Rwanda.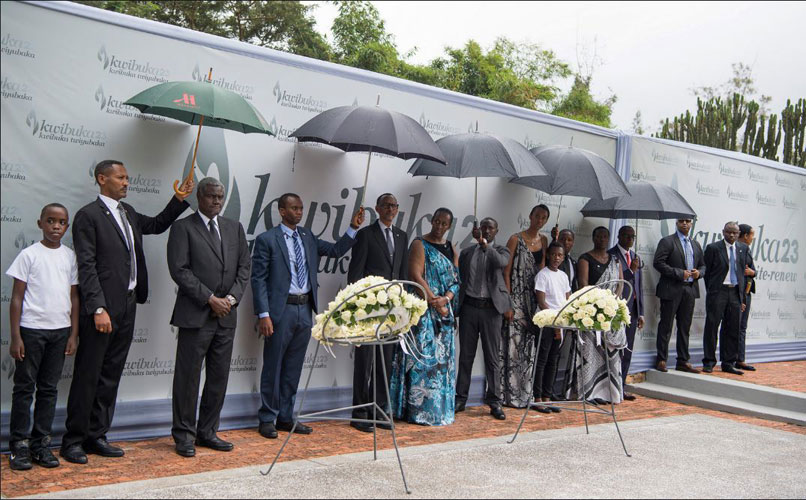 Kudos to African Family
African Union Commission (AUC) chairperson Moussa Faki Mahamat joined Rwandans to remember, and, alongside the president, the First Lady Jeannette Kagame and the First daughter laid wreaths on graves of genocide victims laid at Kigali Memorial site in Gisozi. At the memorial, 250,000 genocide victims are laid to rest.
The president said Africa has always been there for Rwanda while other individuals, organizations had abandoned Rwandans when they needed them most.
Those who had abandoned Rwanda include the United Nations, which he said, after all is being manipulated by countries or individuals who take credits when UN succeeds or blames it when it fails.
"Africans stood and refused that Rwandans should not keep being persecuted," said Kagame.
He even named individuals on the continent that gave-in their life saving Tutsi; Captain Mbaye Diagne a Senegalese died while saving Tutsi in May 1994.
Ghanaians contingent under UN mission in Rwanda (UNAMIR) then, also exhibited heroic acts.
Moussa, in his French speech expressed compassion to the Rwandans that lost their relatives in the genocide.
"I pray for eternal rest to victims of the genocide. What I have seen and heard from morning affected me from the bottom of my heart and express respect to genocide survivors. I think the genocide against Tutsi should be commemorated everywhere in Africa," he said.
Moussa also thanked the government for having united Rwandans and rebuilt the country starting from ashes.
"President Kagame is the precious symbol of the African renaissance," he said.
Progress of Rwanda 23 years after the 1994 Genocide against Tutsi was presented by Prof Anastase Shyaka, CEO of Rwanda Governance Board who said resilience is earning the country trust.
Commemoration #Kwibuka23 across the country was not stopped by rain which reminded survivors the same rainy season when they were being hunted 23 years ago.
Walk to remember, speeches, testimonies, together with laying wreaths on genocide graves, and even in rivers where the Tutsi were thrown are among activities characteristic of events.
This evening, a walk to remember, and then a night vigil at Amahoro stadium is scheduled.
(additional reporting by Julius Rwakarema & Denyse Tuyishime)