The visits to China and India by Rwanda's President Paul Kagame this year yielded tangible results, the new ambassadors to Rwanda told KT Press Thursday.
This afternoon, China's new ambassador to Rwanda, Rao Hongwei who is based in Kigali and Ravi Shankar, Indian High Commissioner with residence in Uganda's capital Kampala, presented their letters of credence to President Paul Kagame.
Speaking to journalists after meeting President Kagame, both ambassadors reiterated the President's recent meeting with his counterparts – and said all talks centered mostly on mutual cooperation and investment between Rwanda and the two countries respectively.
For instance, China's ambassador Hongwei said the 17-18 February visit to China by President Kagame has attracted many Chinese companies to eye Rwanda's available investment opportunities in energy, transport; mineral and tourism and construction of special economic zones.
Chinese companies have also expressed interest in teaming up with Rwanda Private Sector to promote 'Made in Rwanda' campaign through industrial capacity transfer.
China has been Rwanda's biggest export market, the third largest source of imports and the 4th trading partner.
For instance, as of end of last year, China's non-financial direct investment in Rwanda reached over $100 million.
Some of these key investments include covering digital television and garment manufacturing industry, C&H garment – an apparel industry producing massively for both local market and for export and creating jobs to Rwandans.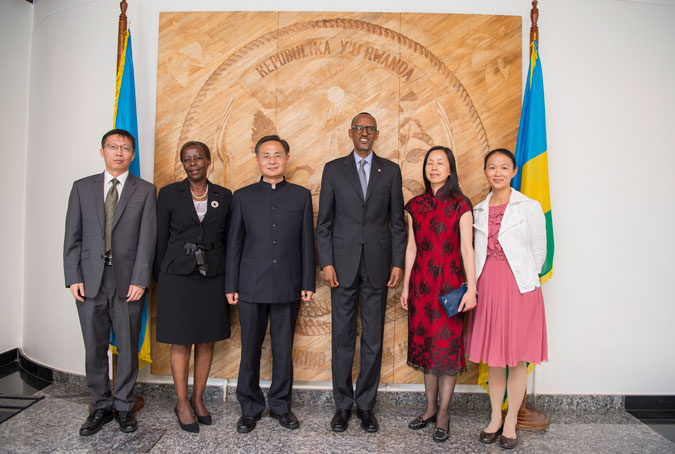 Other partnerships between Rwanda and China are in health, education, infrastructure and transport, among others.
The China Road Bridge Corporation has become an iconic company in construction of roads in Rwanda, currently expanding roads in city of Kigali.
Rwanda and China will share the cost of these roads, $ 76million (Rwf63 billion).
Local transport companies are shipping buses from Chinese automobile companies to assure smart transport in Rwanda.
Meanwhile, in March 2016, Zhang Dejiang, the Speaker of China Parliament laid a foundation stone for construction of a $26.5 million administrative building that will host the Prime Minister's office, other ministries and public institutions.
The project is sponsored by Chinese government and construction will be completed in 2018.
The Communist Party of China (CPC) has strong ties with Rwanda's ruling party, the Rwanda Patriotic Front (RPF) Inkotanyi.
Speaking to KT Press, Ambassador Rao Hongwei said he is aware of more assignments awaiting his tenure in Rwanda.
"As the new Chinese Ambassador to Rwanda, I am deeply aware of my lofty mission and solemn responsibilities. I will do my utmost to fulfill my duties."
Ambassador Hongwei is optimistic he will execute his duties.
To him, "Through the joint efforts with the Rwandan side, we will implement the important consensus reached by our leaders, boost China-Rwanda mutual trust, facilitate all-round cooperation, and increase understanding and friendship between the two peoples."
India's new embassy in Rwanda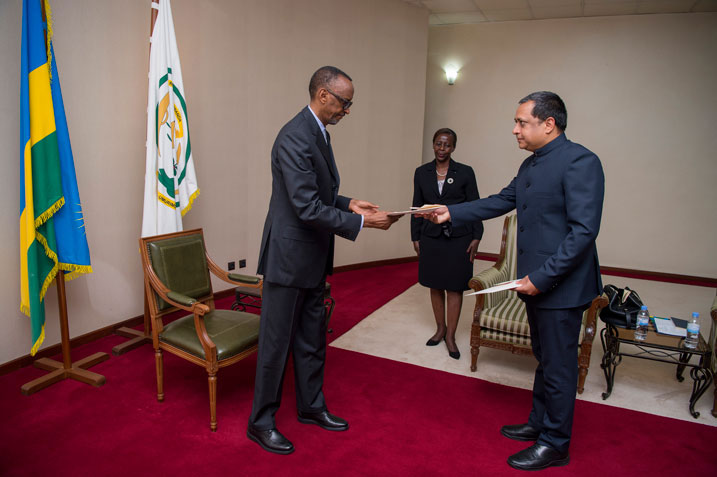 As India-Rwanda relations deepen, High Commissioner Ravi Shankar told journalists that the country has committed itself to officially have its embassy in the capital Kigali before end of this year.
The new decision follows the signing of an agreement for exception of visa requirements for diplomatic and service passport holders between two countries.
India has completed internal procedures for the agreement to enter into force, Shankar said.
In addition, he said, India has added Rwanda on the list of countries whose nationals are eligible for e-visas for travel to India.
The new agreement could trigger more Indians and Rwandans to visit both countries especially for trade and investments as well as skills exchange.
In January this year, President Kagame was in India's Western Gandhinagar city as part of a 3-day trip to the country.
During the visit, India welcomed Rwanda as the 25th co-signatory country to Prime Minister Modi's initiative of the International Solar Alliance.
The two leaders acknowledged the importance of this Alliance in advancing new solar technologies worldwide.
They also recalled the solar electrification of 35 schools in rural Rwanda under a grant from India as an example of south-south cooperation.
Prime Minister Modi and President Kagame expressed confidence that the development of Export Targeted Irrigated Agriculture Project and its expansion under India's Lines of Credit of US $ 120 million would bring irrigation facilities to more than 41,190 hectares of cultivable land, and agreed to fast track its implementation.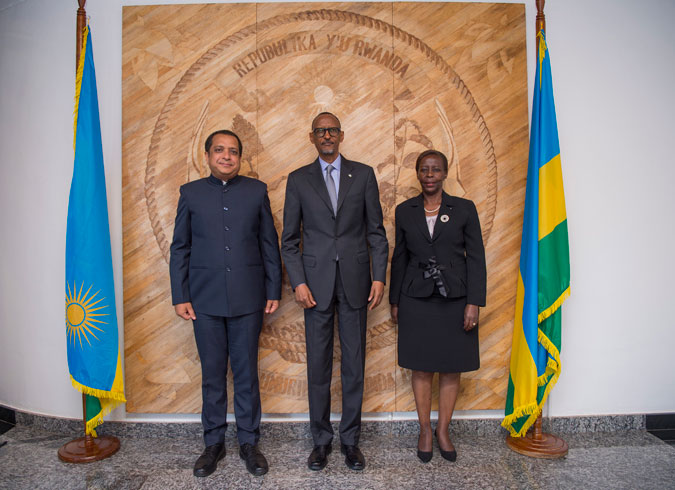 In February this year, India's Vice President Shri Hamid Ansari traveled to Rwanda and met President Kagame.
The talks between two leaders ended with a commitment for India to push construction of the second phase of Nyabarongo Hydro Electric power project, set to generate an extra 17MW of electricity.
The phase follows a $108.7M first phase of Nyabarongo Hydro Electric power house located in Muhanga district in Southern Rwanda, which was inaugurated by President Kagame in March 2015.
The 28MW plavnt was constructed by two Indian Engineering Companies, Bharath Heavy Electrical Ltd (BHEL) and Angelique International Ltd (AIL), after a bilateral agreement signed on July 8, 2008 between Rwanda and India.
Meanwhile, following Vice President Shri Hamid Ansari's visit to Rwanda, part of his delegation of investors pledged $1 billion to invest in new technologies that would improve social wellbeing of Rwandans.
Under a 2 year program, the $1billion worth of investment will be distributed in over 100 investments.
One of the companies – WaterLife, an Indian water purifying company announced its intention to establish up to 20 community based water processing facilities each worth $25,000 in the next five to ten years.
The facility will provide clean tap – water.
Through the company, for the first time, Rwandans will pay between Rwf300 and Rwf400 per jerrycan (20 liters) to get clean water, ready to drink without any further treatment.