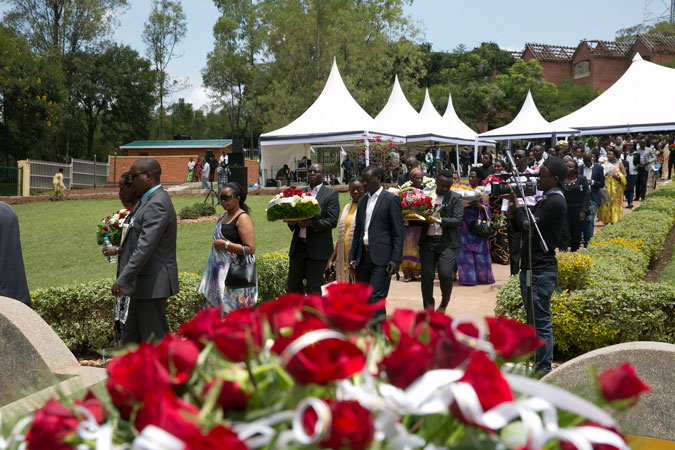 It was 9 am this morning when unknown assailants stormed the house of Christine Iribagiza, a 1994 genocide survivor in Niboye sector, Kicukiro district who allegedly had been leaving in Belgium.
Upon entering the gate, the assailants injured the guard and went straight to Iribagiza's room, killed her and left a candle lit in front of her bed before vanishing.
The guard, despite severe injuries managed to alert neighbors who found the woman already dead as they alerted police. Investigation is going on, according to reports reaching KT Press.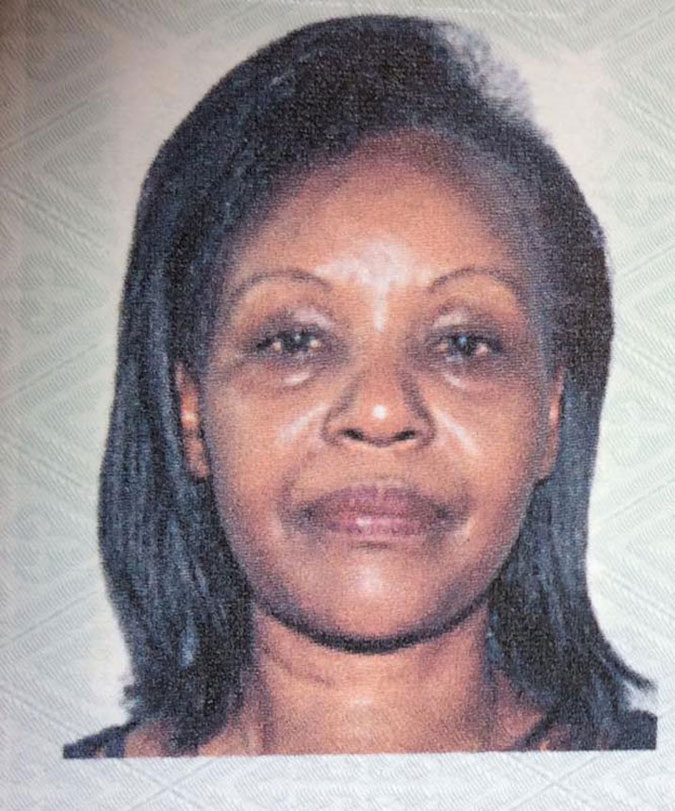 Today, Rwanda concluded a week long national commemoration period dedicated to remembering over one million people killed during the 1994 Genocide against Tutsi.
This is the most sensitive period of the year in Rwanda, the week corresponds to a period where the Genocide was launched across the country in 1994.
Everyday from April 7, the community participated in sessions about Kwibuka; testimonies, messages of hope for the future, fighting Genocide ideology to mention but a few.
A lot was learnt during the sessions, but disappointments of genocide survivors were also reported in quite many areas.
Accounts of genocide perpetrators who had, for the last 23 years been considered innocents shocked many.
For example, in Mwogo sector – Bugesera district, eastern province, one Tujyinama Silas, 64, pledged to have killed two Tutsi during the genocide against Tutsi.
No one knew about this until Kwibuka 23 Session on April 11.
This courage was not common, rather in many areas, genocide perpetrators kept the information on where they threw bodies of the Tutsi, until neighbors decided to help out.
Boniface, a genocide convict now serving his sentence had instructed his wife to reveal the area where they had buried 8 bodies of the Tutsi during the genocide in Nyakabanda sector, Nyarugenge district.
The wife kept confidential that information until April 12 when her son-in-law took a decision to reveal the area where the Tutsi were buried; in the dining room.
Genocide ideology has been reported in several areas of the country. In Musanze district, a man told a young girl, "Your neck is sweet for a machete."
Days before the 23rd commemoration, unknown people slaughtered a cow belonging to Ferdinand Mukulira, a genocide survivor from Nyanza in Kicukiro district.
Fortunately, solidarity prevailed among Rwandans and they compensated him with three cows.
The fallen politicians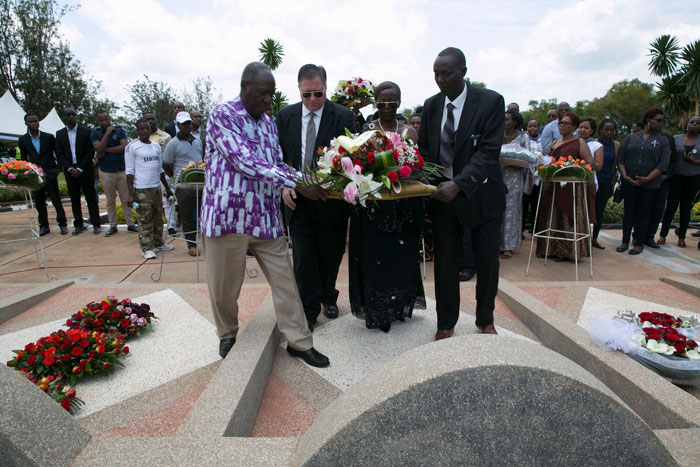 As commemoration week wraps up, Rwanda pays tribute to politicians who accepted to die rather than join genocidal regime in the killing plans.
Buried at Rebero Genocide memorial alongside over 14,000 victims of the genocide, twelve politicians are remembered for having accepted to stand against divisionism and killing.
Bernard Makuza, the Senate president who was the guest of honor at the event said, "This is a special occasion to reflect on several stages through which the Genocide was prepared, right from colonial days."
Makuza said that Kwibuka is an opportunity for politicians to take serious their activities because bad politics sunk Rwanda in the Genocide 23 years ago.
He assured survivors that due to good governance and the choice the country made, there will be no more genocide in Rwanda.
"It is however reassuring that our country has made positive strides post 1994 and this without doubt due to good leadership," he said.
At this event, one Thadee Karamaga  shared his testimony but said he is facing death threats and Makuza told him not to worry about anything.
Karamaga was a Caporal soldier under Habyarimana's regime. When the genocide started on April 7th 1994, the following day he was ordered by his Commander to quickly burry former Prime Minister Agathe Uwiringiyimana's body after she was killed in order to hide evidences.
The later opposed to his commander's order and by way of respect to the victim, he hid the body and later put it in a coffin on which he marked the names of Agathe Uwiringiyimana. He would later reveal it to Rwanda Patriotic Army (RPA) Inkotanyi.
Karamaga also saved more than 20 tutsis from the hands of Interahamwe inside and outside the country.
He was recognized by the First Lady Jeannette Kagame among 17 Protectors of the Friendship Pact (Abarinzi b'igihango) who saved people's lives during the genocide.
While the national commemoration week closes with paying tribute to fallen politicians, institutions, families, churches continue to organize commemoration day and night vigils on their pace until July 4, when RPA captured country and declared end to genocide and war.
This also applies to embassies and other organizations where Rwandans in diaspora are joined by friends in host countries to commemorate.