Global communities have sent solidarity messages to Rwandans reminding the world once again that Rwanda is part of a global community and will not be abandoned again to any other possibility of genocide.
Several solidarity statements sent by respective governments and global leaders- including France also reaffirm that there was one genocide in Rwanda – the 1994 genocide against Tutsi.
The U.S Secretary of State, Rex W. Tillerson, said in a statement from in Washington, DC that the United States stands side-by-side with the Rwandan people in remembrance of men, women, and children killed in the 1994 Rwandan genocide.
"We bow our heads honouring those who suffered and the family members who each day keep their memories alive and close at heart."
In a statement, The U.S said that it remains steadfast in support of Rwandan people as they work to overcome this dark period in their history, hold accountable the perpetrators of such heinous acts, and strengthen the fabric of their country in preventing a recurrence.
In Canada, the office of Rachel Notley, the Premier of Alberta, issued a message of solidarity with Rwandans which also puts emphasis on the importance of educating the youth.
"Our thoughts are with you today as you pay tribute to family, friends, and all Rwandans. Today is also an opportunity to educate our youth so that they will build a more peaceful world," the Canadian politician's message reads in part.
For France, unlike last year's message which resulted into a reaction from Rwandan government, the French said they join with the Rwandan people to honour the memory of victims of the genocide and the dignity of the survivors.
France emphasized its solidarity with the Rwandan people, to reaffirm its determination to prevent any genocide from recurring through prevention means – like fighting impunity, promoting remembrance, and supporting education and research on genocides and mass crimes.
"In this spirit, last fall, France established a study mission on genocides and mass crimes. Bringing together teachers and researchers from France and abroad, it will take stock of research in this field and will identify new forms of prevention,"
"Rwanda thanks France for its message of solidarity for #Kwibuka23!" Rwanda's Minister of Foreign Affairs and Cooperation, Louise Mushikiwabo tweeted.
The African Union (AU) once again has shown its solidarity with Rwandans – an aspect that President Paul Kagame said was extra ordinary among Rwandans especially in the face of denying genocide and trivializing what happened in April 1994.
The Chair of the African Union Commission, Moussa Faki Mahamat, participated in the official 23rd Commemoration of the 1994 Genocide against the Tutsi which took place at Kigali Genocide Memorial.
"The consolation of that tragedy is the strength, courage, dignity and tremendous resilience of the marvelous people who are the best example of humanity. The people of Rwanda are like a Phoenix that has risen from its ashes," Mahamat said.
The AU boss was joined by President Paul Kagame, and First Lady Jeannette Kagame, to lay a wreath on the burial place where more than 250,000 victims of the Genocide have been laid to rest.
African Union (AU) Commissioner for Peace and Security, Amb. Smail Chergui, also said on twitter "We join the brave and resilient People of Rwanda in commemorating the 1994 Genocide against Tutsi #Kwibuka23. Together we say Never Again"
Executive Director of the International Trade Centre at the United Nations and World Trade Organisation said, "We remember genocide against Tutsi and pledge to ensure no human being ever faces it."
Retired Lt. Gen Roméo Dallaire, a former commander of UN forces in Rwanda- whose forces didn't act, didn't send any official message this year but the UN Secretary General, António Guterres did.
Guterres said that UN recognizes the pain and courage, and struggles Rwandans continue to face; the survivors' resilience and their capacity for reconciliation are an inspiration to us all.
He said that the world must always be alert to warning signs of genocide, and act quickly and early against threats and learn from lessons of Rwanda and work together to build a future of dignity, tolerance and human rights for all.
"The only way to truly honour the memory of those who were killed in Rwanda is to ensure that such events never occur again. Preventing genocide and other monstrous crimes is a shared responsibility and a core duty of the United Nations," Guterres said.
"Sincere appreciation to UN secretary General Antonio Gutteres for his message to Rwanda," said Minister  Mushikiwabo.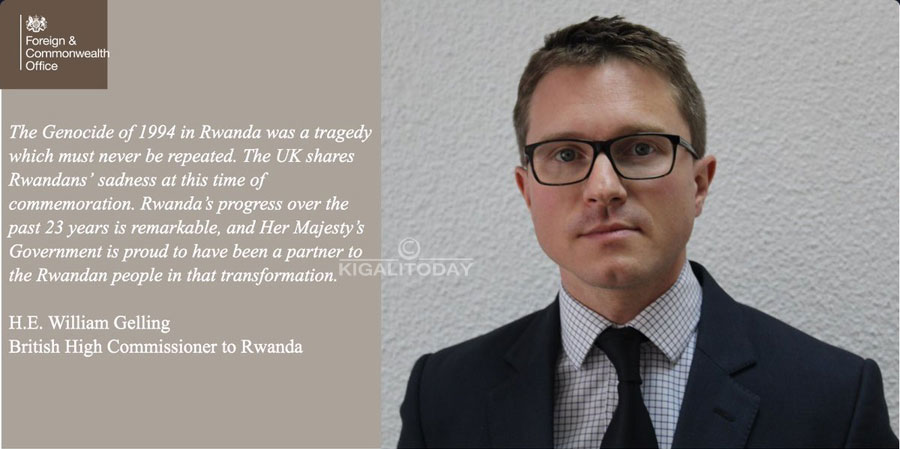 In the meantime, Rwanda Embassy in Kenya Shut out UN From the 23rd genocide commemoration event on ground that the UN refers to this event as Genocide in Rwanda and not as the Genocide Against Tutsi.
Even with a solidarity message, the British High Commission in Rwanda also didn't come out openly about the terminology on the 1994 genocide against the Tutsi, referring to it as "Genocide in Rwanda" and a "tragedy"- terminologies that president Kagame said "They are struggling to be vague, as if being vague is very important."
The National Commission for the Fight against Genocide (CNLG) has warned Rwandans to desist from using such statements which undermine deaths of over one million lives lost during the 1994 genocide against Tutsi.
Elsewhere commemoration events abroad were held at different times in Stockholm, Sweden, Dakar in Senegal, and at the UN Headquarters in New York, among others.
A Flame of Remembrance will stay lit for the next three months to mark 100 days of commemoration which started on April 7, and will end on July 4, 2017.