Self exiled tycoon Tribert Rujugiro Ayabatwa has until the end of July to pay tax arrears or else his property will be auctioned.
Thirteen other tax defaulters including Rujugiro's Union Trade Centre (UTC)  have their property listed for auctioning by Rwanda Revenue Authority.
On May 2, Rwanda Revenue Authority warned tenants in these properties, "because they were seized over tax arrears."
The same communiqué gave the tax defaulters fifteen days to clear the arrears or get their properties auctioned.
The time has elapsed, and the auction has not yet happened.
Richard Tusabe, RRA's Commissioner General told KT Press, that defaulters still have a grace period.
"If any of the taxpayers comes to us and shows willingness to clear arrears, we shall listen," Tusabe said.
"However, by end of July, our decision to auction the buildings will no longer be revocable."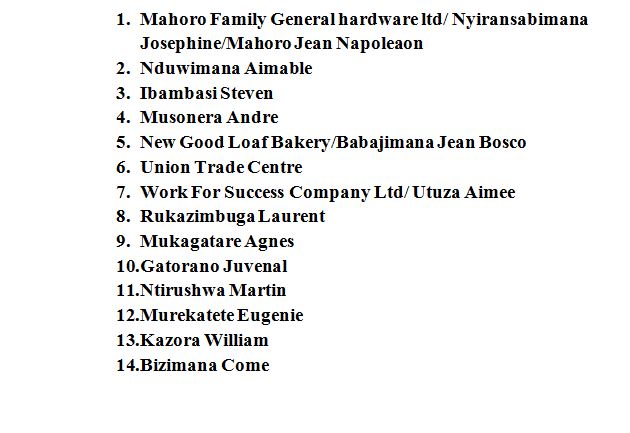 Mass auction against properties owned by tax defaulters has been looming since August 2015. On this date, RRA published a list of 250 foreign and locally owned businesses who swindled a total of Rwf 62 billion in tax arrears.
"We called them, agreed upon some payment procedures, which they did not respect. This time if they fail to comply, we shall take other measures," said Tusabe then.
Some of the assets, like UTC are on the list of 'abandoned', but this will not stop the taxman to auction them if applicable.
"Whether abandoned properties or not, whether owners are around or not, the tax payers money will be recovered. If the last option is to auction properties, we shall do it," Tusabe told KT Press.
Beside Rujugiro's UTC, other property pending auction belong to Laurent Rukazambuga, Nduwimana André and Sina Liliane, Kazora William and Mukabaranga Florence to mention but a few.
RRA says, the Rwf  62 billion "is successfully being recovered," Tusabe said.