At 72 years many people would be thinking about retirement. But Linda Bootherstone-Bick, a British national will next week celebrate her anniversary while planning to board a motorbike and ride through nations.
Bootherstone who is in Rwanda for the second time in her world tour on motorcycle has told KT Press that she has been touring the world for the last 54 years and she is still counting.
When I met her at Discovery Youth Hotel in Kimihurura where she stays since October 31, she did not show any sign of an exhausted granny. She was rather doing maintenance for her Yamaha motorcycle, preparing for a trip to Musanze for gorilla trekking. But how did it all start?
In 1963 when she was aged 17, Bootherstone enrolled in a driving school in her home country because she thought a driving permit would serve her in the future.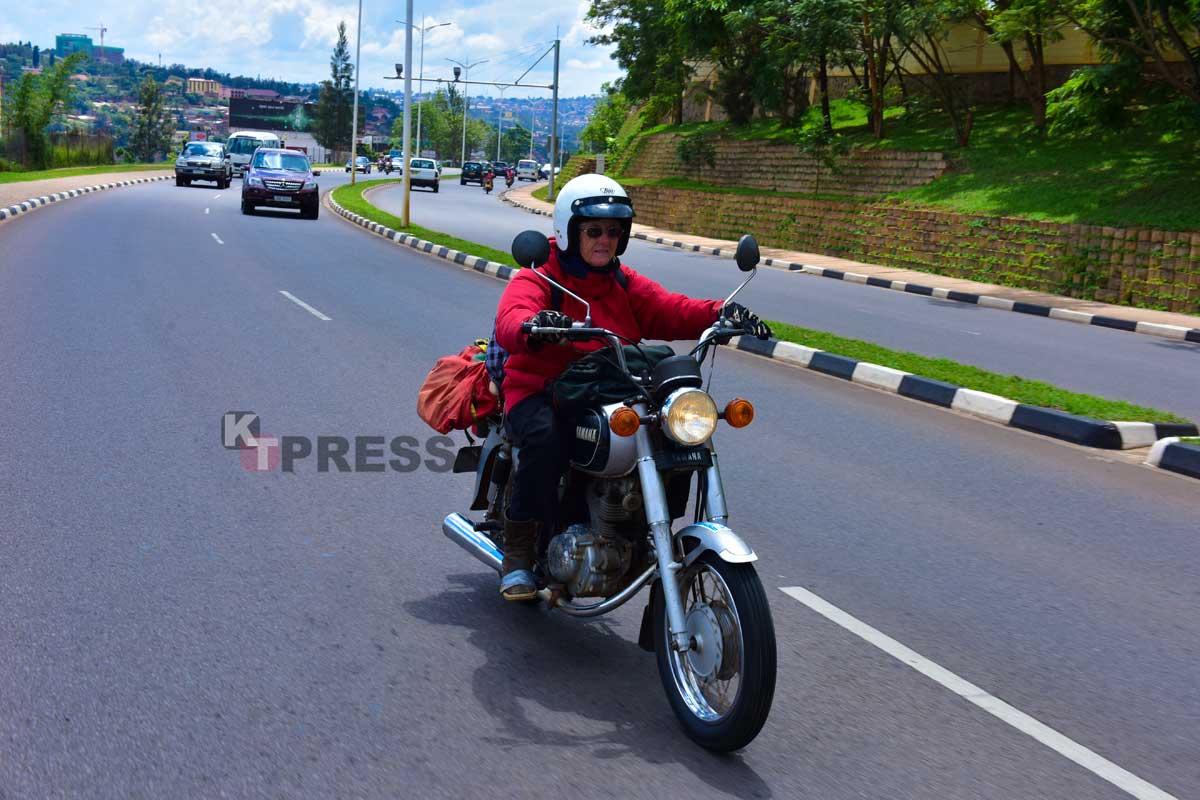 .With ease, she acquired a driving license and immediately went ahead to learn how to ride a motorcycle, which she found amazing.
"You know a motorcycle gives the best fun; you ride, feel natural air and interact with a range of people all through your trip," Bootherstone told KT Press.
A couple of months later, Linda had an opportunity to explore the beauty of a motorcycle riding while on a festival in Germany.
"Since then, I have never returned to UK- I have dedicated my life to touring the world on motorcycle," she said.
Just 400 Pounds for World Tour
The start was too ambitious but Linda is not the kind of person who gives up easily.
With 400 Pounds, she boarded her brand new motorcycle and left UK to start her world trip in neighboring European countries.
Within six years, she had reached her first target for Europe as her family was relocating to Australia.
In Australia, they settled in Port Lincoln in 1969 and from there, she made her bigger plan.
"I made a serious decision never to marry because I could not find time for a family. I was determined to follow my dream to ride through the world," she narrates adding that when the adventurer plans her trips, she does not think about a country, but a continent.
Between 1969 and 1972, Bootherstone covered Australia and took a break of 2 years before dedicating her next trip to Africa between 1974 and 1975.
After falling short of funds, she took a break of 10 years and then resumed in 1984 with America before dedicating a specific trip to Ukraine.
In 1990-2004, Linda returned to Europe then went back home in 2005. In 2015 she covered Latin America before returning to Africa last year.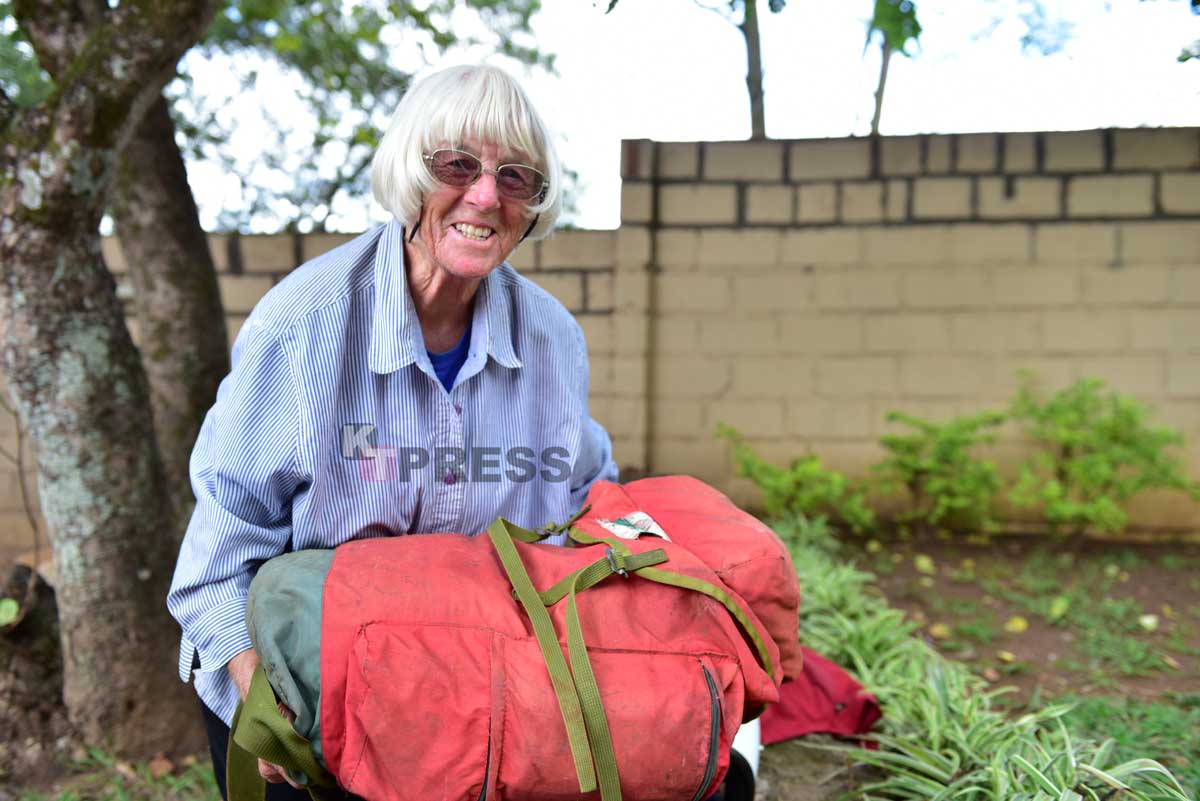 "Since I started travelling I haven't returned to my birth country. I talk to my relatives and meet them as I travel. I even have no plan of settling there anymore," she says.
The first born in a family of four, Bootherstone says that while traveling, she has met her brother who lives in Italy, and another one in Latin America.
Never Jobless in a Foreign Land
Several countries are worried about an alarming unemployment rate, but Bootherstone who funds her world tour will find a job in whichever country she goes to.
When she is taking a break, Bootherstone takes her pen and writes down her adventures and then prints books which she sells.
She has written books is including Into Africa with A Smile which she wrote after her father passed away at a time she was travelling to Africa. "I found solace in Africa after this loss."
She also wrote a book titled Where Angels Fear to Trade in 1995 while in Spain.
She then did temporary jobs for a few months including; teaching English to the interested communities.
With her beautiful voice, she also plays traditional music instruments which draw many people towards her.
It's after gathering enough money that she resumes her travels for months until she runs low on funds and relaxes again.
Ordering a motorcycle from Home
Bootherstone has owned hundreds of motorcycles.
"I can't recall the number, bear with me," said the charming Bootherstone.
But how does she get a motorcycle?
The World traveller told KT Press, that she orders her motorcycle through a global association of world motorbike adventurers.
"They are represented all over the world," she said adding that when she feels that a motorbike already served her enough, she sells it and get value for money.
Currently, the motorbike she is riding has Ugandan number plate. She came to Rwanda from Uganda where she will also return on November 21st, which is her birthday.
During her trips, Linda's biggest challenge has always been climate and overcoming some conditions along the way.
"Being able to get used to the foods and the climate was a big challenge but I get through it anyway," she said.
However, to make it through the difficulties she encounters along her travels, she takes a deep breath, calms herself down and handles the challenges one at a time.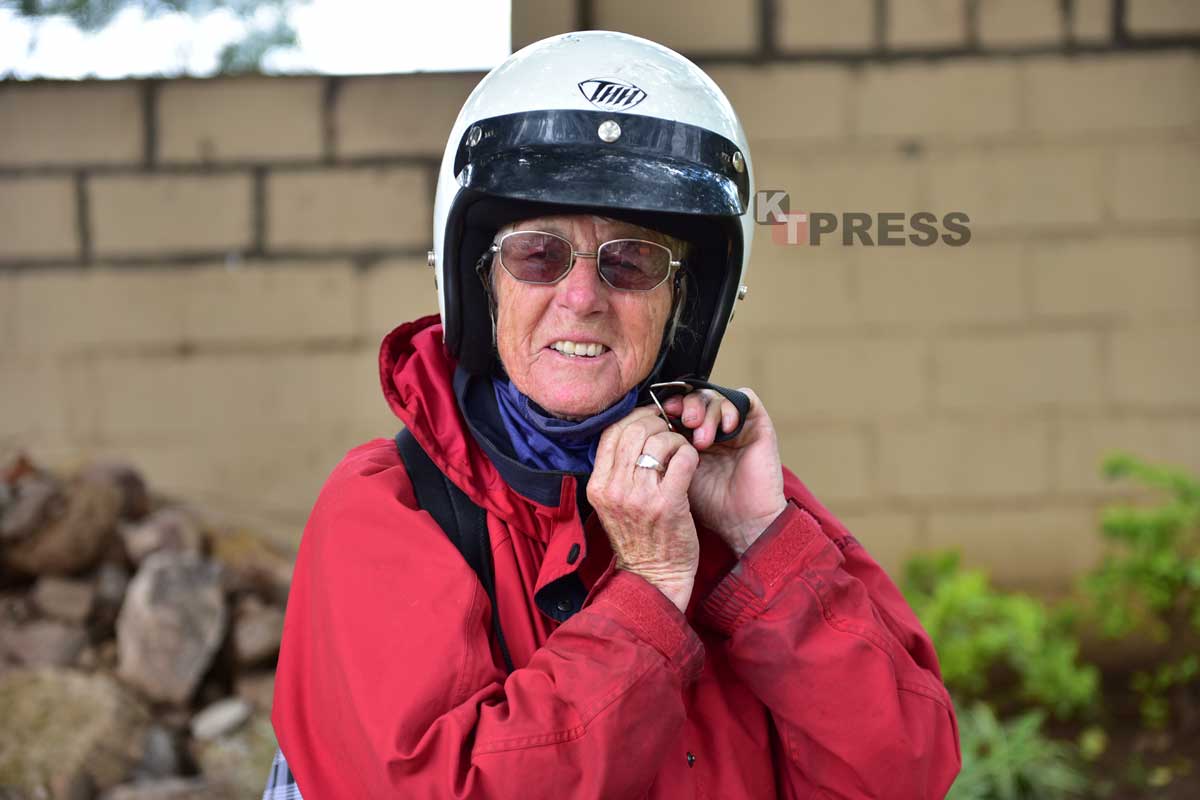 "I have learnt and grown so much over the years, and I still continue to grow with each new adventure," she says.
"I have also learned about world issues, different cultures and been much stronger than I thought, both physically and mentally," she added.
While she misses her family and friends, Linda spends time documenting her travels, writing songs and poems. She considers travelling to be her lifestyle.
Her advice to anyone considering travelling as their best option is to follow their heart and dreams. "The hardest part is taking the first step," she says.
"Once you face the fear of the beginning. Other fears and worries will usually just go away. You will be so focused and consumed by that goal that you will forget why you were so scared to start in the first place," she added.
Meanwhile, Bootherstone is on her second trip to Rwanda, the first being in 1974.
"I was here 43 years ago and I cannot compare what I saw then to what I see now," she told KT Press.
"Everything has completely changed. I still cannot believe how quickly Rwanda has managed to rebuild itself after the 1994 Genocide tragedy. People are so loving and welcoming," she said shedding tears of joy.