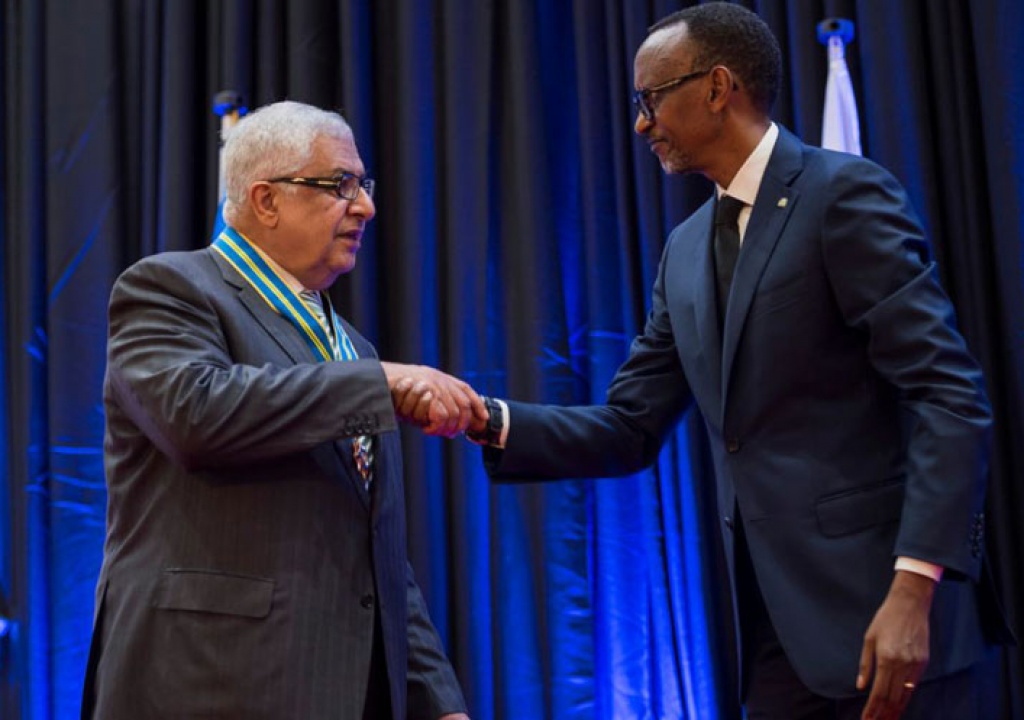 One Rwandan and eight foreigners on Saturday November 18, 2017 received medals of Honour for their outstanding friendship pact 'Igihango' with Rwanda.
The team comprised of accomplished businessmen, philanthropists, and investigative journalists, human rights activities among others including Hezi Bezalel, Howard Buffett, Gilbert Chagoury, John Dick, Paul Farmer, Alain and Dafroza Gauthier, Linda Melvern and Joseph Ritchie.
KTPress outlines the untold story behind why some of them who would abandon the comfort of their lives but opted to do something that would change Rwanda 23 years after the 1994 genocide against Tutsi.
Hezi Bezalel
An Israeli businessman who gave part of his acceptance speech in very fluent Kinyarwanda thanked Rwandans for the honour and medal, and made a commitment to promote Rwanda's struggle.
He says that from June to July in 1994, he met with President Paul Kagame at the airport.
It was too dangerous and that Kagame couldn't allow him to get out because of the shooting on the streets of Kigali.
From this very beginning Bezalel says he fell in love with the just causes, willingness to sacrifice and the determination of the Rwanda Patriotic movement.
During the days of the struggle, he helped from Israel through neighbouring countries  engaging anyone ready to listen and unfortunately there were not many ready to listen.
"It was terrible that only few people and nations were able to help. But still during the struggle and after liberation there was no revenge, not at all, only good will and effort to heal the wounds, to bring the inhumane genocide criminals to trial, that am not sure they deserved," he said.
Adding that for him this was a drive by the desire to turn Rwanda into a healthy society, a one people and one nation which made the country come from a connotation of genocide to one of prosperity.
Bezalel thanked Kagame for showing a good example after the liberation struggle by foregoing the presidency for another party which reflects the unity Kagame wanted for Rwandans which wouldn't be the case in Israel as seen in 1948.
"It is absolutely crazy but you did it", Bezalel told Kagame, "To me, this is a shining example of your wisdom and leadership which I got to know and admire all these years."
For this reason, among many Bezalel said he is proud to be part of Rwanda's cause and takes the liberty to call Kagame as his dear friend.
Rwanda shares a very profound bilateral relationship with Israel and for Hezi Bezalel, there is more work on his desk to promote this relationship.
"Learning from you, my greatest hope is to imitate the reconciliation that happened in Rwanda led by this unique leadership, to promote peace in my homeland Israel," Bezalel said.
He also stated that it was a great honour for him to open the gates for the current relationship between the two countries which share a similar history of genocide.
"Building this relationship wasn't easy but it was made possible by your belief and leadership," he added that Kagame's determination has turned around for Rwanda to become a world leader in green, gender equality and doing business among others.
Bezalel promised to be devoted and committed to dreams of the future as he walks with Rwanda in this journey. "We have Igihango for life," he said.
Howard G Buffet
Global philanthropist was recognized worldwide for his ingenious philanthropy. The immense scale of his personal commitment to Rwanda's agricultural transformation, to our National Parks, and security of our wider region, is as humbling as it is empowering.
He only stepped in Rwanda after rounding other African countries since the age of 19years, only one day to discover in his later years that Rwanda was the place for him and his foundation works.
He has invested in Rwanda and he explained why he did so.
"I had visited four countries in Africa in 1970's and Rwanda was not on the list. I came back to Africa 20 years later I visited South Africa. A lot had changed but a few years later I also visited Rwanda in 1998", he explained.
"Looking back at the two countries at the time, who could imagine how different they would look. With no offence, Rwanda has left South Africa in the dust."
"We looked around and we saw the need to come to this transformational country, under president Kagame, which many wish to be like."
As told to him by Paul Kagame, Howard G Buffet said, "someday Americans and Europeans are going to stop treating us like children. Rwanda has started the journey to make them realize that they should. Mr. President (Kagame) we stand with you now and we will."
John Dick
A global Technology guru and investor said that it's an honour that no one can believe how deeply they are touched to be involved in what has happened in Rwanda after 1994.
When Rwanda first sought connection with global business leaders, he took the time to listen and act. This led to many of our most fruitful investments. He continues to contribute to progress of our country, which he proudly calls his own.
We were together and I can recall when Kagame visited us in Jersey. At the end of the second day, Kagame looked and said John, I would like you to come to look at Rwanda and will give unrestricted access and spend a week with me and let me know what you think.
I said to the president, give me a minute, after my wife's eyes were going big and terrified she said that they kill people in Rwanda.
Seven hours later we were parked and heading to Rwanda and that was the easiest trip ever.
One thing which impressed me is the importance that Rwanda has given to women in Rwanda and I know my wife Nicky has been a big part of my life and there are few things which I cannot do without her- igihango.
Alain and Dafroza Mukarumongi Gauthier– who formed a remarkable joint commitment to bringing to justice those responsible for the Genocide against the Tutsi. They have tirelessly pursued fugitives and  have stuck a blow against the global tolerance for Genocide denial.
Alain spoke in French with just a little bit of Kinyarwanda on behalf of his family and said, they have been engaged in a struggle to bring justice for genocide survivors and end denial of genocide.
Dafroza- Alain has spoken much but I would like to thank the President and Rwandans.
Once one takes on a job, they do it. No one asked us or forced us that is why we never gave up, since we are also working as it is a cultural up bring, parents asked us to do any job with one commitment.
For me am thanked by friends for this commitment but what the RPF Inkontanyi did, made a bigger commitment.When I looked at that I decided to give myself a task of making sure this history is not erased.
Professor Linda Melvern
Her commitment to the truth has produced some of the most meticulously-researched accounts of the Genocide on record. Despite personal cost, her vigilance against genocide denial is undiminished and her work gives solace and dignity to survivors.
Melvern said it's an honor of life, 23 years working to document 1994 genocide and inexcusable apathy that allowed it.
She said that she was disappointed that today, western governments continue a policy of excessive secrecy and unwarranted concealment of facts and hide from the public what they should know.
"This serves to embody genocide denial currently waged by genocide perpetrators and their supporters to undermine facts and blame the victims. French military officers, politicians, diplomats are complicit for they have the most to hide," she said.
She said her life today is dedicated to defense of history of genocide against Tutsi, a human disaster of this age and to document the fake news that surrounds it and used academics in the UK and BBC leading in lying the world about it.
Standards of reporting on Rwanda need to be exposed and genocide denial is aimed  at destroying truth and memory which has done terrible harm to survivors and every single day they live with it.  Truth passes through fire and doesn't burn.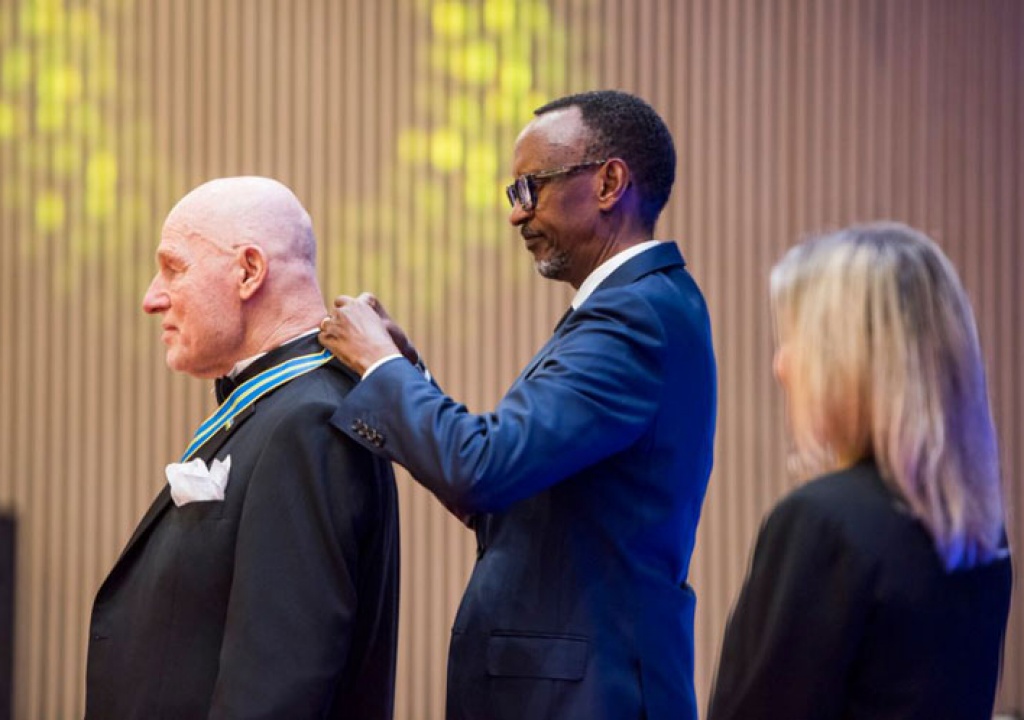 Joseph Ritchie
He saw Rwanda's potential for prosperity when it was least apparent. He staked his reputation on ours, and brought countless others to contribute to Rwanda's transformation. When called upon to serve full-time as the founding CEO of the RDB, he did not hesitate.
This is a chance to join an army where the president Kagame is a little better than others and when I look at the people speaking here there is truth in their eyes.
Ritchie said that recently one thing happened to find out that Pope Francis told me that I was absolutely right about to get them involved in all processes involving Rwanda.
"When I meet the Pope I told him greetings from Rwanda and he said Kagame is one strong man out there," he said.
Paul Farmer has earned global respect for proving that quality healthcare can be made available to every person in the world, regardless of income. He has contributed to historically-unprecedented improvements in the health of nearly every Rwandan.
He was not present for the award event, but had his citation read and acceptance remarks heard on video.
He said that it is enough a reward to be given the opportunity to help Rwandans in the health domain and anyone who has lived this cause in last 15 years knows that it is not enough and we look for more 15 years.
Ambassador Gilbert Chagoury, best known as a philanthropist who achieved extraordinary success in business and is an ambassador of goodwill.
He also selflessly accompanied Rwanda in the most delicate task of paving a path to greater understanding with the Holy See.
Chagoury contributed a great deal to breaking this silence, and the bad blood between Rwanda and the Vatican.