A senior Pastor at Zion Temple church has used a strong metaphor to describe President Paul Kagame as a leader who has given it all to serve his nation.
"Madame First Lady, while you live at State House, I am convinced that the heart of our President dwells deep in the anxieties of Rwandans," said Didier Habimana, Senior Pastor of Zion Temple Kimironko in Gasabo district.
Habimana was preacher of the day at National Prayer Breakfast, 23rd season on Sunday.
National Prayer Breakfast is an annual event where government leaders, church leaders, civil society, private sector and Rwandans from all walks of life meet at a designated venue to thank God for what he has done for the country.
Kagame and First Lady Jeannette Kagame attend this event very often.
The comparison Pastor Habimana made was referring to a man called Nehemiah in Bible, the book of Nehemiah 1- 2.
The man, a Jewish was at a palace called Susa serving King Artaxerxes at a time when Israelis were under Babylon rule.
He had a privilege to dine with the king among other comforts, but he overlooked everything when an envoy from his home country came to tell him that his countrymen were in great trouble and disgrace. His message was that the wall of Jerusalem was broken down, and its gates burned with fire.
Nehemiah ignored comfort and asked permission to go build the temple and its fence. Similarly, Habimana said, our president is a charismatic leader who is always concerned with problems of Rwandans.
This brought Pastor Habimana to the theme of National Prayer Breakfast of this year, "Instilling Godly Values in Leadership."
Habimana said, "A good leader can be at a place where he is well-off, while his heart is with his people that are suffering, have several problems."
"I remember when the president was receiving the oath of cabinet members last year, he told them: we cannot afford to live in a comfort zone."
According to Pastor Habimana, you know that someone is a good leader who will bring transformation when he not only understands problems in society, but also spends sleepless nights to find appropriate solutions.
On behalf of Rwanda Leaders Fellowship which organizes the event, Francine Havugimana from private sector presented some important achievements of Rwanda, which would not be attained if God had not blessed the country.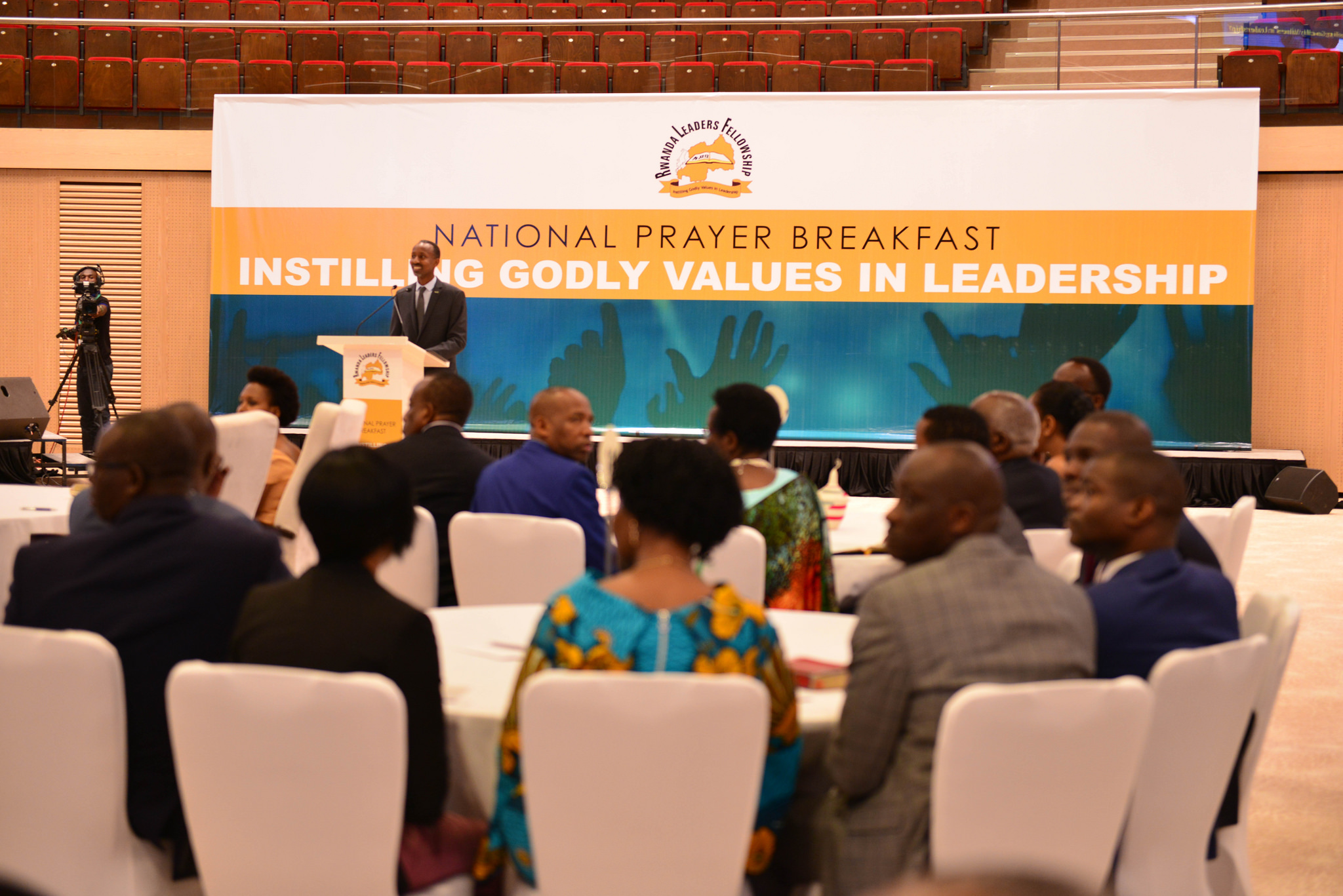 Peaceful presidential elections were achievement number one, and according to Havugimana, "Rwandans showed the world that they have left behind any form of conflict."
She said peaceful elections took place in Rwanda while in other countries doing the same exercise, the mood was tense.
Havugimana said that 2017 was a year when RwandAir was blessed with more planes, and increased number of destinations – now with a direct flight to India and UK respectively, and an office in West Africa.
On January 13th, Minister of Infrastructure announced an impending launch of a new flight to Guangzhou port, China.
The launch of Bugesera International Airport (BIA) construction was also another milestone last year.
China announced in Kigali yesterday, a plan to support expansion of Kicukiro – Bugesera road to ease traffic which promises to be heavy once  BIA will be launched this year.
Rubavu border post which allows flow of business between Rwanda and it's biggest regional trade partner, Democratic Republic of Congo (DRC) was also launched in 2017.
 Agricultural production increased, Volcano national park expanded, which, said Havugimana, "is a good deal for us in private sector."
At the event, Prime Minister Edouard Ngirente told the congregation; "this culture of thanking God for what He has done and showing Him our concerns for future is a good practice."
He said from the origins, Rwandans believe to have Almighty for God, and, citing Psalm 33:12, he said "Blessed is the nation whose God is the Lord, the people he chose for his inheritance."
He commended churches for bringing all Rwandans to work together, but requested them to fight current challenges facing the youth – who constitutes over 70% of the population.
Drug abuse is one among such challenges.