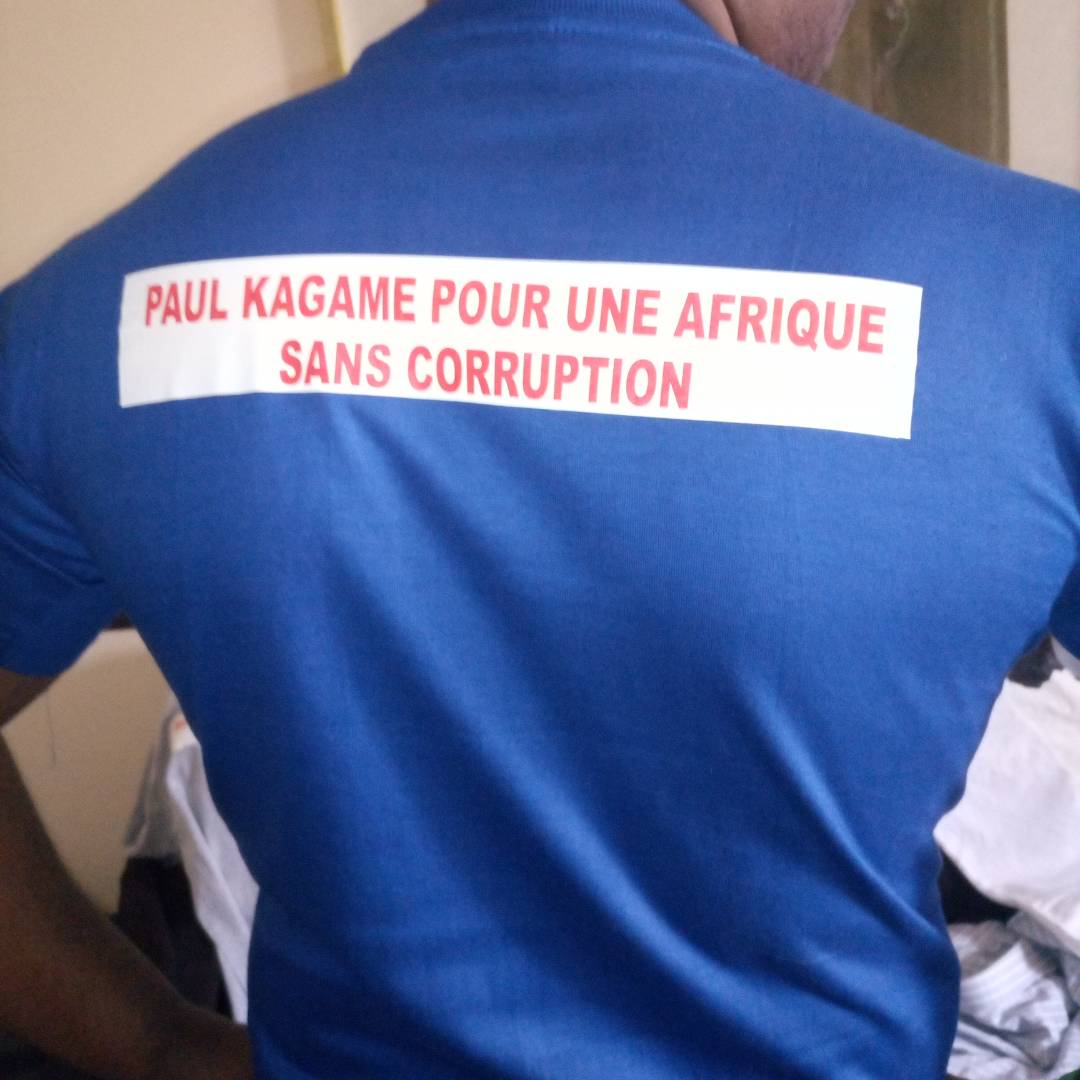 The 30th Ordinary Session of the Assembly of the African Union (AU) is scheduled to take place in Addis Ababa Ethiopia on January 29th and a lot is on agenda.
However, most expected is the ordinal rotation on the chairmanship of the Union where President Paul Kagame takes over from President Alpha Condé of Guinea.
Several countries, organizations and even individuals who include common people who relatively do not know much about politics are expecting a lot from President Paul Kagame.
Ahead of the AU summit, investors have already printed t-shirts to welcome President Kagame.
"Paul Kagame for Africa without corruption," reads inscription on one t-shirt.
President Kagame introduced "zero tolerance to corruption" in Rwanda.
Rwanda is not a corruption free country but measures to combat it deter people from taking corruption/bribery.
Many officials have been charged of corruption and embezzlement.
On top of prosecution, an office of ombudsman follows cases of corruption and authors are held accountable.
The Bribery Index, a report by Transparency International (TI) has always ranked Rwanda the least corrupt in the region, Africa, and one of the least corrupt worldwide.
On Thursday, January 25th, President Donald Trump wrote a letter wishing well President Kagame in his exercise as AU chairman for 2018.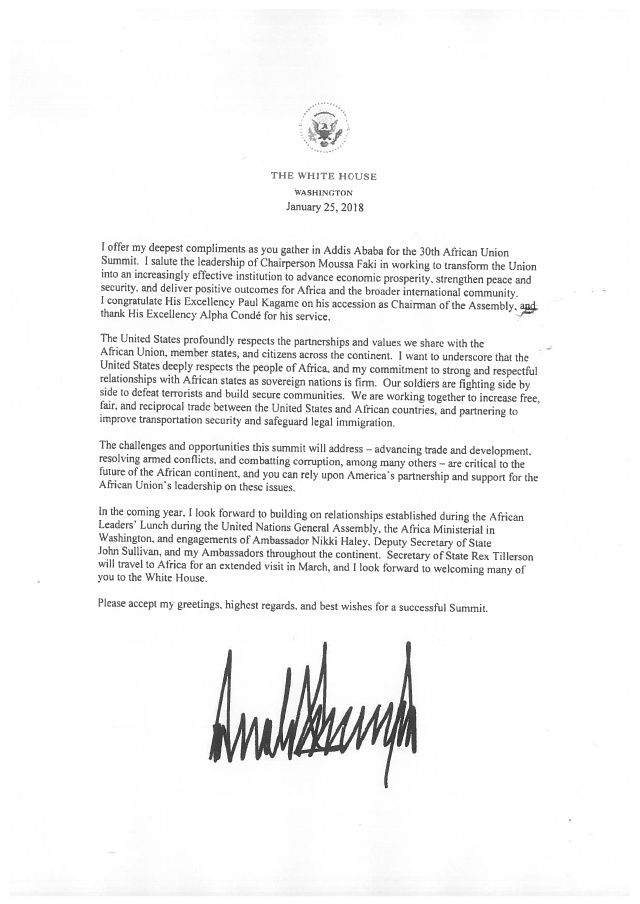 In advance, Trump saluted the 30th AU General Assembly, pledged his country's commitment to work with Africa, but also congratulated the AU leadership with at the head, Moussa Faki.
And he said, "I congratulate His Excellence Paul Kagame on his accession as chairman of the assembly, and thank Alpha Condé for his service."
Trump said America respects Africans, and their leaders, and is aware that Africa is an important partner of the United States.
And he said something that Rwanda does very well, and which, could be another good indication that he is looking at Africa as a good partner as Kagame takes over.
"The challenges this summit will address; advancing trade and development, resolving armed conflicts, and combating corruption among many others, are crucial to the future of African continent, and you can rely upon America's partnership and support for African Union's leadership in those issues," the letter ] reads in part.
Trump promised to send members of his government on the continent to strengthen US Africa partnership.
This letter was written a day before Trump's meeting with Kagame at World Economic Forum (WEF) that concluded in Davos on Friday.
Same commitment to partner with Kagame and Africa in general were also uttered by Trump.
Meanwhile, at the same Davos summit, Kagame met about 20 high ranking officials who took that opportunity to discuss with him many issues, and to wish him good services at AU chairmanship.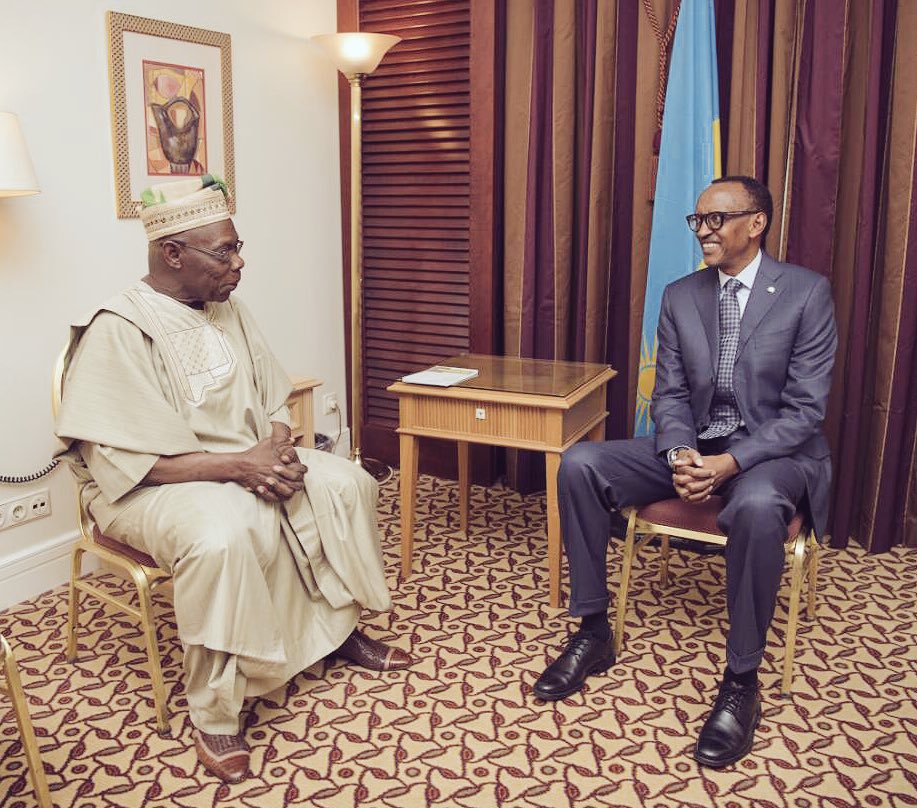 As we were writing this story, Kagame was meeting with Former Nigerian President Olusegun Obasanjo in Addis Ababa, Ethiopia.
Back home, every week, the president receives several officials coming to wish him good work at AU.
Kagame is taking over AU chairmanship after an approval of AU reforms that intends to bring self-reliance of the union. He led the team that designed the reforms.