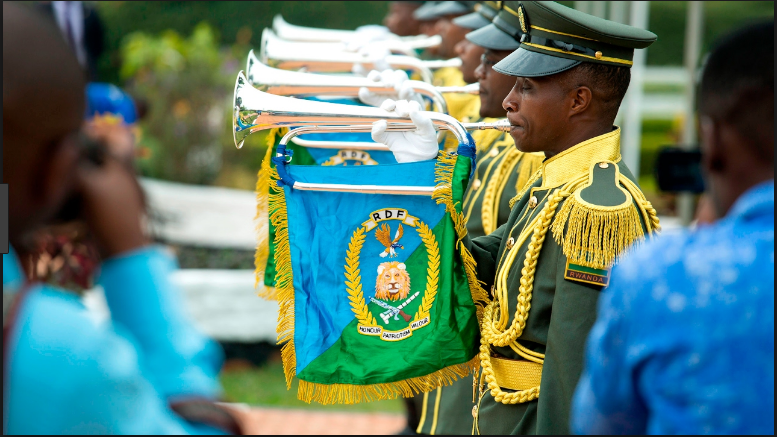 Rwanda is today paying special tribute to people who made special achievements with a very high sacrifice, courage and discipline, otherwise defined as heroes.
Despite having its Kinyarwanda word 'intwari' since the ancient Rwanda, the word a 'hero' got a stronger meaning on the wake of the 1994 Genocide against Tutsi where more than one million Tutsi perished in just a hundred days.
Heroes however, were born from all generations in Rwanda.
The government of unity, made principally of the same members who stopped the Genocide, gave a 'hero' the following genuine definition;
"Hero is any person who pursues objectives he / she undertakes to obtain a special achievement for the public interest and with high proven integrity, sacrifice and noble courage in his / her acts and who avoids being a coward in his / her actions in very trying situations."
Having defined the word, it was indicated that in her history, Rwanda has ever known three categories of heroes, well defined in Kinyarwanda including; Imanzi, Imena and Ingenzi.
IMANZI is the supreme Hero who demonstrated outstanding achievements characterized by supreme sacrifice, outstanding importance and example.
IMENA is the Hero who seconds IMANZI and who is reputed for his/ her extraordinary acts for the country which are characterized by supreme sacrifice, high importance and example.
Last and not least is INGENZI, the Hero who seconds IMENA and who is known for his/her good ideas or his/her outstanding achievements characterized by supreme sacrifice, great importance and high example.
Do heroes in the three categories deserve it?
Let's look at some examples. The category of Imanzi include two heroes so far and those are the unknown soldier who represents all the soldiers that died during the liberation struggle, and Major General Fred Gisa Rwigema.
Gen Rwigema, born in Rwanda in 1957, he fled the country to Uganda at tender age with parents following persecution and killings of the Tutsi.
At a young age, he registered for military training and quickly became a brave soldier who fought and won many wars and raised through ranks and key military positions in Uganda.
Despite several key posts, he always had Rwanda at heart. On October 1, 1990, he spearheaded Rwanda's liberation struggle.
He died on October 2nd, 1990 on the second day of the RPF offensive into Rwanda leaving a legacy of heroism.
Rwigema is laid to rest at heroes mausoleum located at Remera, Gasabo district.
The 'Imena' category consists of; King Mutara III Rudahigwa Charles Léon Pierre, Michael Rwagasana, Agatha Uwiringiyimana, Niyitegeka Felesita, and the students of Nyange Secondary School.
A lot was also written about this category, but one of the case that left people wondering, is the case of students at a secondary school in a remote Nyange village, Ngororero district.
In 1997, members of the so called Front Democratique pour la Liberation du Rwanda (FDLR) a militia responsible for the Genocide against Tutsi infiltrated from Democratic Republic of Congo and invaded Nyange High school at night.
They ordered the students to separate between Tutsi and Hutu, or else, they will kill all of them. The adolescents accepted to die rather than revealing their ethnic background.
Sosthene Bizimana then 22 was one of them. His surviving siblings live in Kigali. They told KT Press that, they saw heroism character in him very early when their parents died and he was in charge of the family
"Our dream is to build the house that he had wanted for us in Kicukiro and that is why we have not shifted from here. But first of all he always wanted us to love and take care of each other," Valens Nsekanabo, one of the siblings said.
"All his photos were lost at school. His mattress, which was brought by one of his classmates, is all we have of his memory and we hold it so special. Not even a relative can take it out of this house," said Vestina Mujawase, the sister to late Bizimana.
Meanwhile, the two first categories include only people who have died, while the third category include several people still alive and those who have died.
On a regular basis, Rwanda, through the Chancellery for Heroes, National Orders and Decorations of Honour (Cheno) awards several people with medals for their heroism acts. From either military or civilian life, Rwandans or foreigners, they all join the third category.
One such a case is Sosthene Niyitegeka 66, a father of nine who hails from Bweramana sector in Ruhango district. In his community, he is considered religious and a dignified person of high integrity. He was a farmer and preacher at the Adventist church.
During the 1994 genocide which claimed over million lives 24years ago, Niyitegeka mysteriously saved 104 Tutsi by hiding them in his house at Ntosho village, Rubona cell. He also distributed some Tutsi refugees to fellow Christians.
Currently, Niyitegeka lives in Kigali with his family and believes, "there is no more reward than having achieved what many failed; saving lives in a hostile area," he told KT Press in a previous interview.
Meanwhile, every Rwandan is free to suggest names of people they consider heroes. They submit their application to CHENO which studies the case according to well set criteria.
Celebrations of National Heroes Day take place at village level and is characterized by sessions that intends to remember the deeds of heroes, and to instill culture of heroism among Rwandans. In some areas, communities even contribute some money so that they can share a drink on this day.
A heroes week January 24th– January 31st was introduced this year.