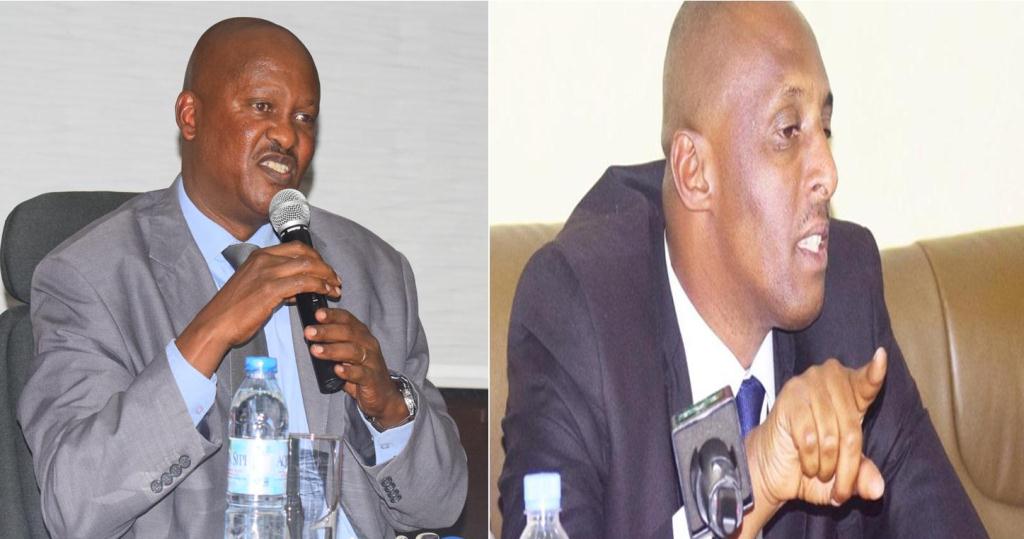 The Rwanda Football Federation (FERWAFA) goes to elections today with a new president expected to be elected to succeed immediate former boss Nzamwita Vincent.
The FERWAFA Elective General Assembly is set to be held at Lemigo Hotel in Kigali City from 14:00.
Nzamwita who has served a one term from 2014 to todate is not seeking re-election after his declared his not to run again in last year's first edition of the election held in December due to personal reasons.
The elections held on December 31 were postponed after sole candidate Madam Felicite Rwemalika failed to secure a majority vote after she managed 13 votes out of the 52 members.
Two candidates are challenging for the top seat including Retired Brig. Gen. Sekamana Jean Damascene, who seen as the front runner and Rurangirwa Louis.
The pair have had almost three weeks of campaigning and convincing the general assembly members to trust them with the mantle to lead Rwandan football for the next four years.
Candidates' priorities
Following weeks of campaigning, Rtd. Gen. Sekamana FERWAFA presidential aspirant Gen. Sekamana is scheduled to focus on five key aspects as he seeks to transform Rwandan football.
They include; developing of grassroots level and women's football, professionalising and harmonizing the organization of FERWAFA competitions, ensure a clean financial management and transparency,overhaul legal framework, secure new partnerships and maintaining the existing infrastructure and renovate substandard ones.
Rurangirwa, a  former referee, seeks to dignify Rwandan football legends if he is elected.
He told local media, "With a clear framework, our legends would be very helpful in sustainable and result-oriented football development programs. Unfortunately, they have been neglected for so long, and at times are even denied access to stadium to watch local football matches. This must end,"
He added; "Legends have served the country and are richly knowledgeable about football, they are going to be a strong asset in overhauling the Rwandan football when I am elected."
Apart from working with legends to take local football (leagues and national teams) to new heights, Rurangirwa also plans to invest in transparency.
"Without transparency and accountability, both to Ferwafa members and partners, everything will remain but an empty promise. They are two key pillars in my leadership," he noted.
Rurangira also looks forward to working with all league sides to get sponsors and enjoy shared opportunities equitably. Rurangirwa adds that he will encourage all topflight league teams to have junior teams and the federation under his leadership, will revive the junior league.
FERWAFA presidential elections were initially supposed to take place on September 30, 2017 but were put on hold a week earlier after FIFA instructed the federation to review claimed irregularities and the electoral code which had been violated in the process.
In the September last year elections, Rurangirwa expressed his interest in leading Ferwafa and submitted his application for the position but it was rejected on grounds that he had not met the criteria.
The polls were held on December 30 at Lemigo Hotel but sole candidate Félicité Rwemalika failed to garner the minimum  votes which would have made her the first woman to lead the local football governing body.
Subsequently, the elections were pushed further and the outgoing executive committee was mandated to stay in power until fresh elections are organized.
The FERWAFA Polls will be monitored by election observers led by the Ministry of Sports and Culture
The FERWAFA General Assembly is composed of 52 members led by 16 top flight league club, 24 second division clubs, 9 women clubs and three associations repectively.
The newly elected Ferwafa President and his Executive Committee will serve a four-year term from 2018 to 2021
Past FERWAFA Presidents
1976-1978: Dr. Gasarasi
1978-1982: Mudenge Canisius
1982-1986: Félicien Ngango
1986-1987: Mayuya Stanislas
1987-1988: Faustin Twagiramungu
1988-1991: Dr. Emmanuel Ndagijimana
1992-1993: Mvuyekure Viateur
1994-1995: Gasasira Ephraim
1995-2005: Lt. Gen. Caezar Kayizari
2006-2011: Maj. Gen. Kazura Jean Bosco
2011-2013: Ntagungira Céléstin
2014-2018: Nzamwita Vincent