Aegis Trust, a British NGO which manages the Kigali Genocide Memorial and other campaigns to prevent Genocide worldwide will today receive the Raphael Lemkin International Award – second edition.
Since 2013 when it was launched, the Raphael Lemkin International Award, is conferred on people, international organizations and NGOs for outstanding contributions to preventing, detecting and prosecuting the crime of Genocide and war crimes.
Nominees can also be those who are recognized for outstanding contributions to research on and development of international criminal law.
The award was named after Raphael Lemkin (1900-1959) who was a Polish lawyer of Jewish descent.
He advocated for the adoption of the Convention on the Prevention and Punishment of the Crime of Genocide. The convention would be adopted by the United Nations General Assembly on 9 December 1948.
He is recognized to have invented the term 'Genocide' in 1944, in his book 'The Axis Rule in Occupied Europe.'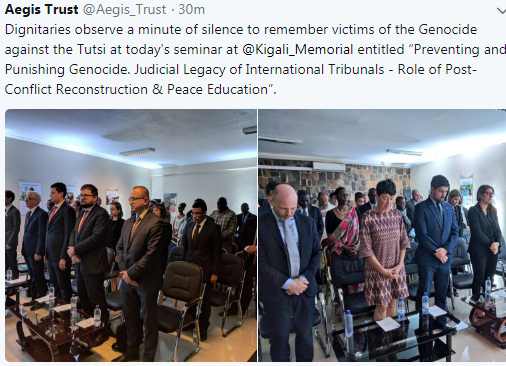 "The non-governmental organization was recognized for its outstanding contribution to fighting the genocide in Rwanda, in particular by educating the young generation through its Education for Sustainable Peace in Rwanda programme, and commemorating the 1994 genocide against the Tutsis as manifested in its custody of the Kigali Genocide Memorial," reads part of the communiqué from the award givers.
The award will be presented to AEGIS Trust as country ends commemoration week. However, remembering the victims of the 1994 Genocide against Tutsi continues for the next 100 days.
Louise Mushikiwabo, Rwanda's Minister of Foreign Affairs, Judges of the International Tribunal, including the International Criminal Tribunal for Rwanda (ICTR) are among the key speakers at the event.
They are expected to speak at a session entitled "Preventing and Punishing Genocide. Judicial Legacy of International Tribunals. Role of Post-Conflict Reconstruction and Peace Education."
Meanwhile, Raphael Lemkin was repeatedly nominated for the Nobel Peace Prize (in 1950, 1951, 1952, 1958 and 1959).