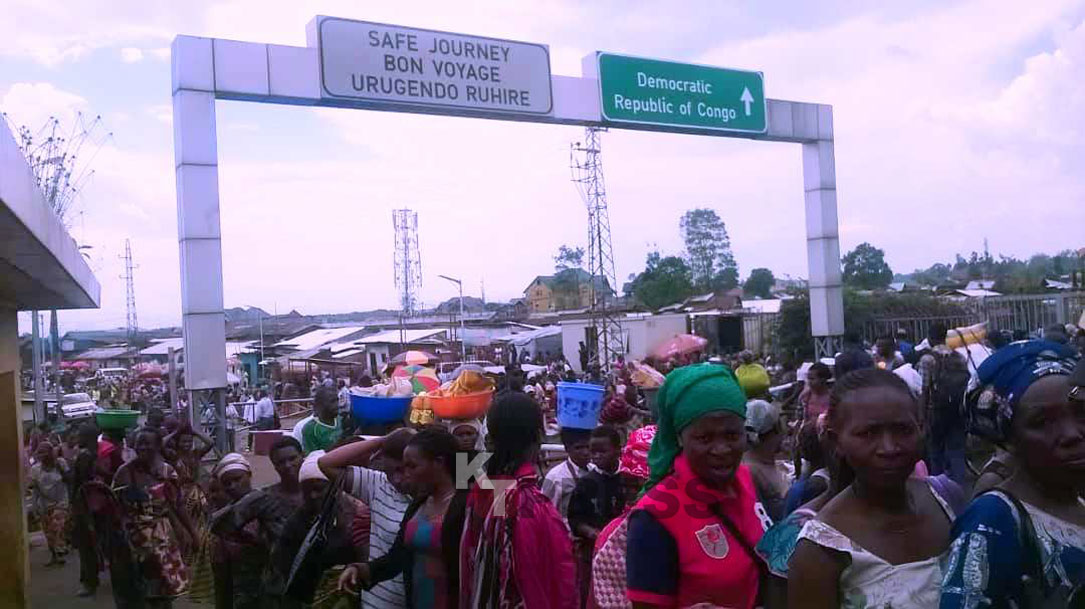 More than 90,000 people are registered daily on Rwanda-DR Congo border – influx that is of no security threat at all, Rwanda's chief of intelligence said Monday.
Gen Joseph Nzabamwita told a security symposium that the people crossing were looking to earn a living. "Closing borders does not solve problem of migrants, you exacerbate it instead," he said.
The three-day 6th annual National Security Symposium is taking place at the Rwanda Defence Force Command and Staff College in Musanze district, Northern Province.
The symposium is attended by military officers from several countries including Czech Republic, Tanzania, Ghana and host Rwanda. These officers are studying there for a one year senior command course.
Gen Nzabamwita said despite threat of Rwandan FDLR militias operating in Congo, Rwanda decided to leave its border open for ordinary people unhindered.
"It's an issue of opportunities, employment…these people only want to trade. They are not a security threat at all," said Gen Nzabamwita on the panel discussion titled: 'Illegal migrants as a security threat to Africa and beyond – An African perspective'.
Nzabamwita said that the level of cross-border movement on Rwanda-DRC frontier was biggest in Africa, and only second to the US-Mexico border daily influx. He added that closing borders actually tends to push people to take all risks to cross – creating the security threats a country will have been trying to stop.
On same panel was Justice Minister and Attorney General Johnston Busingye, who said that as the west closes its borders it should remember "What goes around comes around and history repeats itself".
He added: "Did Vasco da Gama, Capt. Lugard or the missionaries get visas to come here….Why should these young people be subjected to such treatment? Actually it should be a time for payback."
"Tell me one single successful country anywhere and I will show you how it was because of migrants."
Another panelist Malian seasoned diplomat Amb. Abdoulaye Diop also agreed with Gen Nzabamwita and Minister Busingye that if at all, migration affected Africa more because its skilled people were leaving.
Other speakers at the event were in agreement that the recent free trade pact (AfCTA) reached at in Kigali by African leaders was first major step in reversing the outflow of Africans.
The pact will allow more intra-africa trade and let people move freely – thereby creating the opportunities they would otherwise seek in the west, according to experts and policymakers at the symposium.
A representative from the US Africa Command (AFRICOM) will also speak on one of the lined panels.
Other speakers lined up include military chiefs from some African countries, former African Development Bank Chief Dr. Donald Kaberuka, officials from UN headquarters and African Union Commission.
The symposium continues Tuesday and Wednesday.