President Paul Kagame has told members of the Young Presidents Organisation (YPO) that the continued influx of foreign investors into the country is because of working hard for progress.
On Thursday Kagame met 80 members of YPO who are in the country as part of 'Rwanda Life Changing Experience trip'.
Drawn from 17 countries, the delegation has been in the country for the past week, according to Thomas Krulis – YPO's current coordinator.
YPO is the largest global platform for chief executives. Its members harness the knowledge, influence and trust of the World's most influential and innovative business leaders to inspire business, personal, family and community impact.
The organization empowers more than 25,000 members in more than 130 countries, diversified among industries and types of businesses.
Its member-run companies employ 16 million people with $6 trillion in annual revenues.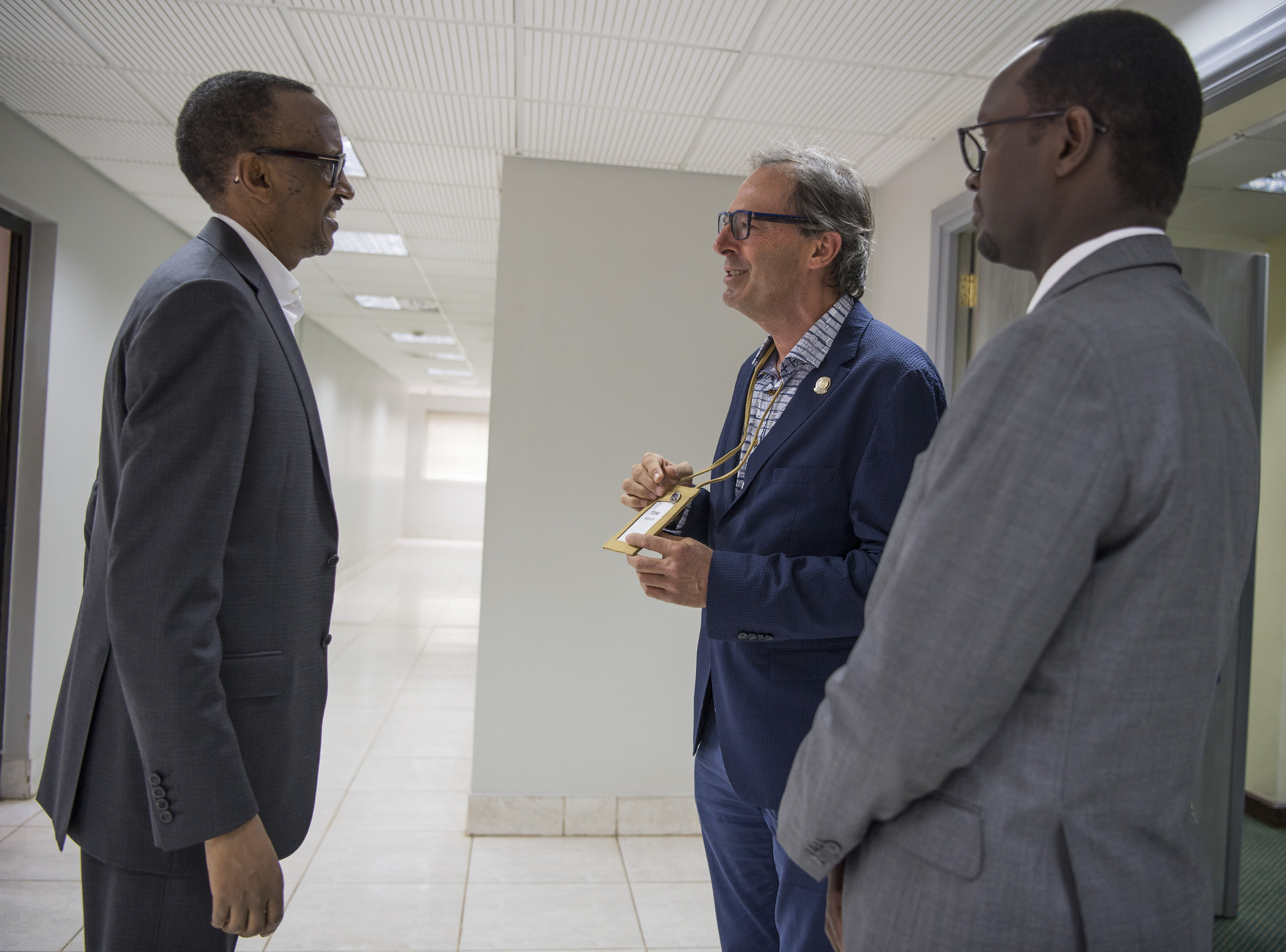 According to Krulis, part of the discussions with President Kagame centred on how YPO members can invest in Rwanda.
"When we asked the President on how YPO members can invest in Rwanda, he said first come here. Come and see what is going on, invest in your head, invest in your heart.
There are lots of opportunities in Rwanda. We will help you start business and we will help you open up for East Africa as well," Kruli told KT Press.
The President told the delegation which included spouses and their children that Rwanda has left its past and embarked on living a new dignified life.
"We have left the emergency situation behind us. We are no longer trying to survive, we are living," Kagame said.
He added that "people who are not part of our past are the majority but they need to learn it. It is part of who we are. It has lessons of what can go wrong. You can't just switch off your past. You don't have to be held back by it but you need to reflect on it to go forward," he said.
For Rwanda to have resurrected, 24 years after the 1994 Genocide against Tutsi which claimed over 1 million people, Kagame highlighted key priorities that were taken for the country to move forward.
First, he said, was investing in people, health, education, security and maintaining stability.
"The challenge for us is how we sustain this progress. How do we reach everyone, make sure people can feed themselves and that we are getting investments that make everything sustainable," Kagame told YPO members at Rwanda Defence Force headquarters in the capital Kigali.
In the context of social welfare, Kagame told the delegation that 24 years ago, life expectancy improved from 41 years old to 67 years today.
"We want to sustain that, keep that as a minimum but also go beyond," the President said.
"I am always uncomfortable that we would want to be seen as having lessons for others. We first have lessons for ourselves. We are learning from others, experimenting, and we have not been afraid of trying new things," he added.
Advising YPO members on how they can overcome challenges, Kagame said: "Don't be afraid of challenges. If you have aspirations for tomorrow then you have to stand up to these challenges."
Kagame gave an example of technology as one of Rwanda's toughest decisions that received massive criticism.
"Many thought our thinking was wrong. We were asked, how can you think about technology when your people don't have food. We didn't see technology as a burden but as a solution to problems we had," Kagame said.
According to President Kagame, for one to uphold good leadership, "Face your challenges. When you address a challenge, don't celebrate too much because another one is coming. That is how you keep the balance."
In 1950, YPO founder Ray Hickok laid the groundwork to create a unique organization for Chief Executive peers. His invitation to other young presidents in New York City brought together 20 leaders as the first members of Young Presidents' Organization.