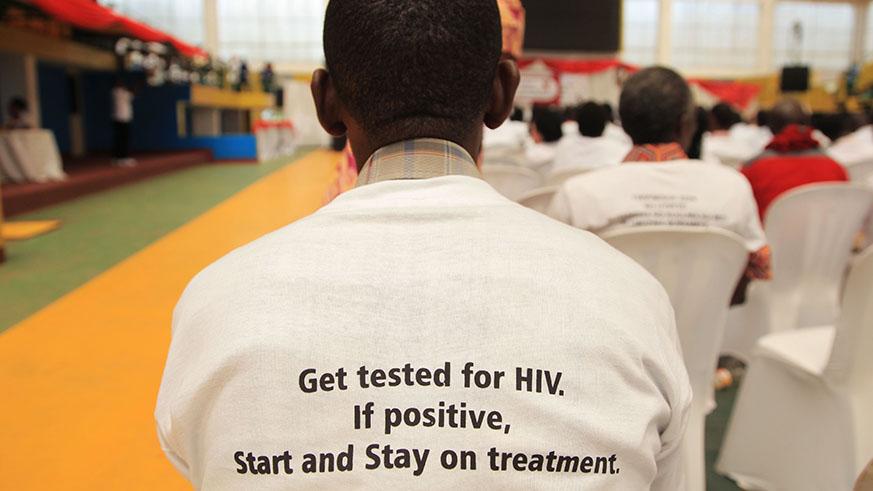 A HIV/Aids research conducted by Rwanda has shown an increase in life expectancy for persons on anti-retro viral (ARVs) treatment by 25 years in the last ten years.
The research conducted by Rwanda Biomedical Centre (RBC) indicates that ARVs has enabled persons living with HIV/Aids (PLHIV) to live for as long as 65 years and beyond – which is national life expectancy compared to 35-47 years of life expectancy in 2008.
The Observation Cohort Study that was conducted in 2015 shows that taking antiretroviral (ARV) medication has increased the patients' body cell resistance to an external virus attack which increased likelihood by a-35% rate.
Lead researcher Dr. Sabin Nsanzimana HIV/AIDS Division Manager at RBC said that these findings are hope that Rwanda will win the war on HIV/Aids and thus venturing into simplified medication and accessibility.
"We are planning on making medication more accessible and simplified with new researched drugs to be availed soon, requiring a patient to take a single pill in six months unlike in the past years where patients took a cocktail of drugs regularly," Nsanzimana said.
Nsanzimana was today speaking at the first High level meeting in Kigali on HIV/Aids among the aging population, and marking 15 years of organization for PLHIV (RRP+) in Rwanda.
Rwanda has fast-tracked HIV treatment programs countrywide with person living with HIV/AIDS getting free treatment which reduced to one tablet from over 30 tablets a day.
With the progress in HIV treatment programs, RBC says that there is plan to introduce medication such as an injectable antiretroviral treatment- Cabotegravir– which is taken once in eight weeks and Rilpivirine which is a pill taken twice in a year.
The research, said Nsanzimana is yet to yield results but is showing positive results.
In Rwanda, 120,000 members of RRP+ are on ARVs.
At age 40, Isaiah Iryivuze, a retired teacher, got infected in 2003 and didn't know his status, but was helped by friends to get tested and received immediate treatment which has enabled him to live 15 more years and is still counting.
Iryivuze says that there is need to focus on information dissemination of new medications and trends of treatment for PLHIV, especially on what the medication requires and its effects on one's life in case it is misused.
"Health workers give us medication as if we are taking sacrament of communion in the Catholic Church yet we need full explanation on impact of the medicine. For example we are no longer taking bacterium but some patients may complain thinking it is unfair not to get what they deserve," Iryivuze says.
In the meantime Rwanda has started trying out on discordant partners the use of Pre-exposure prophylaxis (or PrEP)- where people at very high risk for HIV take HIV medicines daily to lower their chances of getting infected.
In Rwanda, HIV prevalence rate stands at 3%. Men above the age of 40-49 years remain at the highest risks compared to women in the same age group.
New HIV infections also dropped from 35,000 in 1980 to less than 15,000 in 2018.
Moreover, of all PLHIV, 88% diagnosed while 94.4% are on ARVs and the virus multiplication effect in the body (Viral Load) was suppressed by 91%.
This is in addition to recently introduced oral quick self-testing devices, 'Dongle'- a Mobile smartphone testing using a device connected on the charge port with a drop blood put on it.