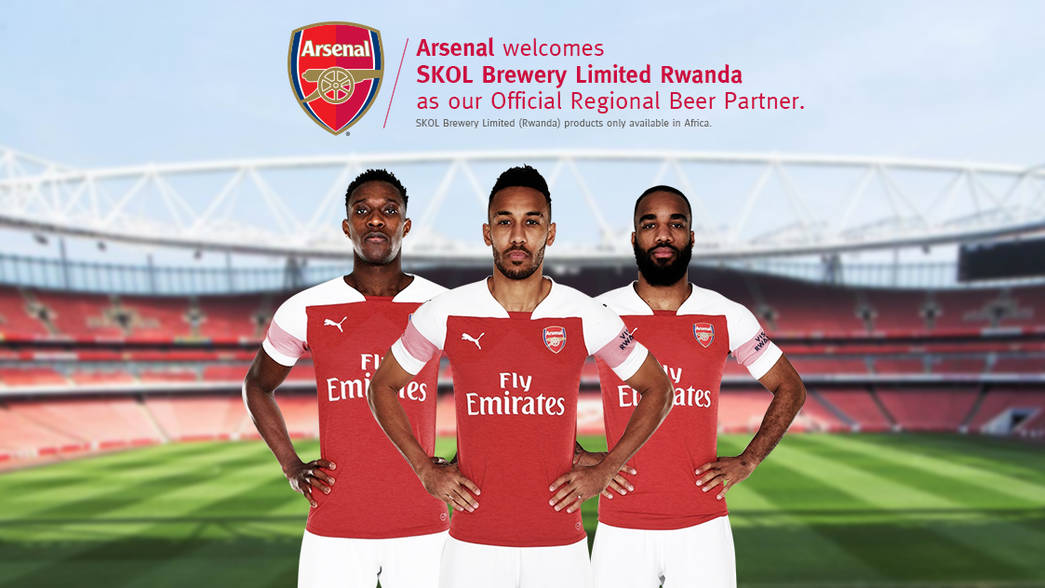 Premier League Champions Arsenal FC are becoming more and more Rwandan club.
On Tuesday, the Club which is already in a very big promotional deal with Rwanda –Visit Rwanda said they have signed a partnership deal with SKOL.
"We are delighted to welcome SKOL Brewery Limited Rwanda as our Regional Beer Partner in Rwanda, with plans to expand into other territories across Africa over the next two and a half years," a press release from www.arsenal.com reads.
The release also says that SKOL Brewery Limited Rwanda already sponsor several clubs in the region and "the partnership will involve Arsenal staff providing football consultancy services to offer guidance and advice to support the development of these clubs."
The deal may give an opportunity to Skol sponsored club – Rayon Sports, an opportunity to fly to London and spend time with Arsenal coaching gurus.
"We will be providing SKOL Brewery Limited Rwanda's sponsored football teams with once in a lifetime trips to London to visit Emirates Stadium and receive coaching sessions with Arsenal coaches," Arsenal said.
Similarly, the coaching sessions wold take place in Rwanda.
"SKOL Brewery Limited Rwanda and Arsenal will also run coaching clinics to support grassroots football," Arsenal said.
Arsenal's Commercial Director Peter Silverstone said: "We are delighted to welcome SKOL Brewery Limited Rwanda to the Arsenal family. The partnership is a direct result of our successful partnership with the Rwanda Development Board and re-affirms our affinity with Africa. We have nearly 90 million followers across Sub-Saharan Africa, and we're looking forward to connecting with new fans in the region whilst sharing our knowledge and experience, developing coaching programmes and helping SKOL Brewery Limited Rwanda build their business."
The Rwanda – Arsenal deal was entered into in May 2018 and it intends to increase Rwanda's visibility among the investors and tourists community respectively.
"SKOL Brewery Limited Rwanda will promote the partnership through TV commercials, the production of special edition co-branded bottles and large scale on-pack promotions offering supporters the opportunity to win match tickets and official Arsenal merchandise. Fans will also be able to attend match screening parties and join newly created official supporters' clubs," Arsenal wrote.
Ivan Wulffaert – General Manager, SKOL Brewery Limited Rwanda said of the partnership: "SKOL Brewery Limited Rwanda are proud of their approach to brewing and product quality. We always take that extra step to ensure the best experience for our customers and consumers. We are very happy and proud to partner with Arsenal FC as we view Arsenal as the team that takes great pride in their approach to football and the quality of their play on the pitch. A refined version of the great game."