In the 2018 End of Year Message, President Paul Kagame was thankful to all Rwandan athletes for doing a good job in 2018, but cycling attracted most of his attention.
Part of his message reads: "In other areas, including sports, our athletes increasingly made their mark internationally, especially our cyclists."
It is not for granted that the Head of State noted this. Cycling could have been the sports that brought to Rwandans more enthusiasm than the rest.
Main events to note include Areruya Joseph 23, the 2017 Tour du Rwanda holder who made a rare record early 2018 when he won La Tropicale Amissa Bongo and the inaugural Tour de l'Espoir.
Areruya became the first Rwandan and third African cyclist to win the annual race, only after Eritrean Natnael Berhane in 2014 and Tunisia's Rafaâ Chtioui in 2015.
Areruya assumed the pole position of the race's general classification after winning Stage 4 and subsequently took the yellow jersey, which he would hold onto till the final stage to register what remains his biggest victory to date in 23 hours, 52 minutes and 24 seconds.
Later in the year Areruya helped Rwanda to qualify for the 2018 Tour de l'Avenir, slated for August 2019 in France.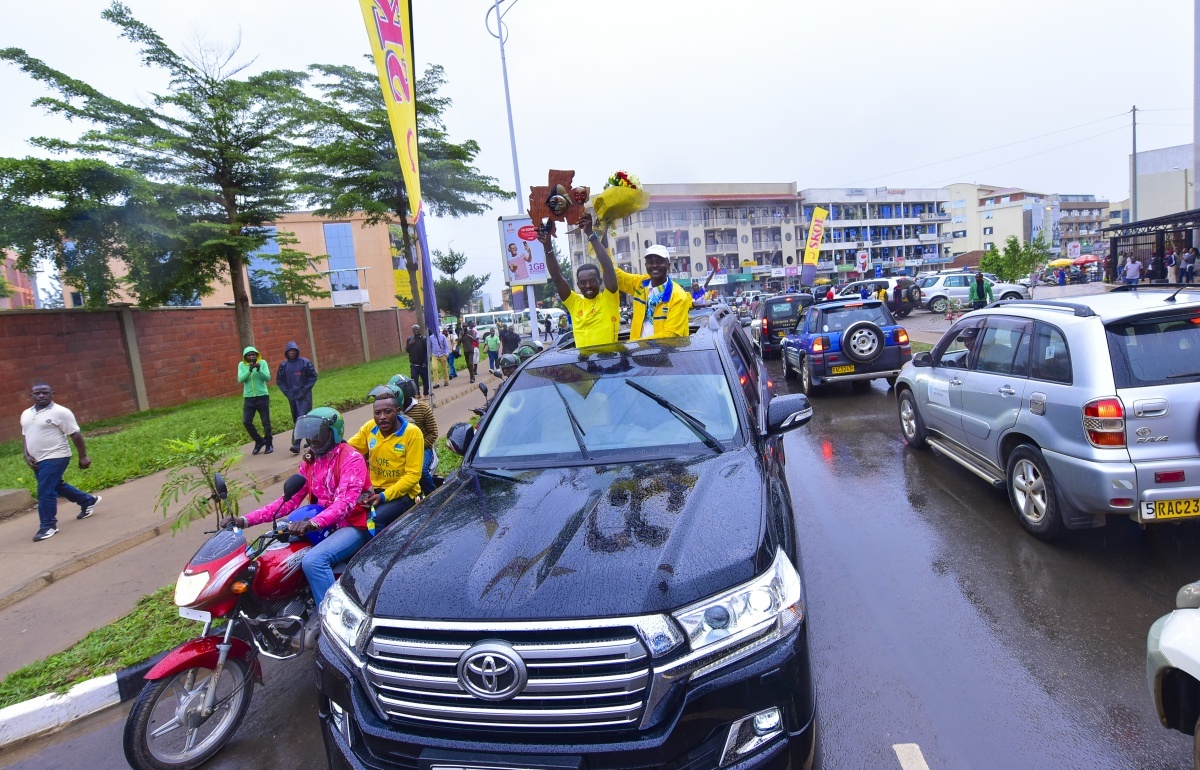 The former Les Amis Sportif cycling club rider also put up an impressive performance at  last year's African Continental Road Championships in Kigali, winning four medals, including two gold medals, one silver and a bronze.
His recent road show was in October when he finished 29th in the individual time trial of Chrono des Nations' men's elite race.
In December, Areruya concluded a successful cycling year by claiming the African Cyclist of the Year, becoming the first Rwandan to be chosen as the continent's top rider since the award was introduced seven years ago.
Africa's top-rated Areruya who plies his trade with French side Delko–Marseille Provence KTM beat 14 nominees for the 2018 title who included fellow Team Rwanda riders Samuel Mugisha and Bonaventure Uwizeyimana.
Moreover, Bonaventure Uwizeyimana 25, confirmed Rwanda's status as a rising cycling powerhouse on the continent as he put up a strong performance to win last year's Tour du Cameroun.
Back home, youngster Samuel Mugisha rounded off the season with Tour du Rwanda win in August.
Mugisha won last year's 10th edition organized under the 2.2 category after covering the 953.2km as the fastest rider clocking 24 hours, 26 minutes and 53 seconds.
Last year though Mugisha also registered a continental win. In November, he grabbed a bronze and a silver medal at the inaugural Africa Cup Cycling Competition, finishing 3rd and 2nd in elite Men & Under-23 road race.
His medals helped Rwanda finish the African Cup campaign with four medals, three bronze medals and one silver medal.
Benediction acquires UCI Status
 In later November, Rwanda's successful cycling team, Benediction cycling club acquired UCI Status to join a growing number of Continental teams.
Benediction Cycling joins the growing number of UCI Continental teams, including the first Angolan registered team and three new Continental teams based in South Africa, the most in UCI history from the African continent.
Football Yet to Register Impressive Moments
The football season started on a bright note with Rwanda's Amavubi team taking part in the Africa Nations Championship (CHAN) which was held in Morocco.
However, The Wasps Amavubi Stars could not stage positive performances as they were knocked out in the group stages.
Amavubi Stars participation in the 2019 Africa Cup of Nations Qualifiers also was not successful as the country lavishes bottom of Group H with two points in five matches.
Rwandan Clubs also had an opportunity to register for some games on the continent or in the region.
Rayon Sports played in the group stages of the CAF Confederations Cup for the first time.
They reached the quarter final round while playing with the biggest clubs on the continent and this gave them added experience.
In CAF Interclubs, while Mukura vied for honours in the Total CAF Confederation Cup, league champions, APR FC participated in the much prestigious Total CAF Champions League and were eliminated in the preliminary round by Tunisian side Club Africain.
Currently, Mukura VS is on the verge of reaching the 2018/19 group stage round should they win their play-off round encounter against Sudanese giants Al Hilal Omburman whose action will be in January 2019.
In the She Amavubi, the event to note is Cecafa Women Challenge Cup. In July, Rwanda hosted tournament Tanzania's Kilimanjaro Queens winning the title.
The Queens defeated Ethiopia 4-1 in their last round-robin match to top the table from Uganda on goal difference.
Ethiopia with six points came third, while Kenya – who beat hosts Rwanda in the last game 2-0 on Friday – settled for fourth place. Rwanda ended bottom of the standings.
Back home, APR FC won the 2017/18 Azam Rwanda Premier League title while Mukura VS beat Rayon Sport 3-1 on penalties to win the 2018 edition of Peace Cup.
This was the first title for Mukura VS in the knockout competition since 1992. They were also winners in 1978, 1986 and 1990.
Previously, they had lost three finals in a space of 10 years; 4-2 to APR (in 1999), 3-0 to Rayon Sports (in 2005) and then 1-0 to the now defunct Atraco (in 2009).
Meanwhile, Rwanda Football Federation witnessed new management with retired General Sekamana Jean Damascene replacing Vincent Nzamwita as the president of the local footballing body.
Since the election of a new president, Sekamana, in April last year, the federation has resolutely embarked on wide-ranging reforms agenda.
The aim is to restore FERWAFA's image and credibility, increasing revenues, developing the game and improving the governance of national football.
Successful FIFA Council
In October, Rwanda hosted a successful eighth meeting of the FIFA Council, where the members of FIFA's strategic and decision-making body.
The agenda included concrete decisions related to FIFA tournaments scheduled for the upcoming years – chief among which was the 100% increase in prize money for the FIFA Women's World Cup France 2019™ – as well as the approval of the regulations for an invigorated FIFA Forward Development Programme over the course of the 2019-2022 cycle.
In other achievements, in November, Rwanda's top professional woman referee Salma Rhadia Mukansanga had a successful campaign at the FIFA U-17 Women's World Cup which was staged in Uruguay.
Following her performance, Mukansanga was added on the list of referees that will officiate at the 2019 FIFA Women's World Cup which will be staged between June 7 and July 7, 2019 in France.
Basketball Gets New Sponsor
After years of hard work in ensuring a competent and efficient management and competitive structure, in November, Rwanda Basketball Federation landed a Rwf300 million partnership with the Bank of Kigali.
The bank emerged major sponsor of the national basketball league and other major basketball tournaments for the next three years.
The sponsorship's primary objectives will be to focus on Youth Basketball Development (Junior League for both girls and boys aged under-18) and the national basketball league as well as the post-season Play-off Games.
Earlier on, in partnership with the National Basketball Association (NBA), Ferwaba inaugurated the Junior NBA Rwanda League in March, which is a school-based basketball programme for boys and girls aged between 10 and 14 years.
The league featured 30 teams from schools across Rwanda, competing in Eastern and Western Conferences, with each school representing one of the 30 NBA teams.
Basketball also included other lucrative contracts.
Rwanda's USA based international female players Bella Murekatete, 18, and Osborn Shema, 20, were last month signed by Washington State University Women's basketball team and Florida Gulf Coast Eagles men's basketball team, respectively.
They signed four-year deals, each, with the American sides.
Washington State University Women's basketball team competes in the Pac-12 Conference in Division I of the National Collegiate Athletic Association (NCAA), while Florida Gulf Coast Eagles currently features in the Atlantic Sun Conference.
On a bad note, Rwanda national basketball failed to seal a place in the 2019 FIBA World Cup final after taking part in the first window of the African qualification round.
The national basketball team registered a disappointed winless campaign during the second round – fourth window – games which were held in September in Lagos, Nigeria.
With the performance, Rwanda and Mali who are tied on fifth place on 12 points in nine matches played can't proceed to the World Cup finals in China.
Rwanda is left to compete in the final and sixth window of second round of qualifiers in Group F from February 22-24, 2019.
New Golf Course
The Rwanda Golf Union received a major infrastructure boost in May as they unveiled a new state of the art Kigali Golf Course club house with expectations to speed up Rwanda's current golf tourism agenda.
The $3million club house and a 9-hole golf course located in Nyarutarama was constructed for the past three years on contributions of members.
According to Kigali Golf Club captain, Davis Kashaka, "Kigali Golf Club has set an ambitious target of becoming a top destination for golf tourism on the continent."
On the regional scene, Rwanda's golf team managed a historic second place finish in the 2018 East African Golf Challenge which was held in Mombasa, Kenya, improving from a fourth place finish attained in 2017.
Hosts Kenya won the edition while Uganda finished third in a competition which had attracted eight regional countries.
Cricket Now on Notice Board
 The local cricket body hosted the Regional World T20 Africa 'B' Qualifiers staged at Gahanga Cricket Oval in July but Rwanda could not impress.
The hosts finished at the bottom of the four-nation regional contest which was won by Kenya.
The tournament was staged as part of the 2020 ICC World Twenty20 qualification and also marks the first time that Rwanda is hosting an International Cricket Council (ICC) tournament.
The International Cricket Council (ICC) Development Manager-Africa, Patricia C Kambarami commended Rwanda's cricket transformation thanks to Gahanga Cricket stadium which was inaugurated by President Paul Kagame in October 2017.
Kambarami said, "Hosting the qualifiers is seen as a massive step in the right direction for Rwanda, whose rehabilitation through cricket is one of the game's most heart-warming stories. The rise of the Gahanga Cricket Stadium is testament to this transformation, and Kambarami praised their efforts to this point.
Motorsport: Entertaining the public
 Rwanda Automobile Association (RAC) had also a remarkable year as they hosted the Confederation of Africa Countries Motorsport (C.A.C.M.S.) congress for the very first time in August.
At the time also, Jean Todt, the International Automobile Federation (FIA) president, officially launched Go-karting in Rwanda.
Go-karting is aimed at boosting social interest in motorsport, and it is expected to help Rwandan youth to start racing at early age.
In the national rally championship, Burundian Din Imtiaz dethroned Jean Claude Gakwaya to win the 2018 edition.
Former champion
clinched the 2018 Mountain Gorilla Rally in October.
The national and African rally championship event that took place on October 5-6, 2018 in the disctricts of Bugesera, Gasabo, Nyarugenge and Rulindo attracted 16 cars from Rwanda, Burundi and Uganda.
Davite Giancarlo emerged the winner ahead of second-place Rudy Canthanede and Claude Gakwaya who finished second and third respectively.