Bank of Kigali (BK) group on Thursday registered a new advisory and investment services on the Rwanda bourse.
The product; BK Capital is a joint venture with Swan Group – a leading financial solution provider in Mauritius.
BK Capital was first introduced to the market in 2013 as BK Securities Limited, offering only securities brokerage licensed by the Capital Markets Authority.
However, for six years, its portfolio has expanded to offer investment and wealth management, corporate finance and advisory services, brokering of capital markets instruments – bonds and equities, pension fund's administration, among others.
With a champagne toss proposed by Minister of Finance Dr. Uzziel Ndagijimana, BK Capital was launched at a colourful event held at Kigali Marriot Hotel, becoming BK Group's 4th subsidiary with listed shares on the Rwanda Stock Exchange (RSE).
BK Group Plc is Rwanda's biggest financial Institution in terms of assets.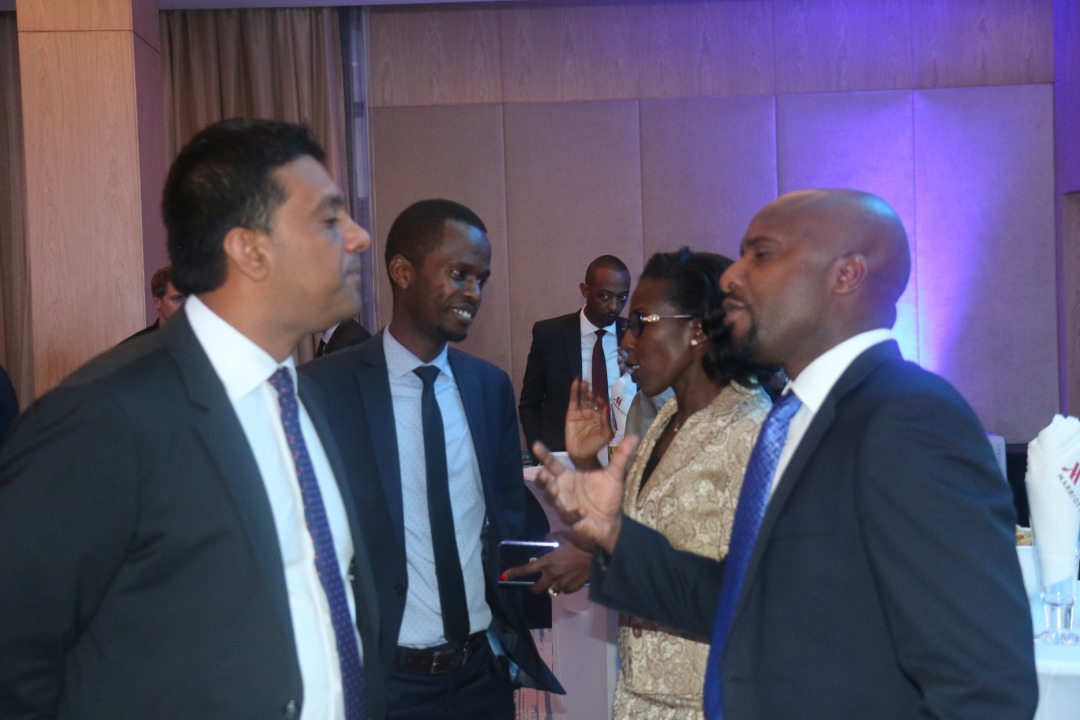 Swan Group offers corporate advisory services, asset management services and stock-broking services, with a total asset under management equivalent to $1.4billion and presents extensive expertise in the fund management business in Mauritius with global outreach.
"We have been growing over time and entering the market with a Swan deal as a partner, makes BK competitive in skills to improve what we've been doing with more experience in services like corporate finance and advisory services, fund management, which are lacking," said Carine Umutoni, the Managing Director of BK Capital.
Umutoni said that the venture is also looking at tapping into the local market to increase local private sector involvement in capital markets, which has been a result of lack of financial and fund management skills despite players having money to invest.
Though details of Swan deal were not made public, officials at the company told the press that there are many products to be unveiled soon which will also come with opening opportunities for ventures in the local market.
In the deal, however, Swan will provide technical assistance and expertise in running the venture, thus making BK competitive among other already capital and securities services, which are mostly from the region.
"We find BK's track record of financial management to be attractive and open, thus Swan will provide expertise that is lacking in the capital venture market but also launch investment products for Rwandans who may be looking for investment opportunities in and across Africa and internationally," said Louis Rivalland, Swan Group Chief Executive.
When BK went public in 2011, its IPO generated Rwf37.5 billion. Last year, the bank issued 200 million new shares on the local bourse to raise Rwf60 billion to finance its expansion strategy of which it managed to cross-list its shares on the Nairobi Stock Exchange.
On the other hand, RSE CEO Pierre Celestin Rwabukumba said that BK capital becoming the newest entrant on the capital market is an opportunity to grow the venture capital and add value to the already growing market.
Since 2008, when the capital and stock markets were introduced in Rwanda, at least more than Rwf760billions has passed and exchanged hands through the local bourse, with bonds offers amounting to over Rwf300billion and IPOs at Rwf152billion among others.
"We need to mobilize more people to know that this is a lot of money and it is benefiting the economy and those investing in the markets," Rwabukumba said.
For BK Group Chairman, Marc Holtzman the bank's track record is a pointer to the country's vision and what Rwanda needs is to create more transformational and impactful investments of which BK capital will serve as catalyst to bring in more foreign investments.
"Rwanda's economic landscape holds so much untapped potential, so we've aligned our strategy to capitalize on it. Our priority is expanding our financial services portfolio to make our brand into a One-Stop Center under which those services are available to customers," Holtzman said.
The Minister of Finance Dr. Uzziel Ndagijimana also stated that BK capital venture will enhance government's plans to make Kigali an international finance center and implement the seven year national strategy for transformation 2017-2024.