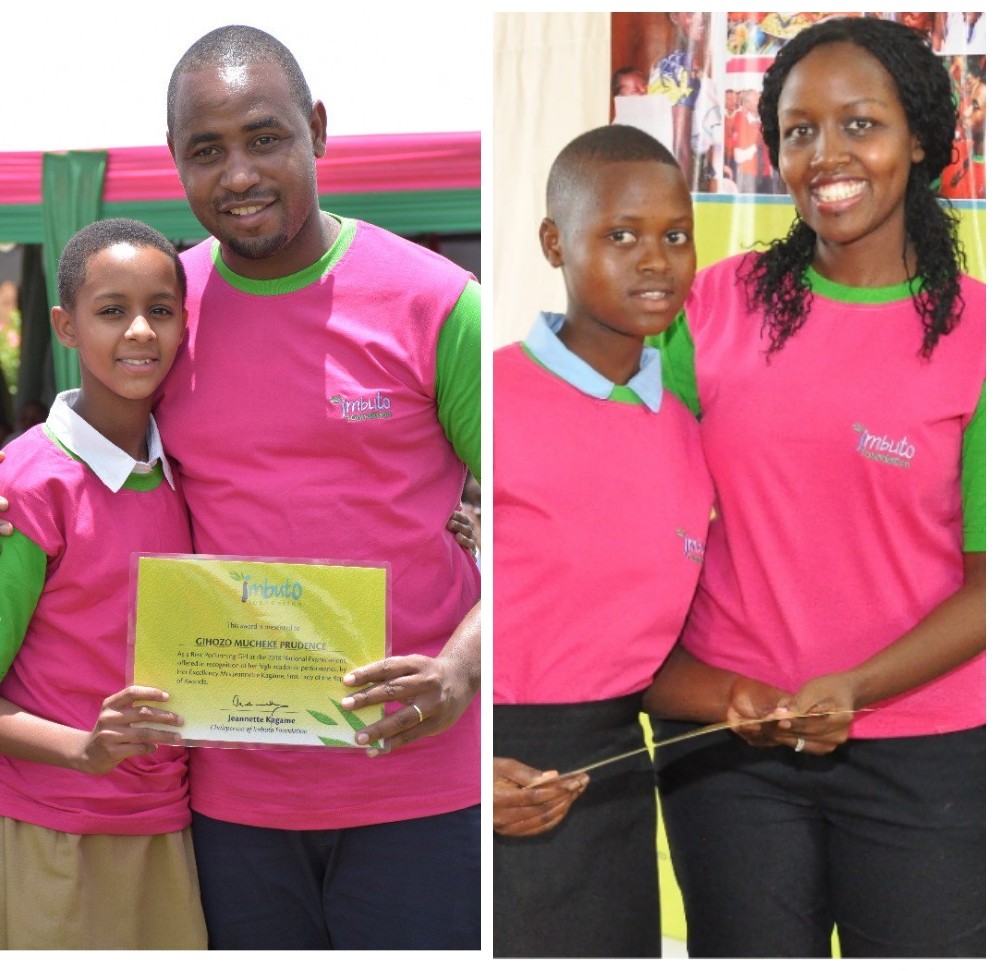 Hundreds of residents gathered this Saturday in districts of Nyagatare in Eastern Province and Gisagara in Southern Rwanda to witness and celebrate achievements of their girls in education with awards from the First Lady Mrs. Jeannette Kagame's Imbuto foundation.
This year's edition witnessed 234 best performing girls from primary and secondary school levels across the country, as part of promoting Girls' Education, which has since its launch in 2005, rewarded a family of 4,852 girls, not including the girls rewarded this year.
In Nyagatare district, 30 girls in Primary  six and three girls in Senior 6 were rewarded, while in Gisagara district, 54 girls in Primary six, nine girls in Senior 3 and seven other girls in Senior six were also rewarded for excelling in their 2018 national examinations.
The separated national events were presided over by Minister Paula Ingabire of ICT and Innovation, and Eng. Jean de Dieu Uwihanganye, State Minister for transport in the Ministry of Infrastructure who joined and addressed the awardees, their parents and teachers, at the rewarding events that took place at University of Rwanda in Nyagatare and St. Bernadette Save in Gisagara district.
Both ministers were excited to share their childhood memories with the girls and motivated more girls to perform harder and at their best in their education journey, which government has leveled in opportunity between boys and girls.
"Girls have all the advantage to work hard and excel in education since government has leveled the ground for you. This should enable all girls to shine in school and become leaders of this country in future," Minister Ingabire said.
Today, Rwanda stands out top globally in investing its policies in gender equality in leadership roles which enabled women to hold a record more than 61% of leadership roles especially in the parliament.
Plan International-Rwanda and Imbuto foundation launched a campaign 'Girl Get Equal' launched alongside the awarding ceremony for Best Performing Girls (BPG) in Rwanda.
The three year campaign, with Rwf500million investment, will enable women especially the youth to not only hold positions of power but also see themselves as able through breaking stereotype within women in the community.
To start on the step of empowering the girls, the best performing girls were awarded with school and sanitary equipment, computers, English books and certificates among others.
Asiah Uwera who was the best among secondary school graduates and received a computer said the equipment will enable her pursue further education.
"I am deeply excited and touched by the rewards, and I will be confident to start university education well equipped to study and perform better following my commitment to excellence and discipline," Uwera said.
While success in life is not guaranteed after the BPG awards, holding on to the aspect of self-discipline and one's life goals has enabled the girls to pursue life struggles head-on as seen from the example of Lydiane Kayiranga, a 2009 BPG Alumni.
Kayiranga says that despite being a best performer then, poverty circles at her home forced her to seek a cleaning job in order to make a living.
She said: "It's out of patience, setting focus on my goals in life that I managed to get support from Imbuto foundation to pursue my education,"
Though this experience is shared by Jacqueline Kayitare who managed to get a master's degree and now works with Rwanda Governance Board (RGB), she told the girls to hold on to their guns and avoid being lured into peer groups by boys around them.
"Girls can be lured by temporary things in life, but the key that will make you a successful one is only through education.
I always tell my children that one's role is inevitable, I can pay their fees but no one will sit in the classroom for you," Kayitare said.
As a male, on the other hand, Minister Jean de Dieu Uwihanganye said that the rewards given to girls is a motivation for others and indicates government believes in supporting women to succeed at all costs.
"The rewards handed out are a strong message to all of us, that girls can, and the fruits of their hard work and determination is what we are witnessing in this ceremony," Uwihanganye said.
Meanwhile, the awarding ceremony continued today in Musanze District in Northern Rwanda with 83 girls from primary, ordinary and advanced levels, similarly getting awarded for their achievements.
The Musanze event marked closure of this year's Promotion of Girls' Education campaign. The campaign consists of rewarding Best Performing Girls for excelling at national examinations, from primary and secondary school levels.