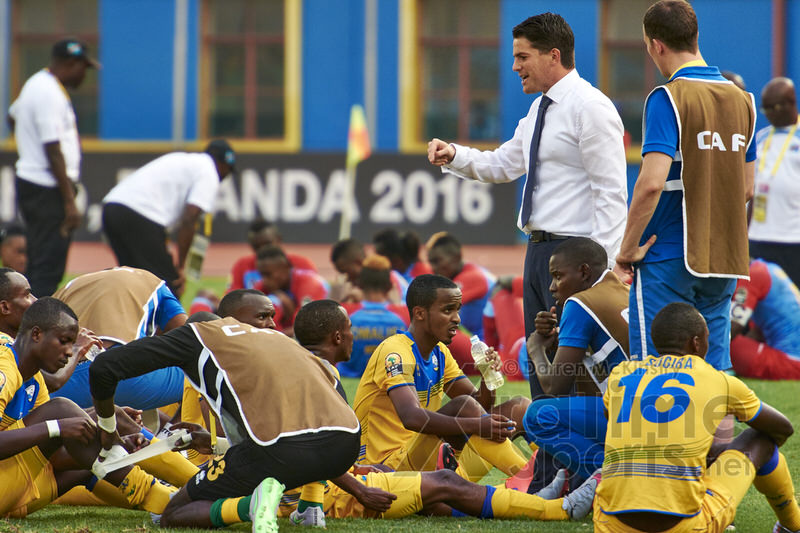 [Rwanda V DR Congo, Quarter Finals – CHAN, Jan 2016 in Kigali, Rwanda. Photo © Darren McKinstry 2016, www.XtraTimeSports.net]
Former Amavubi coach Jonathan McKinstry welcomed Rwanda's intention to comply with FIFA's ruling and pay in full the compensation owed to him for breach of contract.
On April 25, the Rwandan government through the Ministry of Sports and Culture paid in full amount USD $ 202,343 (about 182,764,013) and an additional CHF 20,000 (Rwf. 17,738,621) in fine for late payment for the debt owed to McKinstry following the improper termination of his contract as ruled by the member of the FIFA Disciplinary Committee on March 19, 2019 and a further Swiss CHF 15,000 (13,303,965) related to the cost of proceedings rendered by the single judge, making it a total USD $236,341 (Rwf. 213,806,599).
This follows on from the 2018 finding by FIFA that the termination of McKinstry's contract was without just cause.
In a press statement, McKinstry said, "While it has taken some time, I welcome FERWAFA's intention to comply with the FIFA ruling and pay in full the compensation owed to me for breach of contract.
'Given the results we delivered, I was surprised and disappointed by FERWAFA's decision in 2016 to terminate my contract as Head Coach of the Rwanda National Team. We had rebuilt a team following the move to no longer use naturalised foreign born players, and in just 17 months not only delivered Rwanda's best ever performance in a major FIFA/CAF tournament, but also matched or exceeded almost all past Rwandan performances in CECAFA.'
'Leading Rwanda to their best ever tournament performance – the last eight of the CAF Nations Championship 2016 – is naturally the stand out moment for me; but also that our CAF Nations Cup and CECAFA Challenge Cup performances have each only been bettered once before by any Rwandan team in history,'
'Being named 'Coach of the Tournament' for leading the team to the final of the CECAFA Challenge Cup also underlined the good progress the team were making as a result of our work together.'
'I continue to look back on my time as Head Coach of Rwanda with fondness and pride. It was my honour to work with talented players and to meet dedicated fans." His statement concluded.
The Ministry of Culture and Sports (Minispoc) spokesperson, Olivier Oleg Karambizi, told local media that the ministry has learnt a lesson and will be 'more careful' with national team coaches in the future after paying a huge amount of money to former Amavubi custodian Johnny McKinstry for unlawful dismissal.