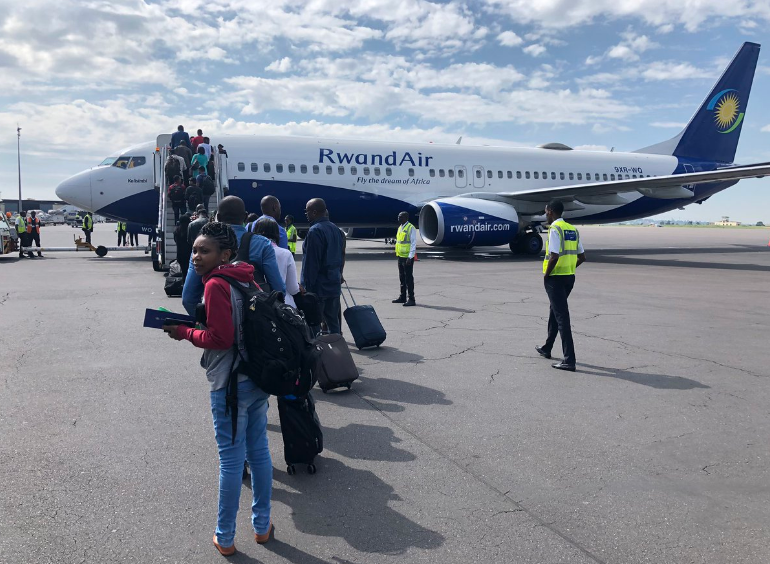 It was a fanfare moment on Wednesday, April 17, 2019 as passengers boarded the plane as Rwanda's Carrier RwandAir launched its maiden direct flight to Kinshasa in Democratic Republic of Congo (DRC).
"Mbote Kinshasa! Le jour est enfin arrivé! Notre vol inaugural vient de décoller de l'Aéroport International de Kigali vers l'Aéroport International de Ndjili."
"Hello Kinshasa! The day has finally arrived. Our inaugural flight has taken off from the Kigali International Airport to Ndjili International Airport," RwandAir tweeted this morning.
According to Ministry of Infrastructure, the National Carrier will be conducting 3 Flights a week and the 3 additional night flights to start by May 2019.
In addition to its global plan, the airline will soon begin flights to Addis Ababa in Ethiopia, Guangzhou in China and Tel Aviv – Israel.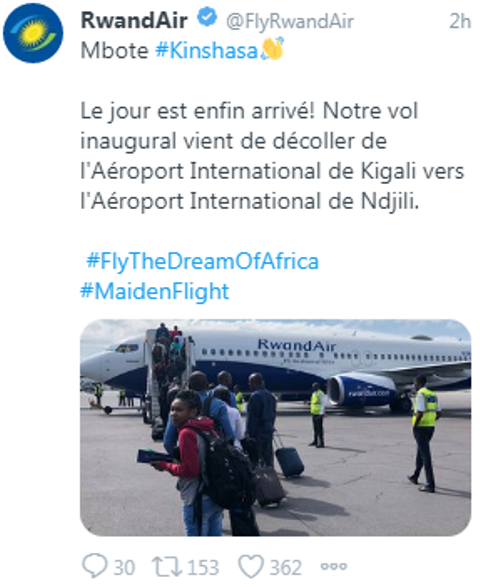 Passengers were on Wednesday morning seen boarding the plane – mostly traders looking up to explore new opportunities which mineral-rich DRC offers.
Last month, Etienne Tshisekedi, the new President of the Democratic Republic of Congo (DRC) was in Rwanda on the invitation by his Rwandan counterpart President Paul Kagame to participate in the Africa CEO Forum.
While in Kigali, President Tshisekedi vowed to work with neighboring countries in "building bridges that join them, instead of building walls that separate them."
With a fleet of twelve aircraft including two wide-body Airbus A330, Kinshasa route adds to the airline's current reach to twenty-six (26) destinations across East, Central, West and Southern Africa, the Middle East, Europe and Asia.
Around 3pm Kigali time, RwandAir plane touched down in Kinshasa and was welcome by traditional water salute.