The Bank of Kigali (BK) Group has announced the a list of 25 businesses of Urumuri business competition 2019 whose innovations are expected to positively impact on the growth of made in Rwanda agenda.
The list made public this May 3, 2019 was made out of a selection of over 100 competitive startups applications across the country.
Nathalie Niyonzima, the Managing Director of Inkomoko entrepreneur development, a partner of  BK in this project project said that the group will undergo a six month intensive accelerator training programme at Inkomonko, to sharpen and step up their business and entrepreneurial skills.
During the training the group will be prepared to pitch their businesses to Bank of Kigali, and at the end of the training, only five out of the 25 companies will end up pocketing each Rwf25million interest-free loans from the third edition.
However, selection will be tight as companies have showed creative and innovative business ideas which the Bank of Kigali acknowledged the level of competiveness.
However, those who won't win, will be helped to get alternative bank support and loans at BK Capital.
The competing businesses come from the fastest growing sectors such as tourism and hospitality, technology, retail, light manufacturing, agriculture and agro-processing, energy saving and waste management among others.
For example in areas of green growth and recycling, Hamdoun Bizumuremyi, Managing Director of Isoratio Ltd  collects old car tires to fabricate home furniture at a cost of Rwf 180,000 to substitute a wooden sofa set costing Rwf300,000 and far above.
Also, Deogratias Mutuyimana created Cana rumwe Style Stove Ltd- which uses a fabricated motor connected to electricity and uses one single charcoal stone to enable one to cook for three months and forget buying a sack of charcoal which is consumed in less than month.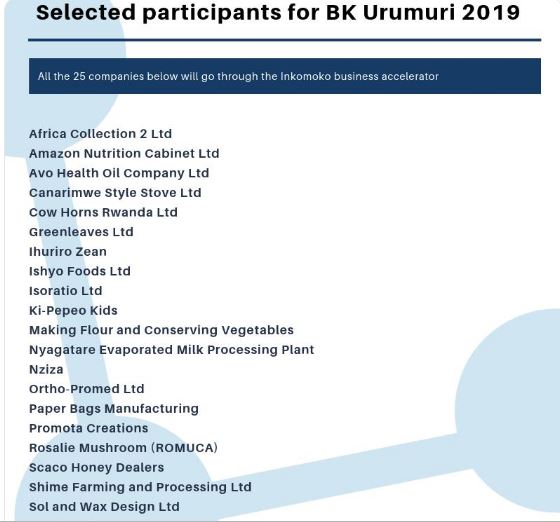 To promote Rwandan products, Rugero Uwase Aliane, shifted a fashion designer business- Sol and Wax Design Ltd from France to come back home, but shipping orders was not easy.
She thus decided to open a sister company – Vuba Express, a shipping company.
On the other hand, Sharon Akanyana of Ishyo Foods Ltd runs one of the first businesses which makes tamarillo fruit jam and wants to expand making more products such as yoghurt from the fruit.
Cow Horns Rwanda Ltd, founded by Jean Marie Vianney Habiyaremye, makes and sells jewelry, household goods and ornaments out of the signature long-horn Inyambo – Rwandan cows.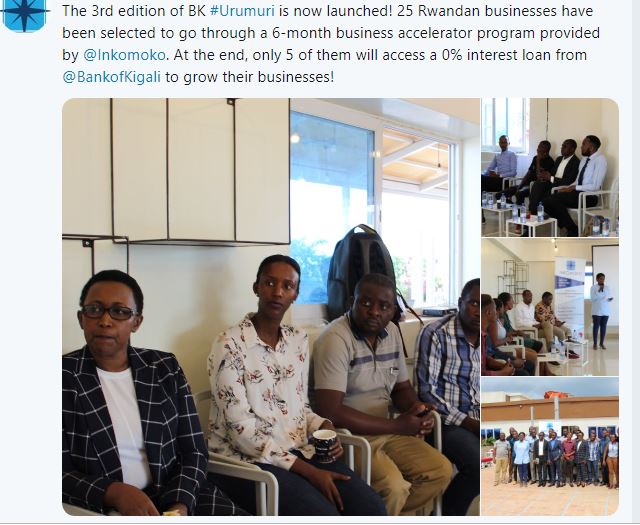 Priscilla Ruzibuka, founder of Ki-Pepeo Kids, a fashion brand for kids, has a range of kitenge children's clothes, named after the Swahili word for "butterfly." Priscilla believes in creating social impact making high-quality garments made by former house maidens but looks to expand the business to sell online.
Putting this competition aside, Inkomoko boss, Niyonzima said that the passion to grow these businesses will contribute to the Made in Rwanda movement and the participants will get full support.
"Our commitment is that six months from now, your business is going to be stronger than it has ever been.  We will help you along the way with business services tailored to strengthen your operations, increase your sales and sharpen your finances," Niyonzima said.
For the past three years now, BK Urumuri edition has witnessed the emergence of more than 100 innovators.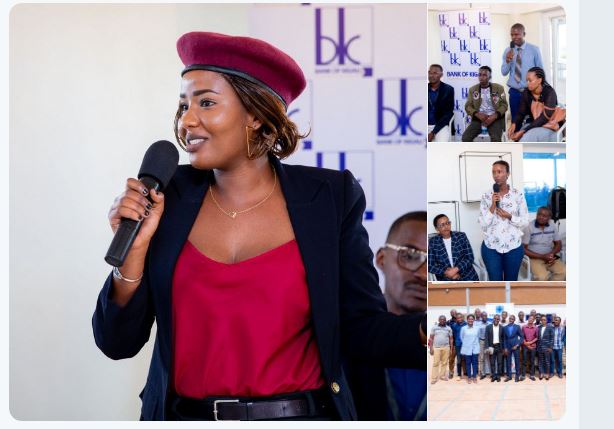 It's against this background that Niyonzima urged the entrepreneurs to have the pride to show the world that they are ambassadors of "Made in Rwanda."
Thierry Nshuti, BK Head of Marketing said that the money comes in third place of bank's priorities.
"Our (BK) primary motivation is a heart's desire to support business to have knowledge of doing business differently from the traditional ways," Nshuti said.
"This business competition witnessed many good ideas which can be support and we will be open to help other participants to get alternative financing if they don't win Urumuri interest free funding."